Relive your musical glory days with songs from the '80s to today on Certified Gen X
It's finally safe to retire your Discman (we swear) — Certified Gen X is the perfect mix for reliving your glory days all from the comfort of your SiriusXM app.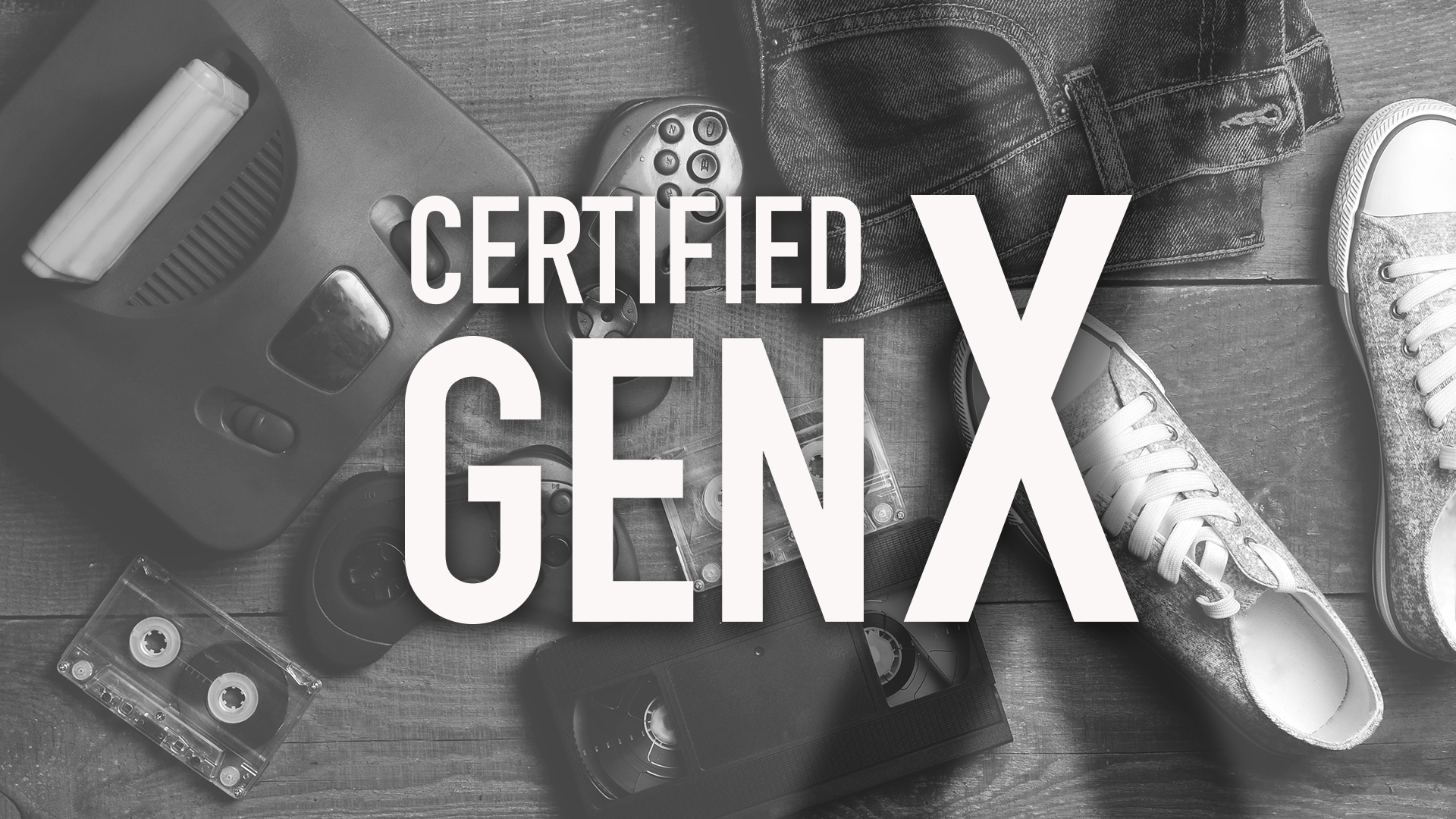 If the near-constant influx of reboots, remakes, and remixes is any indication, nostalgia is en vogue, and there's no better time to take a look back than at the start of a new decade. It's finally safe to retire your Discman (we swear) — Certified Gen X is the perfect mix for reliving your glory days all from the comfort of your SiriusXM app.
Take a musical trip down memory lane with the songs that defined the '80s, '90s, '00s, and '10s all the way to today, whether you spent your nights head-banging or rollin' with the homies. Listen On Demand and check out the channel lineup below to find your ideal throwback soundtrack.

'90s/2000s Pop, Hip-hop, and R&B
Hold on to your chokers, folks. Much like everyone's favorite neck accessory, what's old is new again and you can vibe to classics from artists like TLC and Good Charlotte as you reflect on the days of burning mixed CDs for your crush and debuting your most poppin' new outfit at the school dance.
'90s to now Country Hits
Before Billy Ray Cyrus had decided to ride 'til he can't no more, he was busy lamenting his achy breaky heart all the way back in 1992. Take your horse down this old town road with a journey through the songs that defined the past few decades of country.
'80s Mellow Hits
The '80s wasn't all leg warmers and jump scares — for those hoping to chill out with the likes of Phil Collins and remember what life was like before the stress of smartphone notifications, '80s Mellow Hits has you covered.
'90s Mellow Hits
SiriusXM has finally taken the just-watched-My-Girl-and-am-now-looking-out-of-a-rainy-car-window feeling and turned it into its own channel. Sink in to your inflatable chair and let the chill-worthy vibes of Hootie and the Blowfish, All-4-One, and more wash over you.
'80s to now Alt Rock
Time to dust off the old band tees for this one. Look back at over 30 years of the best songs to wallow in misery about your ex to, crowd surf to, and feature on your trusty MySpace page.
1st Wave
For those of you on your third midlife crisis and considering saying "Screw it" and giving yourself the A Flock of Seagulls haircut, 1st Wave is the channel for you. With '80s alternative classics from Depeche Mode, Duran Duran, and more, you'll be immediately transported back to the golden age of new wave (and convinced to put down the scissors).
Billy Idol's Live Transmission
For even deeper classic alternative cuts, Billy Idol is taking you through his favorite '80s memories and lesser-known music to give you all the ammo to say "Oh, you've probably never heard of it" when subtly flexing on your friends.
'80s on 8
Ah the '80s — Molly Ringwald was thriving, eyes were glued to MTV, and "Never Gonna Give You Up" was listened to in earnest rather than weaponized for internet trolling. Hear the channel that brings this all to life with hits from artists like Madonna and Milli Vanilli.
'80s on 8 Rock
When it comes to '80s rock, the only thing bigger than the hits was the hair. But while SXM doesn't have a slideshow of '80s hair bands at our disposal, '80s on 8 Rock is packed with the high-energy rock jams that dominated the era.
'80s on 8 Top 100
Don't you forget about the songs that really popped off in the 1980s. Catch the top 100 pop songs of the decade, no boombox required.
'80s on 8 Workout
In many ways, the '80s were a simpler time — Prince and Bowie were still alive, gas was cheaper, and workout-worthy songs told you exactly what to do (kind of…). Sweat to these oldies and imagine you're back in the days when you didn't have a tracking app yelling at you for not walking enough.
'90s on 9 Workout
Ditto to the above, with the added bonus of the dawn of spinning, household pop names like Christina Aguilera, and Kappa tracksuits.
'90s/2000s
Britney Spears shouldn't be confined to just one decade — celebrate a mash-up of the top in pop across both the '90s and 2000s, from "…Baby One More Time" to "Toxic."
'90s on 9
You oughta know which pop hits dominated the '90s, but for those who don't, this constant stream of everything from Alanis to Sir Mix-A-Lot is here to remind you. Listen long enough and you may just feel the ghost of a slap bracelet on your wrist.
Mark McGrath's 120
When it's over, you can still relive the '90s over and over again with the Sugar Ray frontman himself. Catch a countdown of Mark McGrath's 120 themed songs from the '90s as the show airs every week.
Lithium
There are two types of people in the world: '90s grunge fans, and those who think "Smells Like Teen Spirit" is just a deodorant jingle. If you're the former, Lithium is your go-to for bringing back your old, trusty flannel and combat boots (which are back in style now, anyway).
Lithium Top 100
The top 100 in '90s alternative and grunge — packed with hits from Soundgarden, Pearl Jam, and more — will take you back so hard you'll feel forever in debt to this priceless advice to tune in.
SiriusXM FLY
Do your ears perk up whenever you hear an Aaliyah sample? Are you desperate to prove just how real you are to Ms. Jackson? If so, SiriusXM FLY is for you, delivering hit after hit of hip-hop and R&B from the '90s to the 2000s.
FLY Top 100
The only thing that could make SiriusXM FLY better is to multiply it by 100. Hear the best of the best when it comes to '90s and 2000s hip-hop/R&B straight to your headphones (or Air Pods if the nostalgia factor doesn't extend to your listening hardware).
The FLY List
For #TBTs that go back further than the social media era, the FLY List is your reminder of what was trending in the hip-hop and R&B world back in the day. Catch a weekly rundown of the top 20 hits that ruled your FM radio waves.
Y2Kountry
Looking for a channel that's all sunshine and whiskey? Catch some of the biggest country songs of the 2000s from artists like Carrie Underwood, Tim McGraw, Zac Brown Band, and more.
Throwback 30 with Trace Adkins
Trace Adkins knows a thing or two about the country charts, so he's taking the wheel to count down some of the top 30 hoedown hits of the early 2000s, year by year.
If the above has you itching to travel back in time without the help of a DeLorean, click below to get into it!

---
---