Relive Paul McCartney's epic 2010 concert at The Apollo
SiriusXM brings you rebroadcasts of Paul McCartney's legendary 2010 concert at The Apollo.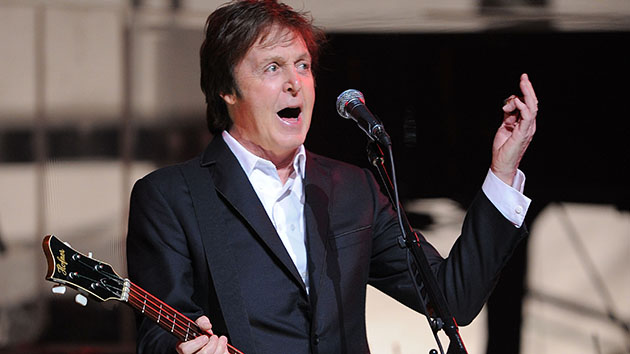 Paul McCartney performs during an exclusive SiriusXM show at The Apollo on Dec. 13, 2010. Photo credit: Kevin Mazur
As Paul McCartney takes a short break from his current One On One tour, The Beatles Channel (Ch. 18) presents encore airings of an unforgettable concert event: SiriusXM Presents Paul McCartney at Harlem's world famous Apollo Theater. This legendary performance was broadcast live on SiriusXM on Dec. 13, 2010 and has seldom been heard since.
On that snowy night in Harlem, a gleeful McCartney cited the Apollo and the influential artists who graced its stage throughout his two-hour, 27-song set, noting, "I know it's special to you New Yorkers. To us British boys, it's really special." He then paid tribute to the venue's place in R&B history with a joyous rendition of Marvin Gaye's 1962 hit Hitch Hike.
The rest of his set was equally as energetic as he played a mix of Beatles, Wings and solo favorites including Drive My Car, Blackbird, All My Loving, Yesterday, Let It Be, Hey Jude, Get Back, Ob-La-Di, Ob-La-Da, One After 909, I'm Looking Through You, Maybe I'm Amazed and Band on the Run, plus the holiday chestnut Wonderful Christmastime and an epic medley of A Day in the Life/Give Peace A Chance.
At one point he joked, "Hope we haven't deafened you."
Relive the magic of this historic night on The Beatles Channel!
SiriusXM Presents Paul McCartney at The Apollo on Ch. 18:
5 pm ET Friday Aug. 4
8 pm ET Friday Aug. 4
2 pm ET Saturday Aug. 5
11 am ET Sunday Aug. 6
SiriusXM subscribers can enter for a chance to win a trip for two to New York City to see Paul McCartney on his One On One tour, including an invitation to Paul's sound check! See Details and Official Rules at siriusxm.com/paulmccartney
---
---
---