Ravens' TE Hayden Hurst on Joe Flacco and Lamar Jackson: 'They trust me to go make a play'
Baltimore Ravens rookie tight end Hayden Hurst felt he did some immediate bonding on quarterbacks Joe Flacco and Lamar Jackson during offseason practices. Among the qualities Hurst liked best about Flacco and Jackson is that they "both rely on the … Continued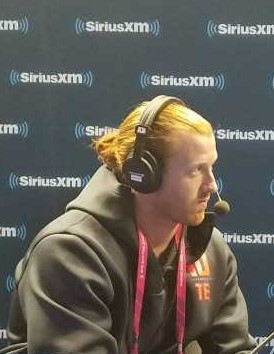 Baltimore Ravens rookie tight end Hayden Hurst felt he did some immediate bonding on quarterbacks Joe Flacco and Lamar Jackson during offseason practices.
Among the qualities Hurst liked best about Flacco and Jackson is that they "both rely on the tight end."
'(Flacco and Jackson) both bring different things to the table'
"It's been awesome," Hurst told Bruce Murray and Brady Quinn Monday on the SiriusXM Blitz. "They both bring different things to the table. Joe has an extremely talented arm. He's been doing it for years, Super Bowl MVP. And, of course, Lamar brings a whole different dynamic with his legs to the game. Both of those guys can throw it where they want it.
"They'll put it up even when I'm not open and they trust me to go make a play. And that's what I tell them I'm going to do: 'If you're ever in trouble, just put it up. I'm going to make a play for you guys.'"
'Joe, when you're running down the field, you've got to have quick eyes'
The former University of South Carolina standout has had to adjust to the NFL concept of having a quarterback throw him open, as was often the case with Flacco during the offseason.
"It's taken me a few practices, because Joe, when you're running down the field, you've got to have quick eyes," Hurst said. "And that's something that he's emphasized with me, because he trusts me to make a play. He just tells me, 'Quick eyes, quick eyes.' Because even if I don't see it and I'm wide open, he's going to put it where the linebacker or the safety can't see it, and he's going to trust me to go make a play. That's really the biggest thing that Joe and I talked about, is just give him quick eyes, because then he can just me to go make the play."
---
---