Radio Andy hosts jam out to their favorite summer songs all weekend long
All Memorial Day weekend, Radio Andy hosts will be ringing in summer by playing their favorite summer songs and reliving the greatest moments from Radio Andy's short existence — including John Mayer at the Radio Andy Launch Party, Jimmy Fallon and Sarah Jessica … Continued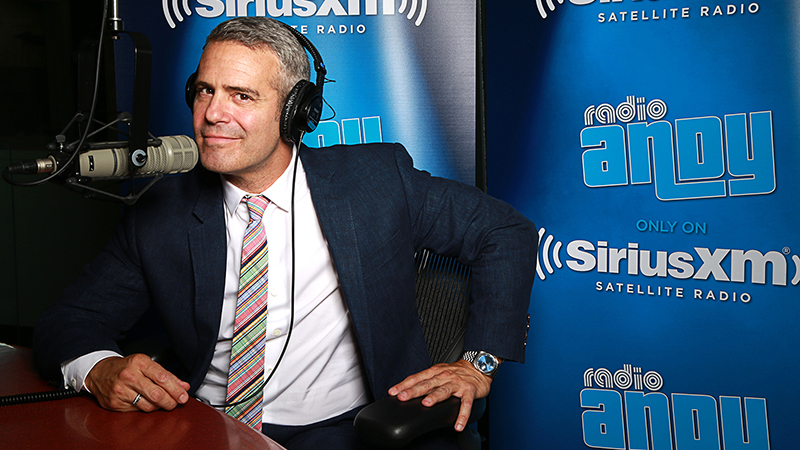 All Memorial Day weekend, Radio Andy hosts will be ringing in summer by playing their favorite summer songs and reliving the greatest moments from Radio Andy's short existence — including John Mayer at the Radio Andy Launch Party, Jimmy Fallon and Sarah Jessica Parker calling into Andy Cohen Live, Bette Midler on Sandyland, Spike Lee on Bevelations and so much more!
Friday through Monday, tune into the Radio Andy Summer Kickoff on SiriusXM Ch. 102. Get the party started early with our stars' top summer songs below, and pair the tunes with our tropical cocktail recipes here.
For a free 30-day trial, check out http://www.siriusxm.com/freeTrial.
Summer of Love by The B-52's 
Scarlett Begonias by the Grateful Dead
Party in the USA by Miley Cyrus
Our Lips Are Sealed by The Go-Go's
Bad (live) by U2
——
SANDRA BERNHARD (SANDYLAND) 
Cruel Summer by Bananarama 
Lady Willpower by Gary Puckett & The Union Gap 
Dancing in the Street by Martha Reeves & The Vandellas 
Sunshine, Lollipops and Rainbows by Leslie Gore
Summer in the City by Lovin' Spoonful 
——
BEVY SMITH (BEVELATIONS) 
Suddenly Last Summer by The Motels
Saturday in the Park by Chicago 
Summer of '69 by Bryan Adams 
Lovely Day by Bill Withers 
Everybody Loves the Sunshine by Roy Ayers
——
AMY PHILLIPS (REALITY CHECKED)
Somebody to Love by Queen
I'm on a Boat by The Lonely Island
Paradise by Coldplay
I Luh Ya Papi by Jennifer Lopez
Hollywood Nights by Bob Seger 
——
NIGEL BARKER (GENTLEMAN'S CODE) 
Beautiful by Pharrell, Snoop Dog & Uncle Charlie Wilson 
Summertime by Will Smith 
The Boys of Summer by Don Henley
Lovely Day by Bill Withers
Sun Is Shining by Bob Marley 
——
JOHN BENJAMIN HICKEY (MY FAVORITE SONG) 
In the Summertime by Mungo Jerry 
Summer in the City by The Lovin' Spoonful
Sloop John B by The Beach Boys 
Hot Fun in the Summertime by Sly & the Family Stone
Saturday in the Park by Chicago 
——
JONATHAN, CHARLOTTE & TOMMY ALTER (ALTER FAMILY POLITICS)
The Next Episode by Dr. Dre & Snoop Dogg
Hold Up by Beyonce 
Summer in the City by The Lovin' Spoonful
——
BETHENNY FRANKEL (B REAL WITH BETHENNY)
December, 1963 (Oh, What a Night) by The Four Seasons 
California Girls by The Beach Boys 
Summertime by Will Smith
Vacation by The Go-Go's
Summer Nights from Grease
---
---
---