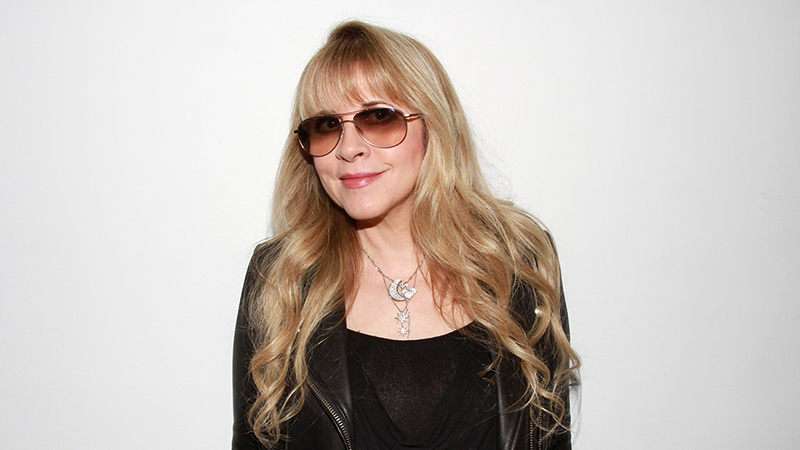 Stevie Nicks twirled her way into hearts and music history when she joined Fleetwood Mac in 1975. Nicks' inclusion in the band had been a condition for Lindsey Buckingham, who had been asked to join the British band as a guitarist. Buckingham insisted that Nicks, his musical collaborator and girlfriend, be a part of the band, too. Nicks proved to be a very valuable asset to the band, writing some of their biggest hits and pushing them into mainstream success.
The band's personal drama is perhaps as well-known as their music, which Nicks contributed to in no small part as well. The making of the 1977 album Rumours is the stuff of rock legend, featuring behind-the-scenes breakups, feuds, and affairs. Despite—or perhaps because of—the interpersonal volatility, the album was a massive hit, earning Fleetwood Mac a Grammy for Album of the Year. Nicks' song Dreams was the band's first and only No. 1 single.
Nicks also struck gold with a hugely successful solo career: Her debut solo album Bella Donna reached No. 1 on the Billboard 200 chart and spawned four hit singles, including one of the songs Nicks is best-known for, The Edge of Seventeen.
With her inimitable voice and unique personal style, Nicks reached icon status quickly, but she has also proven to be one of rock's most enduring artists. She's survived drug addiction and weathered controversies; she demonstrates a wry sense of humor and a sometimes-disarming frankness in being open about her struggles and her successes. Her influence can be still be seen and heard in fashion and in music, and Nicks continues to tour, write songs, and collaborate (she recently recorded a duet with Lana Del Rey for Del Rey's forthcoming album Lust for Life).
It's easy to feel like you know Stevie Nicks, but only a true fan knows enough to ace our quiz. If you think you've got what it takes, go ahead and make our "Dreams" come true. You can hear Nicks on '80s on 80 (Ch. 8), Classic Rewind (Ch. 25), Classic Vinyl (Ch. 26), The Bridge (Ch. 32) and The Loft (Ch. 30).
Can't see this quiz? Click Here.
---
---
---