QUIZ: How well do you know AC/DC?
If you've been Thunderstruck on the Highway to Hell, get Back in Black and take this AC/DC quiz!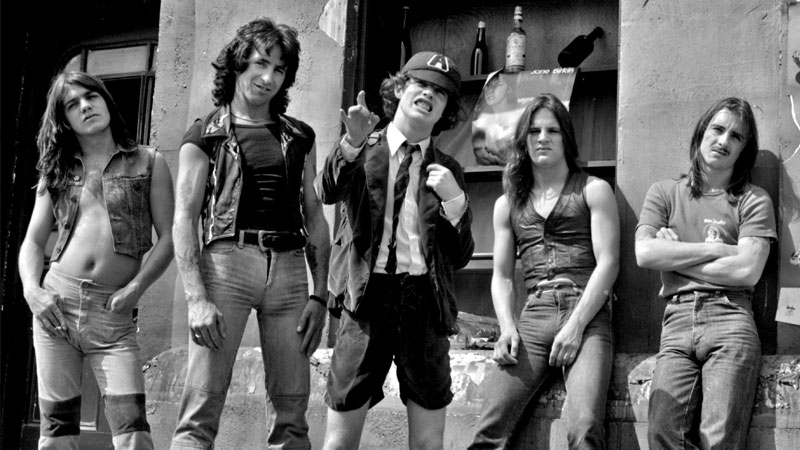 AC/DC 1976 (Photo by Martyn Goddard/Corbis via Getty Images)
Is there a band with a name more apt for them than AC/DC? When brothers Angus and Malcolm Young formed the group in 1973, they had electricity on the brain. Decades later, AC/DC are synonymous with energy and power.
Perhaps the image that comes to mind when you think of AC/DC is Angus Young jumping around on stage, shredding a guitar in his iconic schoolboy-inspired uniform. Or it's their logo, with the distinctive lightning bolt that's been a staple of black band T-shirts for decades. And when it comes to sonic impressions, it's easy for even the most casual music fan to rattle off a handful of AC/DC song titles. Singles like Back in Black, You Shook Me All Night Long, Thunderstruck, Highway to Hell and Dirty Deeds Done Dirt Cheap are staples of any classic rock radio station.
AC/DC are a true rock and roll success story: they tore out of their native Australia in the mid-1970s and seemed to have a work ethic as relentless as their sound. Following the untimely death of their lead singer, Bon Scott, in 1980, the band's future seemed momentarily unclear; but they found a worthy replacement in Brian Johnson, who continued in the vein of Scott's piercing vocals and kept the group's momentum going strong.
Back in Black is the second-highest-selling album by any artist, and AC/DC have sold more than 200 million records worldwide. But even as time threatens to slow them down, they've kept touring (albeit with different lineups) and remained relevant, inspiring countless cover bands and a whole new generation of wannabe-rockers learning to play their songs through the Guitar Hero video game series.
Do you have the power to rock our AC/DC quiz? Find out now!
Can't see the quiz? Click here.
Hear AC/DC on 80s on 8 (Ch. 8), Classic Rewind (Ch. 25), Ozzy's Boneyard (Ch. 38) and more!
---
---
---