Professional dad (he has eight kids) and Chargers QB, Philip Rivers, gives some fatherly advice
With Father's Day right around the corner, Gillette is putting the spotlight back on dads with its Go Ask Dad campaign, which encourages guys, no matter where they are or what they're doing, to go ask dad. We recently had San … Continued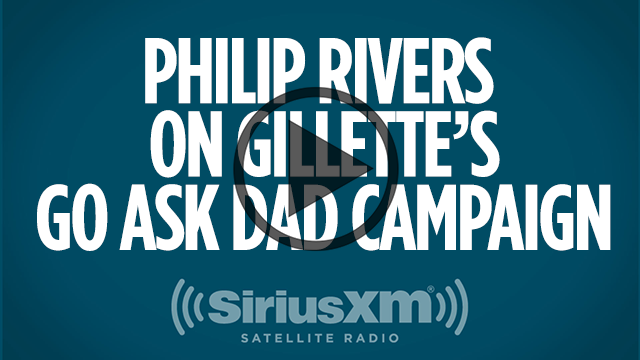 With Father's Day right around the corner, Gillette is putting the spotlight back on dads with its Go Ask Dad campaign, which encourages guys, no matter where they are or what they're doing, to go ask dad. We recently had San Diego Chargers quarterback Philip Rivers in the SiriusXM studio to discuss the importance of a father's relationship with his children.
As a father of eight, Rivers has gotten some pretty interesting Father's Day gifts over the years and he told us about a few of his favorites. But what really matters to him when it comes to father-son bonding is those little, one-on-one moments, like teaching his boys how to tie a tie the "Rivers way."
Rivers also has a close relationship with his own dad and is no stranger to receiving questions from his eight children, so Go Ask Dad definitely resonates with him.
Check out Gillette's Go Ask Dad video. And check out our Father's Day gift-guide for some last-minute gift ideas.
To support father and son connections, Gillette has partnered with the National Center for Fathering, a non-profit organization centered on fostering the relationships between fathers and sons. Gillette will help on-board more dads into their Watch D.O.G.S. (Dads of Great Students) program, which will directly impact up to 55,000 teens in high schools across the country.
For a free 30-day trial, check out http://www.siriusxm.com/freeTrial.
---
---
---