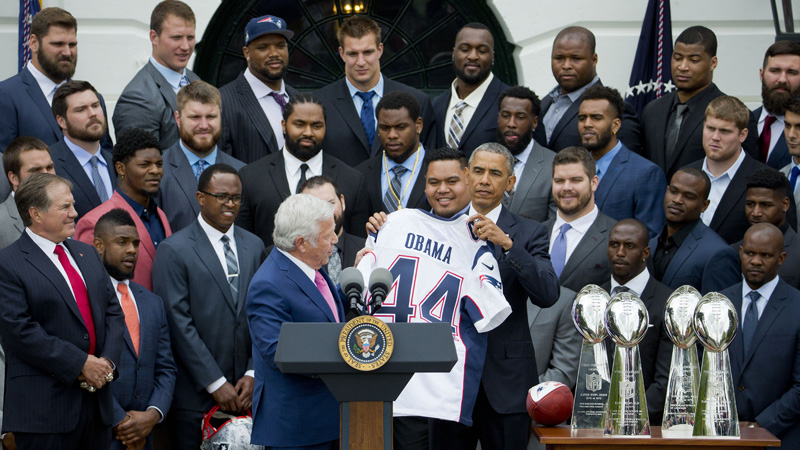 President Barack Obama holds a New England Patriots football jersey presented to him by New England Patriots owner Robert Kraft, during a ceremony on the South Lawn of the White House in Washington, Thursday, April 23, 2015, where the honored the Super Bowl Champion New England Patriots for their Super Bowl XLIX victory. (AP Photo/Pablo Martinez Monsivais)
The United States' commander-in-chief has some thoughts on the NBA and NFL this season, including which teams will eventually walk away with titles.
When asked about the new NBA season during a phone interview on Sway in the Morning, President Obama made the safe choice by choosing the Golden State Warriors as the 2016-2017 favorite.
"I'm going to go with the Warriors just because, Durant, that addition, I think they got too much firepower," Obama said. "Although they just got spanked in their first game."
It's no surprise the president took a swing at the Warriors, especially considering he's a diehard Chicago Bulls fan.
"It'll take them a while to figure stuff out," he added.
Choosing a Super Bowl favorite isn't quite as clear-cut, Obama said, leading him to choose everybody's favorite team, the New England Patriots.
"Super Bowl is tougher, but I got to say at this point you'd have to put your money on Brady again," Obama said. "I don't see any real strong teams."
The Leader of the Free World went on to predict the matchup itself – a rematch of Super Bowl XLIX.
"Seattle and Patriots have a rematch, that's my call."
Sway in the Morning airs weekdays at 8 a.m. ET on Shade 45 (Ch. 45). Don't forget to vote on Nov. 8!
Photo Credit: AP Photo/Pablo Martinez Monsivais
---
---
---