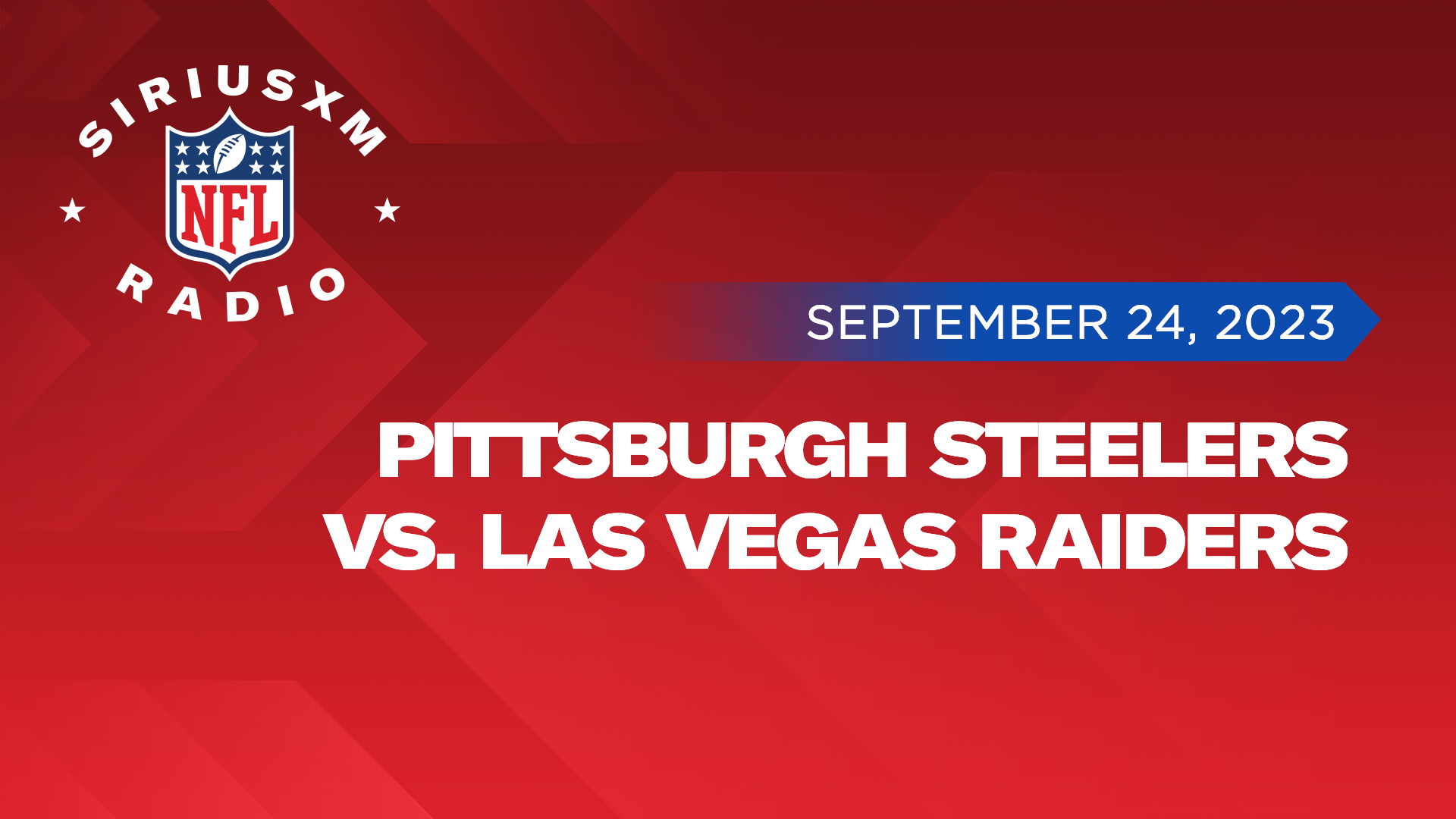 Get ready for an electrifying NFL showdown as the Las Vegas Raiders host the Pittsburgh Steelers this weekend. With both teams boasting talented rosters and a hunger for victory, Sunday Night Football promises to deliver an unforgettable showdown. Tune in and witness the gridiron drama unfold as the Steelers clash with the Raiders under the primetime lights!
Listen live to your choice of the home, away, or national feed on the SiriusXM App. Kickoff is September 24 at 8:20pm ET.
---
Stream the Pittsburgh Steelers broadcast (Ch. 826)
Stream the Las Vegas Raiders broadcast (Ch. 816)
Stream the National broadcast (Ch. 88)
---
Home: Las Vegas Raiders
In the black and silver corner, we have Jimmy Garoppolo, who's been making waves with his impressive performances. Last week, he completed 66.7% of his passes for 185 yards. Jimmy G is no stranger to prime time success, boasting 11 TDs (10 passing, 1 rushing) and a 100.8 passer rating in eight career Sunday Night Football starts. He's riding a hot streak, with three consecutive wins and six TDs (five passing, one rushing) in his last three prime time appearances.
Josh Jacobs is the man to watch for the Raiders. With five catches for 51 yards last week, he's a versatile threat. Jacobs has a knack for shining under the prime time lights, amassing 1,200 scrimmage yards and 10 rush TDs in 13 career night games. He's had 100+ scrimmage yards and a rushing TD in three of his last four such contests.
Davante Adams is the Raiders' top receiving threat, coming off a game with 6 catches for 84 yards and a touchdown. He's been a touchdown machine, scoring in each of his last 12 Sunday Night Football appearances. Adams is just one touchdown away from joining the elite club of players with 30 career primetime receiving TDs.
Maxx Crosby and Divine Deablo lead the Raiders' defense. Crosby has five sacks in his last four prime time games, while Deablo has been racking up tackles and sacks. Keep an eye on Robert Spillane for the Steelers, who had 14 tackles and a sack in Week 2.
---
Las Vegas Raiders Home Feed
SiriusXM channel 225 in your vehicle
Channel 816 on the SiriusXM App
Pittsburgh Steelers Away Feed
SiriusXM channel 226 in your vehicle
Channel 826 on the SiriusXM App
National Feed
SiriusXM channel 88 in your vehicle
Channel 88 via on the SiriusXM App
En Español
SiriusXM channel 228 in your vehicle
Channel 832 on the SiriusXM App
---
Away: Pittsburgh Steelers
On the other side of the field, the Pittsburgh Steelers have their own set of playmakers. Kenny Pickett has been showing poise in his recent performances, completing 66.7% of his passes for 244 yards with a touchdown and an interception in his last meeting with the Raiders. He's on a four-game winning streak in prime time.
Najee Harris and Jaylen Warren are a dynamic duo. Harris has been a prime time performer, with 389 scrimmage yards and 3 TDs in four Sunday Night Football appearances. Warren had a career-high 66 receiving yards in Week 2.
George Pickens and Allen Robinson are targets to watch. Pickens had a breakout game with 127 yards and a touchdown. Robinson has been consistent with six or more catches in three of his last four Sunday Night Football outings.
T.J. Watt and Alex Highsmith are forces to be reckoned with. Watt leads the NFL with 4 sacks in 2023 and is on a roll with 0.5+ sacks in his last four games. Highsmith is coming off an impressive performance with seven tackles, a sack, a forced fumble, and an interception for a touchdown in Week 2.
---
For more on SiriusXM's NFL programming, visit SiriusXM.com/NFL.
---
---
---