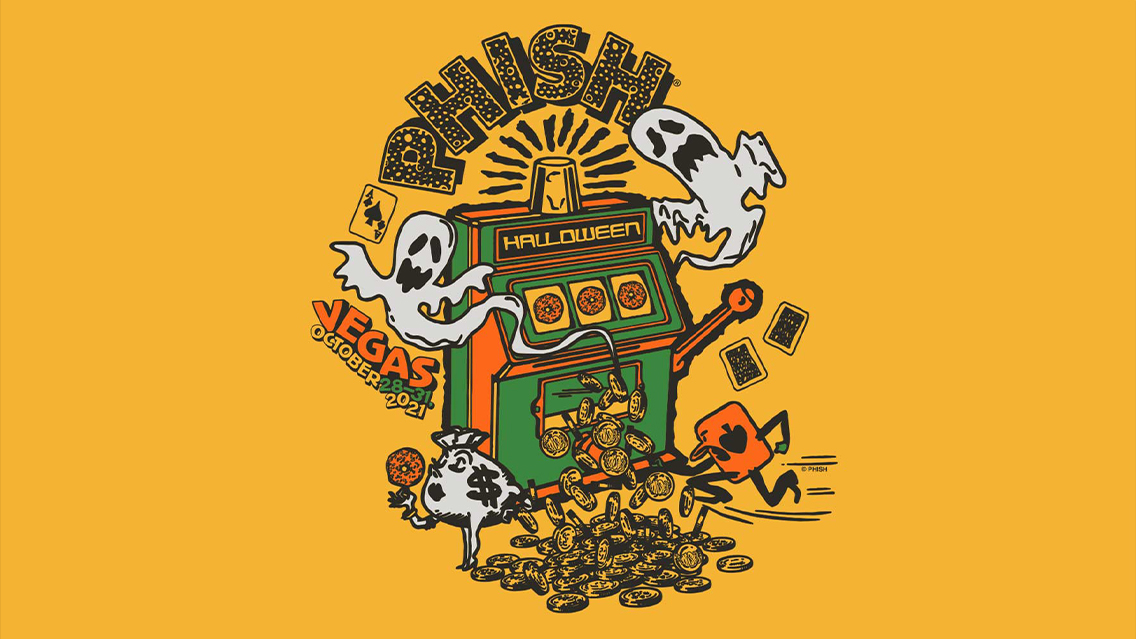 Halloween isn't just about candy and costumes — for Phish fans, this week also means four nights of Phish, including their heavily anticipated three-set Halloween show, airing live on the band's exclusive SiriusXM channel! Tune in to Phish Radio (Ch. 29) all week to warm up for the band's 2021 Halloween run with archival 'musical costume' Halloween shows from years' past, and then hear four nights of live broadcasts from Phish's Halloween run of shows at Las Vegas' MGM Grand Garden Arena Thursday through Sunday nights.
Before you hear the band take the stage live from Las Vegas each night, Phish Radio listeners will be in control of the airwaves introducing their favorite pre-show tunes, along with your Phish Radio hosts, and a few special guests. Then, in between sets, DJs from The Bunny (a weekly show on Phish Radio) will be providing unique Halloween mixes for SiriusXM listeners while the band is at setbreak.
Additionally, don't miss a brand-new Halloween-themed episode of The Errant Path hosted by Phish drummer Jon Fishman on Wednesday night at 7pm ET, as well as a new edition of Headbands w/ Ari Fink, featuring a can't-miss playlist and interview with Trey Anastasio Band saxophonist James Casey, who has stepped off the road this fall to undergo cancer treatment. See the full Halloween programming schedule below (all times approximate and subject to change), and start listening to Phish Radio now.
---
Broadcast Schedule (all times ET)
---
Tuesday, October 26
7am – The Errant Path w/ Jonathan Fishman (archived episode)
12pm – 10.31.95 Rosemont, IL
7pm – Crowd Control: Chris Cohn – Cardiff, CA
9pm – 10.31.14 Las Vegas, NV
Wednesday, October 27 
12pm – Last Night's Show: 10.26.21 Santa Barbara, CA
7pm – The Errant Path w/ Jonathan Fishman (new episode!)
9pm – 10.31.09 Indio, CA
Thursday, October 28 
10am – Crowd Control: Joe Leroy – Gig Harbor, WA
12pm – 10.31.96 Atlanta, GA
7pm – HEADBANDS w/ Ari Fink & James Casey
9pm – Vegas Pre-Show: LIVE from Las Vegas
10:30pm – Phish: LIVE in Las Vegas (set 1)
12am – The Bunny – Setbreak DJ set
1am – Phish: LIVE in Las Vegas (set 2)
Friday, October 29
12pm – Last Night's Show: 10.28.21 Las Vegas, NV
6pm – The Bunny (new episode)
9pm – Vegas Pre-Show: LIVE from Las Vegas
10:30pm – Phish: LIVE in Las Vegas (set 1)
12am – The Bunny – Setbreak DJ set
1am – Phish: LIVE in Las Vegas (set 2)
Saturday, October 30
9am – 10.31.18 Las Vegas, NV
12pm – Crowd Control: Chris Cohn – Cardiff, CA
2pm – HEADBANDS (encore)
3pm – Last Night's Show: 10.29.21 Las Vegas, NV
9pm – Vegas Pre-Show: LIVE from Las Vegas
10:30pm – Phish: LIVE in Las Vegas (set 1)
12am – The Bunny – Setbreak DJ set
1am – Phish: LIVE in Las Vegas (set 2)
Sunday, October 31   
3am – Bunny Freakout
9am – 10.31.10 Atlantic City, NJ
12pm – The Bunny (encore)
3pm – Last Night's Show: 10.30.21 Las Vegas, NV
7pm – Crowd Control: Joe Leroy – Gig Harbor, WA
9pm – Vegas Pre-Show: LIVE from Las Vegas
10pm – Phish: LIVE in Las Vegas (set 1)
11:30pm – The Bunny – Setbreak DJ set
12am – Phish: LIVE in Las Vegas (set 2)
1am – The Bunny – Setbreak DJ set
2am – Phish: LIVE in Las Vegas (set 3)
---
---
---