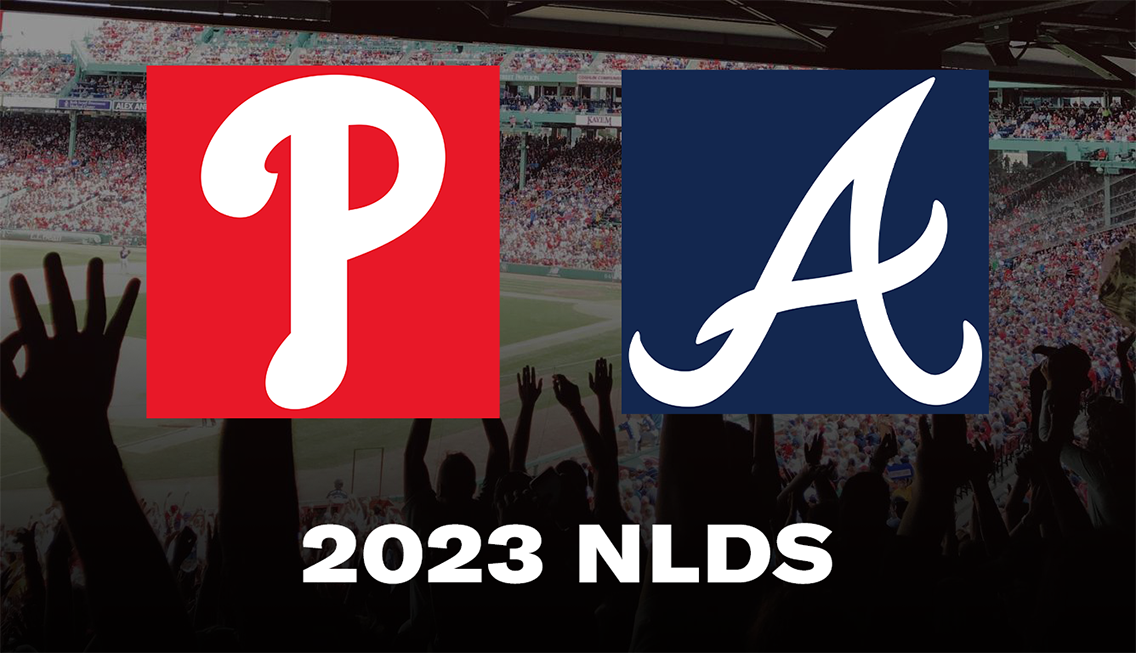 The Philadelphia Phillies and defending champion Atlanta Braves are playing in the 2023 National League Division Series. Listen to every game of the NLDS, on either the home and away feeds, on the SiriusXM App or car radios starting October 7 at 6:07pm ET (see the series schedule and channel assignments here).
---
Stream the Braves home broadcast on the SiriusXM App & web player
Stream the Phillies away broadcast on the SiriusXM App & web player
Stream the National broadcast on the SiriusXM App & web player
---
Philadelphia Phillies NLDS:
In Game 1, the Phillies are likely to turn to Ranger Suárez as their starting pitcher. Suárez previously faced the Braves in the 2022 NLDS, delivering a performance marked by moments of brilliance and marred by struggles with command. His season has been a rollercoaster ride, including a stint on the sidelines due to a hamstring injury and inconsistent outings.
Philadelphia's lineup is expected to closely resemble their configuration from the NL Wild Card Series, with one notable change: Brandon Marsh will make his return to left field to counter the Braves' right-handed starting pitcher. This lineup packs a punch with renowned hitters like Bryce Harper and Nick Castellanos anchoring it.
The Phillies have the luxury of a well-rested bullpen, with key arms like José Alvarado and Craig Kimbrel ready to dominate in late-inning situations. Michael Lorenzen is also likely to be added to the roster, providing additional depth and versatility.
Notably, the Phillies have a history of success against the Braves in the postseason. Keep an eye on Brandon Marsh, who has been a standout performer against Spencer Strider, the Braves' ace.
Atlanta Braves NLDS:
For Game 1, the Braves will entrust Spencer Strider, their ace, with the pitching duties. Strider has displayed remarkable dominance against the Phillies throughout his career, boasting an unblemished record and an impressive sub-2.01 ERA over seven starts. However, there are concerns stemming from his NLDS Game 3 performance last year, where he allowed five runs over just 2 1/3 innings due to fatigue, having had limited mound time because of an oblique strain.
Strider made history during the regular season with a record-breaking 281 strikeouts, setting a single-season Braves franchise record.
The Braves' offense has been nothing short of explosive, matching the MLB's single-season home run record with an impressive 307 homers. Standout performers like Marcell Ozuna, Matt Olson, Austin Riley, and Ronald Acuña Jr. have consistently tormented the Phillies' pitching staff.
The Braves have meticulously managed their bullpen workloads in the final weeks of the regular season and during simulated games leading up to the playoffs. As a result, their bullpen is fresh and ready for action. A.J. Minter, Pierce Johnson, and Joe Jiménez are set to serve as the primary setup men for the Braves' closer, Raisel Iglesias. Left-handers A.J. Minter and Brad Hand could play pivotal roles, particularly against formidable Phillies' hitters like Kyle Schwarber and Bryce Harper. Kirby Yates and Jesse Chavez provide flexibility in middle-inning roles.
In addition to live play-by-play action of every game, listen to expert analysis and preview coverage on MLB Network Radio.
---
---
---