Peter Frampton on recording with George Harrison: 'It sounded like the Wall of Sound'
Peter Frampton has worked with a diverse set of musicians over the course of his career, but one of his most special collaborations was with George Harrison. While in New York to promote his latest record, Acoustic Classics, the rock … Continued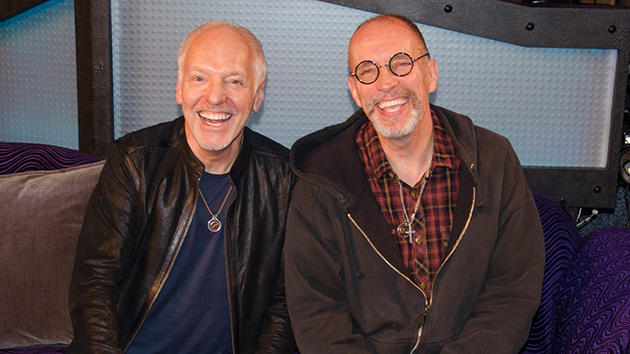 Peter Frampton has worked with a diverse set of musicians over the course of his career, but one of his most special collaborations was with George Harrison. While in New York to promote his latest record, Acoustic Classics, the rock 'n' roll icon stopped by The Howard Stern Show Wednesday, where he recalled his special friendship with the late former Beatle.
Their friendship began after a mutual friend contacted Frampton to see if he'd like to record on Harrison's first solo project, All Things Must Pass. After playing a studio session together and becoming good friends, Frampton would spend weekends at Harrison's house, where they'd jam together. However, Frampton noted that they had never written a song, admitting he was a bit intimidated to be so close to someone who was a major influence on him.
"I was 21 then, and I'm in the presence of a Beatle," Frampton said. "Apart from the (British instrumental band) Shadows, then the next thing that influenced everybody from '62 on in England was The Beatles. It was like a phenomenon."
As their friendship grew, Harrison would call Frampton for intimate recording sessions with producer Phil Spector.
"George says, 'Phil wants more acoustics, can you bring your guitar, and we'll have an afternoon of just you and me? We'll overdub on whatever he needs,'" Frampton said. "That's when we went to Abbey Road, where all The Beatles stuff was done, and sat on two stools me and George, looking in the control room at Phil Spector."
Frampton recalled the sessions as some of the best he's ever experienced.
"When we walked in the control room, I have to hand it to Phil Spector," he said. "I think on the tracks, there was Bad Finger, three of them were playing acoustic, myself and George were playing acoustic, bass and two drums and maybe a keyboard. When we walked in there, it sounded like the Wall of Sound. It was incredible. You knew as soon as you heard anything from that record that it had that wonderful sound."
Frampton played on five songs from Harrison's solo debut. He said he would defer to Harrison and just play whatever was asked of him. Even though the guitar riffs weren't particularly complicated or anything that Harrison couldn't perform on his own, Frampton believed he was picked to contribute to All Things Must Pass because of their friendship, and to save time.
"We enjoyed playing together and being together so it was a mutual thing," he said. "But he wanted to, instead of having to overdub his guitar too many times, have two of us do it in half the time… I just follow his lead and do the part. I'm a session player at that point."
"I'm very lucky," he added.
Listen to Frampton's full interview with Howard Stern below, where he discussed his childhood friendship with Bowie, the success of Frampton Comes Alive! and even performed two songs live in studio!
For more coverage of The Howard Stern Show, follow @sternshow on Twitter.
For a free 30-day trial, check out http://www.siriusxm.com/freeTrial.
---
---
---