Peter Frampton Artist Confidential on Classic Vinyl
Grammy-winning guitarist Peter Frampton is a staple of classic rock radio. From his work with Humble Pie and The Herd to his international breakthrough as a solo artist with Frampton Comes Alive! (one of the best-selling live albums to date), the … Continued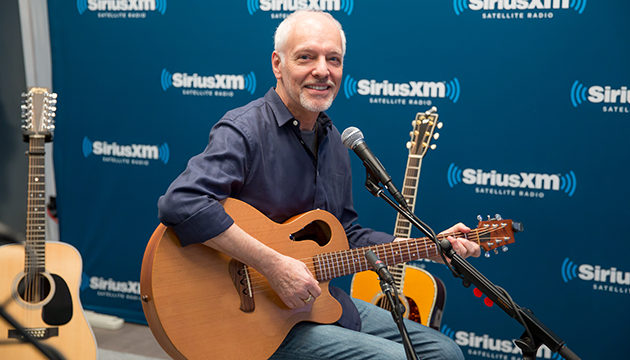 Grammy-winning guitarist Peter Frampton is a staple of classic rock radio. From his work with Humble Pie and The Herd to his international breakthrough as a solo artist with Frampton Comes Alive! (one of the best-selling live albums to date), the multi-instrumentalist singer-songwriter has had a storied career in rock and roll. Frampton takes a look back on some of his best-known songs on his latest release, Acoustic Classics, by stripping them down on acoustic guitar.
In celebration of the new album, he stopped by the SiriusXM studios for an intimate concert in front of an exclusive audience of SiriusXM subscribers, playing songs from Acoustic Classics as well as a cover of The Beatles' Norwegian Wood.
During the session he talked about moments from his career, including the recording of his fourth studio album Frampton.
"I was down in the Bahamas for three weeks in Steve Marriott's cottage, and I had three weeks to write the Frampton album because we'd come off the tour—three weeks to write, six weeks to record, then back on tour sort of a thing. That was the way it went," he said. "So, I went down there and the first two weeks I came up with nothing that I would play to anybody including myself."
He also revealed a hidden gem on Humble Pie's live record, involving a beer bottle.
Hear the SiriusXM Artist Confidential with Peter Frampton on Classic Vinyl (Ch. 26) on Monday 3/14 at 12 pm ET with encore broadcasts airing Wednesday 3/15 at 6 am ET; Friday 3/16 at 12 am ET, Saturday 3/17 at 9 am ET,  and Sunday 3/18 at 7 pm ET.
For a free 30-day trial, check out http://www.siriusxm.com/freeTrial.
---
---
---