Paul McCartney's original radio series Oobu Joobu hits SXM airwaves
Hear great moments from Paul McCartney's classic radio series, Oobu Joobu, only on SiriusXM's The Beatles Channel (Ch. 18).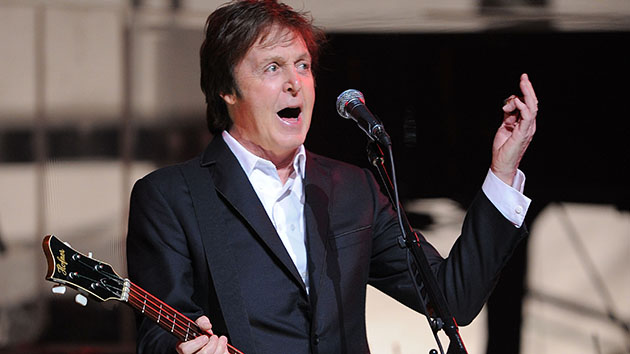 Paul McCartney performs during an exclusive SiriusXM show at The Apollo on Dec. 13, 2010. Photo credit: Kevin Mazur
In the summer of 1995, Paul McCartney produced a unique and highly original radio series called Oobu Joobu, consisting of rare musical performances and commentary by McCartney. Now, SiriusXM's The Beatles Channel (Ch. 18) presents an hour-long overview of the great moments from that series, described by McCartney as "wide-screen radio."
This free-wheeling, unpredictable program features a tantalizing selection of demos, rehearsals, live performances, and unreleased recordings from McCartney's archives. You'll be a fly on the wall during the recording session for Ebony and Ivory, McCartney's chart-topping duet with Stevie Wonder. You'll hear snippets of unreleased songs including I Love This House (featuring David Gilmour), Atlantic Ocean, and Love Mix. And you'll groove to some exciting sound check jams, as McCartney leads his band through rehearsals of Beatles classics including Back In The U.S.S.R., Let It Be, and a hilarious version of Hey Jude.
In addition, the one-hour special features illuminating commentary from McCartney on a wide range of subjects, as he recalls shopping for rare reggae records in Jamaica and also pays tribute to one of his musical heroes, Elvis Presley. Paul also shares some of the music that has inspired and influenced him over the years, including Blue Moon of Kentucky by Bill Monroe, Eddie Floyd's Knock On Wood, and Gimme Some Lovin' by Spencer Davis Group.
Hear great moments from McCartney's classic radio series, Oobu Joobu, only on SiriusXM's The Beatles Channel.
The special premieres Friday, Aug, 18, 5 pm ET.
Don't miss encores: Friday, Aug. 18, 8 pm ET; Saturday, Aug. 19, 2 pm ET; Sunday, Aug. 20, 11 am ET; Tuesday, Aug. 22, 11 pm ET; Thursday, Aug. 22, 12 pm ET.
There's still time to enter for your chance to win a trip to New York City to see Paul McCartney's One On One tour, including an invitation to Paul's sound check. For details and official rules, visit siriusxm.com/PaulMcCartney before Sept. 5.
---
---
---