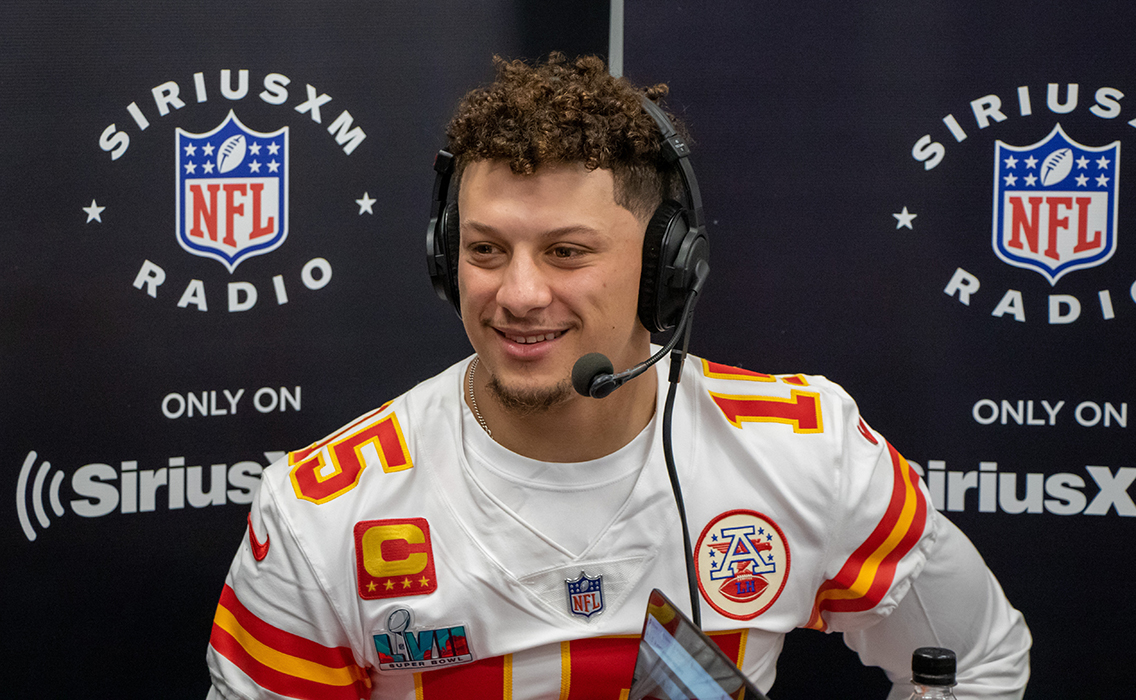 Ahead of Super Bowl LVII, Kansas City Chiefs quarterback Patrick Mahomes appeared on SiriusXM NFL Radio (Ch. 88) from Radio Row in Phoenix, Arizona. Mahomes sat down with hosts Alex Marvez and Bill Polan to discuss the Philadelphia Eagles' "special defense," reflect on the meaning of the "C" on his uniform, share the advice he's given to the young players on his team, and more.
Watch a clip from the sit-down below, and listen to interviews with Mahomes and more players all week long on Super Bowl LVII Radio (Ch. 104) on radios and the SXM App now.

"[The Eagles have] a special type of defense, and that's why they're in this game," Mahomes said. "And we understand the D-Line. They're on a historic pace for sacks and rushing the passer, but they're also good against the run. So, we just have to make sure that we execute, and it's gonna be a big offensive line game, and them setting the tone against a great defense. And then for me, getting the ball in my hand, creating positive plays and trying to prevent those negative ones, which they've seemed to thrive on."
---
Related: Bill Belichick on What He Learned from Tom Brady | Let's Go! Podcast
---
During the interview, Mahomes broke down what his offense needs to do against the Eagles' stifling defense.
Additionally, despite still being young himself, the Super Bowl LIV champ and 2018 NFL MVP revealed the insight he's shared with his younger teammates.
"I've kind of emphasized to those guys is that you're young, you're a rookie, but you've played a full season," Mahomes said. "Now you're a one-year vet… and you never know if you're gonna be back in this game."
Check out more of SiriusXM's Super Bowl LVII programming here.
Patrick Mahomes on Eagles' "Special Defense" and His 3rd Super Bowl Appearance
---
---
---