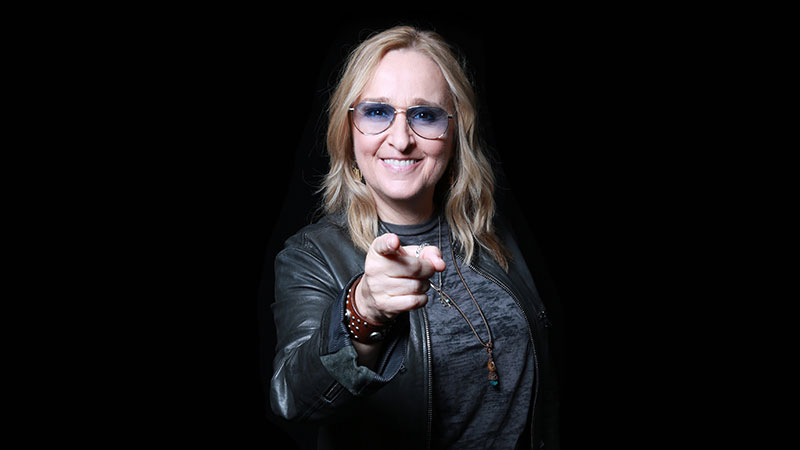 Pat Benatar and her producer/guitarist, partner and husband Neil Giraldo have been known to push the envelope with their music and have gained a reputation for writing about tough subject matters. But the four-time Grammy winners are also famous for stepping outside the box with their iconic image.
On Melissa's Basement, Benatar and Giraldo discussed that on-stage persona and the band's image with Melissa Etheridge.
"Your look was so fresh, and it was a look that Freddie Mercury was trying to do, he was the closest that got to it," Etheridge said. "But you were finally that woman that could stand up in the spandex like no one else."
Benatar made waves as the first singer to wear skintight leggings, leotards, elaborate eye makeup and other things that were seen as unconventional. It turns out that she came up with the image while dressing up for another special occasion.
"For Halloween in 1978, we went to Cafe Figaro in the Village and we were going back up to Catch a Rising Star when we were done. We all went down, all of us from Catch went down and we were all dressed up for Halloween, and I'm like a sci-fi freak," Benatar explained.
"So one of my absolute crappiest love movies is Cat-Women of the Moon, and I loved Sophia Loren, and I loved Audrey Hepburn with these eye makeup things. So I just made this crazy costume with all this eye makeup on and a ray gun, little boots and ties and this little thing, and I won! So we were all, 'Let's go back up to Catch and celebrate,' then we all decided we'd perform in costume, which was literally one of those 'aha' moments."
Benatar said she knew she stumbled upon something special based on how the audience reacted and how she felt.
"What happened in that costume, to me and the audience, changed everything," she said. "So the next day I took the ray gun off, I didn't have that. But I went home and I was like, 'Hmmm, what was that all about?'
"And I just did it again, and again, and again and that was it."
Giraldo, who is the "mad scientist" behind the "Benatar sound" went on to discuss the work he did arranging and producing Rick Springfield's Grammy-winning hit Jessie's Girl.
"I did it because the producer we were working with, I was co-producing a record with him, and he decided to do a couple songs by Rick Springfield," he said. "He asked me if I would come in there and do it with him, produce it with him, arrange and just do all the stuff I do to make records, so I did it for that. When I heard the song, the demo, I thought it was a great song and I said, 'Man, this could be a hit.'"
Hear Melissa Etheridge's full interview with Pat Benatar and Neil Giraldo — featuring live snippets of their songs I Need A Lover, Love Is A Battlefield and Jessie's Girl — on SiriusXM VOLUME (Ch. 106) and On Demand through the SiriusXM app and online at SiriusXM.com.
Melissa's Basement airs monthly on VOLUME.
For a free 30-day trial, check out http://www.siriusxm.com/freetrial/blog
---
---
---