Pace on Bears' Trubisky pick: 'We didn't want to sit on our hands'
Once it was clear to the Chicago Bears' hierarchy that Mitch Trubisky had everything the team wanted in a franchise quarterback, the decision to move up to the second overall pick in the NFL Draft to get him was made. General Manager … Continued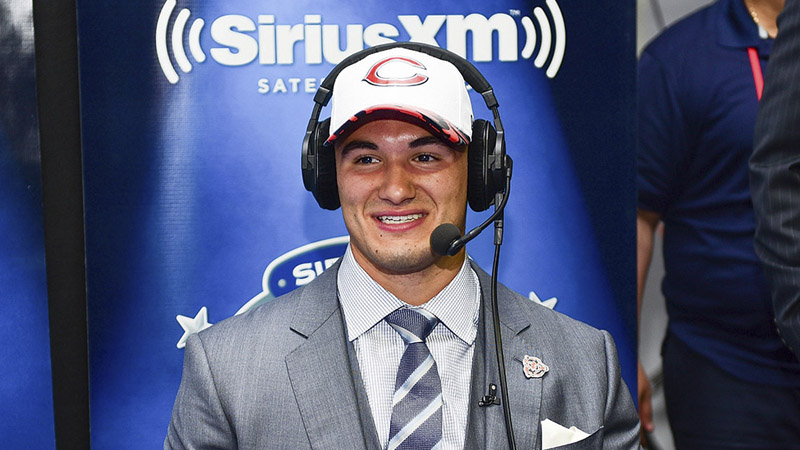 PHILADELPHIA, PA – APRIL 27: Mitchell Trubisky of North Carolina visits the SiriusXM NFL Radio talkshow after being picked #2 overall by the Chicago Bears (from 49ers) during the first round of 2017 NFL Draft at Philadelphia Museum of Art on April 27, 2017 in Philadelphia, Pennsylvania.
Once it was clear to the Chicago Bears' hierarchy that Mitch Trubisky had everything the team wanted in a franchise quarterback, the decision to move up to the second overall pick in the NFL Draft to get him was made.
General Manager Ryan Pace pointed to the thorough research done before the draft that convinced him the former North Carolina star would be worth the third- and fourth-round picks in this year's draft and the third-rounder in 2018 to swap places with the San Francisco 49ers, who were picking at No. 2.
'Sometimes it requires bold moves to that that position right'
"We went into this offseason really with a focus and a commitment to improve the position, so it kind of started in free agency with the addition of Mike Glennon who we feel really good about," Pace told Jim Miller and Pat Kirwan on Movin' The Chains. "And as we got into the draft and evaluating all the quarterbacks — and I spent a lot of time, obviously, this season traveling around and seeing those guys — it became apparent to a lot of us that, hey, Mitch Trubisky, there's a lot of special traits here that are very intriguing and we feel he can be a franchise-caliber quarterback.
---
SiriusXM Free Listening is right around the corner! Text LISTEN to 77917 to learn more and receive special offers. Message and data rates may apply. Reply STOP 2 end HELP 4 info.

---
"So there's not going to be many times you're picking this high in the draft, and we had an opportunity to get that guy and we didn't want to sit on our hands. We were aggressive and got the guy, so now you look at the depth chart in the quarterback position. You've got Mike Glennon and you've got Mitch Trubisky and Mark Sanchez and I feel really good about the room. … To win in this league, to be great in this league, you've got to be great at that position. And I think it sometimes it requires bold moves to get that position right, and that's what we did."
'I thought we did a really good job of kind of keeping everything quiet'
Before the draft, the Bears were careful to keep their intentions under wraps. That was a large part of why the deal shocked so many people around the league.
"I thought we did a really good job of kind of keeping everything quiet," Pace said. "You never really know how the draft's going to unfold and so we had a handful of names and the circle of guys that we would be considering around that pick, whether we'd go up or stand pat or go back. And we, obviously, went and had private workouts in Chapel Hill, and Coach (John) Fox and Dowell Loggains, our offensive coordinator, and Dave Ragone, our quarterbacks coach, and (director of player personnel) Josh Lucas.
"And I was really proud of the fact that we were able to keep that quiet."
---
---