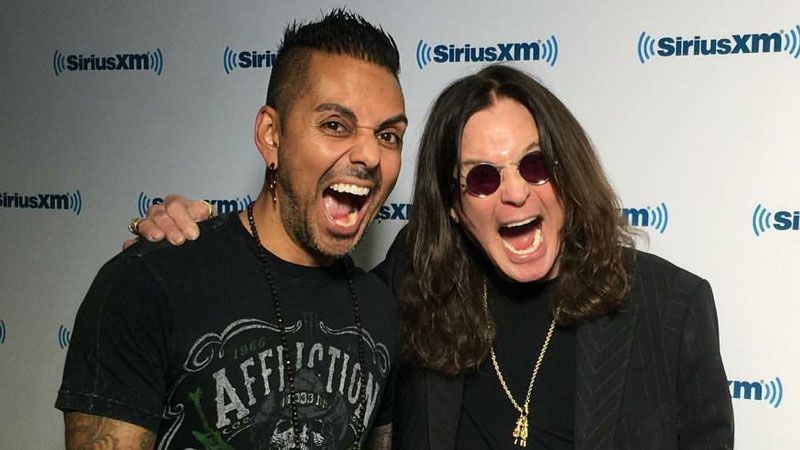 The Prince Of Darkness Ozzy Osbourne recently graced our studios in Los Angeles to sit down with Liquid Metal (Ch. 40) host Jose Mangin and talk about Black Sabbath's final tour.
Black Sabbath will play its final three U.S. shows ever on Nov. 8 in Tulsa, Oklahoma, Nov. 10 in Houston, Texas, and Nov. 12 in San Antonio, Texas. After taking a month off, the rockers will hit the road for the final tour in Europe starting Jan. 19, culminating in Osbourne's hometown of Birmingham, England.
"People are saying to me, 'Will you be emotional?' I don't know, I suppose," Osbourne said. "Going around the world five billion times and ending where you started, it's kind of [emotional]."
Osbourne also discussed Ozzy & Jack's World Tour, which he proudly hosts with his son Jack on The History Channel.
"TV is the most powerful thing, everybody's got a TV," he said. "[Jack] asked me and I said without even thinking about it, 'Sure.' It was great to be with him and all the crew he has. We had some really good times."
Osbourne has no intentions of slowing down and is working on a solo music project.
"I'm not retiring, I'm gonna carry on. I've been writing with Billy Morrison and Steve Stevens," he said. "He's not gonna be in my band, he's with Billy Idol. But he's a friend of [Morrison's] and I said, 'I've got some ideas,' and we worked it out."
Osbourne also gave his thoughts on the upcoming presidential election.
"When you see a bad accident on the freeway, you think it's grotesque but you still have to have a little look. It's kind of like that," he said. "I don't know who to trust. … If I was American, I don't know who I would go for."
Catch replays of the Mangin's extensive conversation with Ozzy on Octane (Ch. 37) on Thursday at 8 p.m. ET and on Liquid Metal on Friday at 5 p.m. ET, Saturday  at 10 a.m. ET and Sunday at 3 p.m. ET. The interview will also be available to listen to anytime on the SiriusXM App for smartphones and other connected devices.
For a free 30-day trial, check out http://www.siriusxm.com/freetrial/blog.
---
---
---