'Outlaws & Armadillos' kick off concert set to air on SiriusXM
"Outlaws & Armadillos – Country's Roaring '70s" Exhibit Opening Concert will premiere on Friday, July 27 at 8 pm ET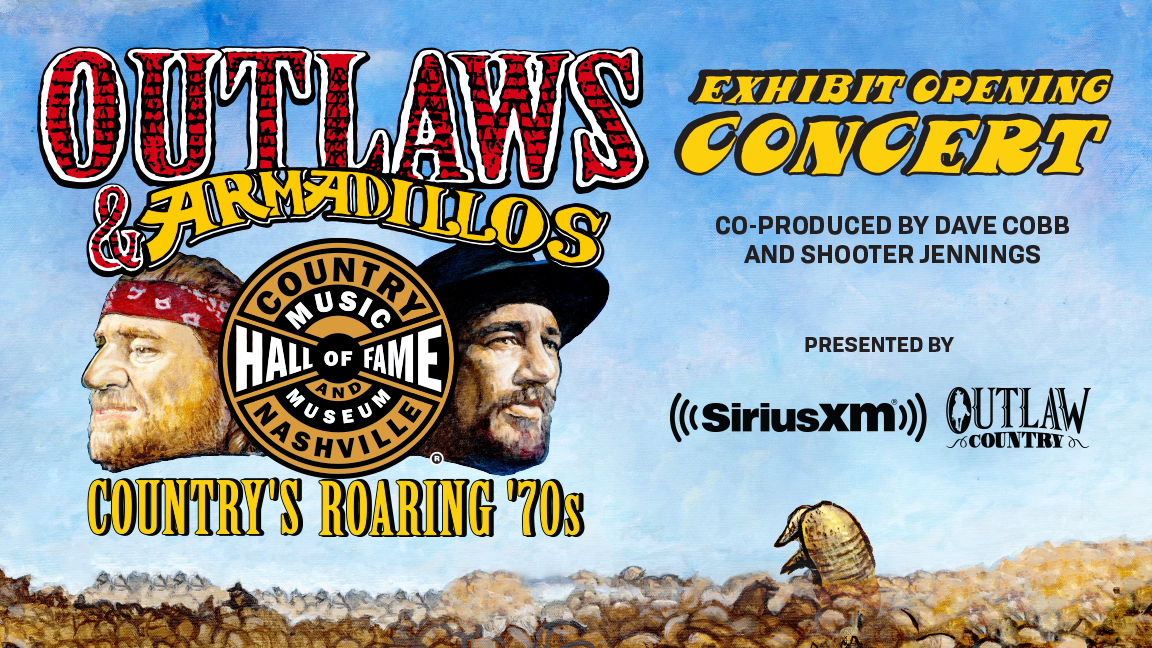 The '70s Outlaw Country movement was a two-headed beast, hailing from both Austin, Texas and Nashville, Tenn.
Austin was home to Willie Nelson and the "Armadillo World Headquarters," while back in Music City U.S.A. artists like Waylon Jennings and Bobby Bare bucked the studio system to assert their artistic freedom.
A new exhibit at the Country Music Hall of Fame & Museum explores the best of both worlds. "Outlaws & Armadillos – Country's Roaring '70s," kicked off with an all-star concert at the CMA Theater in Nashville that will air exclusively on SiriusXM's Outlaw Country (Ch. 60).
Co-produced by Dave Cobb and Shooter Jennings, the Exhibit Opening Concert featured original Outlaw trailblazers like Bobby Bare, Billy Joe Shaver, Ray Wylie Hubbard and Jessi Colter, along with some of today's torchbearers, including Jason Isbell, Jamey Johnson and Colter Wall. A Studio A-team house band featuring Charlie Worsham and Chris Shifflett (Foo Fighters) on guitars and the legendary Robby Turner on pedal steel, backed most of the artists.
In addition to the full 24-song concert, the three-hour SiriusXM special will also include backstage panel discussions hosted by Peter Cooper of the Country Music Hall of Fame, with Bobby Bare, Billy Joe Shaver and Joe Ely; Tanya Tucker, Michael Martin Murphey and Jason Boland; Jamey Johnson, Gary P. Nunn and Jack Ingram; and Delbert McClinton and Kimmie Rhodes.
"Outlaws & Armadillos – Country's Roaring '70s" Exhibit Opening Concert will premiere on Friday, July 27 at 8 pm ET and replay at the times below on SiriusXM Ch. 60 and through the SiriusXM app on smartphones and other connected devices, as well as online at siriusxm.com.
Replays: Saturday 7/28 @ 6 pm ET; Sunday 7/29 @ 10 am and 10 pm ET; Monday 7/30 @ 11 am and 11 pm ET; Thursday 8/2 @ 12 am ET.

---
---
---