Oscars 2017: Andy Cohen recaps the Moonlight/La La Land mishap
Andy Cohen Live airs Mondays at 10 am ET on Radio Andy (Ch. 102).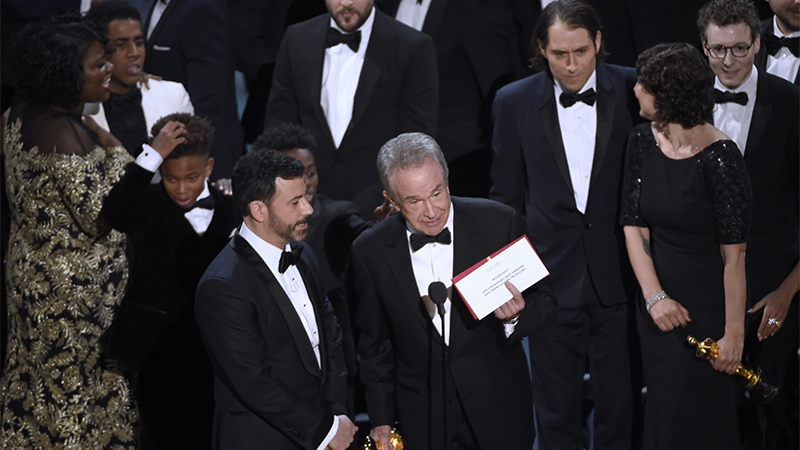 Presenter Warren Beatty shows the envelope with the actual winner for best picture as host Jimmy Kimmel, left, looks on at the Oscars on Sunday, Feb. 26, 2017, at the Dolby Theatre in Los Angeles. The winner was originally announced as "La La Land," but was later corrected to "Moonlight." (Photo by Chris Pizzello/Invision/AP)
Every year, movie fans argue that the Academy "got it wrong" — and this time, they actually did.
Warren Beatty and Faye Dunaway mistakenly announced front-runner La La Land as Best Picture at the end of Sunday's Oscars. The cast and crew took the stage, the speech began … and then, a producer held up the card revealing Moonlight had actually won, and the card inside the sealed envelope simply repeated Emma Stone's Best Actress video for La La Land, confusing the presenters.
"They printed two Best Actress cards and they printed two Best Picture cards for each side of the stage apparently, is exactly what happened. And I thought it was very smart of Warren Beatty to stay there and even before anything happened, this is where you know this guy is actually a pro and he's got his wits about him," Andy Cohen said on his show Monday. "He was like, 'Let me explain what just happened.'"
Hear more of his and co-host John Hill's hilarious take on the ceremony in the video above. Andy Cohen Live airs Mondays at 10 am ET on Radio Andy (Ch. 102).
This slideshow requires JavaScript.
For a free 30-day trial, check out http://www.siriusxm.com/freetrial/blog 
(Photos by Chris Pizzello/Invision/AP)
---
---
---