'Ones To Watch': Discover 12 artists you need to know
SiriusXM wants to make sure you know who's going to be big in 2022. Listen to music by these 12 emerging artists when you stream 'Ones to Watch,' available only on the SXM App.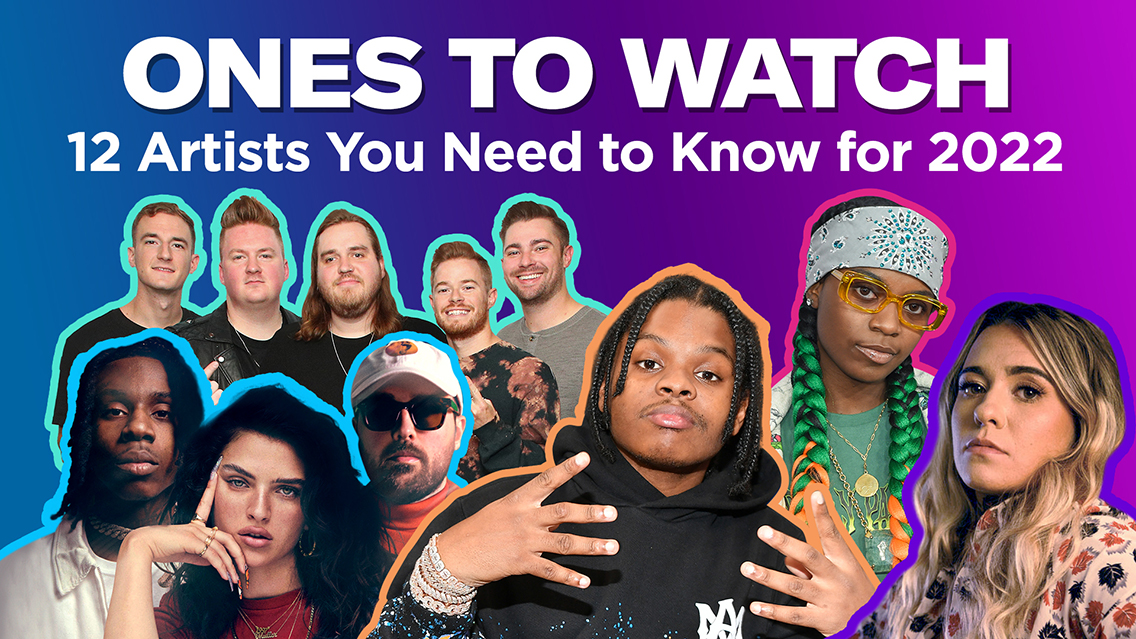 It's a new year, and SiriusXM wants to make sure you know who's going to be big in 2022. Discover 12 rising artists in 2022 below — including Mae Muller, Morgan Wade, 42 Dugg, Fred again.. and more.
---
Related: Meet the five cross-genre artists ready to become your new favorites in 2022
---
42 Dugg
Rapper Dion Marquise Hayes — better known as 42 Dugg — has already collaborated with Lil Baby on two tracks, "Grace" and "We Paid." Signed jointly to both Lil Baby's 4 Pockets Full and Yo Gotti's Collective Music Group, 42 Dugg's most recent mixtape Free Dem Boyz (released May 2021) reached No. 8 on the Billboard 200 and features guest appearances from Roddy Ricch, Future, Lil Durk, and many more.
BoyWithUke
"Just a boy with a ukulele," BoyWithUke has more than 3.1 million followers on TikTok — despite never showing his face. The anonymous artist released the full-length album Fever Dreams in 2021 with tracks like "Two Moons" racking up millions of streams, followed by the three-track EP Faded, which included his most successful song to date, "Toxic." BoyWithUke's faceless and DIY approach to music has clearly resonated across social media.
Emmy Meli
Emmy Meli's first hit song, "I Am Woman," successfully transitioned from TikTok viral success to a spot on the Billboard Hot 100. In an interview, Meli told Billboard, "[The song] came from a dream and I started saying these mantras to myself every morning." The empowering chorus — which includes lyrics like, "I am woman, I am fearless, I am sexy, I'm divine, I'm unbeatable, I'm creative" — has been used in over 200,000 TikTok videos to date. Meli now has a label deal with Disruptor/Arista.
Fred again..
British singer-songwriter Fred again.. (full name Fred John Philip Gibson) was mentored by none other than ambient music pioneer Brian Eno. He started out behind the scenes, producing hit records for other artists before releasing his debut solo track "Kyle (I Found You)" in November 2019. Following up on that success, Fred created his Actual Life series during lockdown in 2020, which includes an EP and two full-length albums.
Mae Muller
A member of SiriusXM's Future Five for 2022, Hits 1 (Ch. 2) provided a platform for two of Muller's US firsts by conducting her first-ever US radio interview as well as being the first broadcast outlet to play one of her songs, a collaboration with NEIKED and Polo G called "Better Days." Soon after, Muller was named a Hits 1 to Watch artist. Upon the release of her debut EP, no one else, not even you, the North-London singer-songwriter sold out a headlining tour and played at some of the UK's biggest and most prestigious festivals.
MARZZ
Also a member of SiriusXM's Future Five for 2022, MARZZ's single "Countless Times" was recognized by The Heat (Ch. 46) as a Future Fire track. Born Laria McCormick, MARZZ began attracting fans with her R&B freestyles and covers on Instagram — one of those fans being Timbaland. The legendary producer reached out to Marzz to record a handful of tracks, some of which were included on her debut EP Love Letters.
Morgan Wade
One of last year's Highway Finds on The Highway (Ch. 56), Wade has been performing live since she was 19. With raw, honest lyrics and a unique voice to match, her songs connect to fans on a deep level and have attracted the attention of Sadler Vaden, Jason Isbell's guitarist. Vaden produced Wade's first album, Reckless, which debuted in March 2021 with the lead single "Don't Cry."
---
Related: Get to know Highway Find & rising country star Morgan Wade's songs, story & more
---
PinkPantheress
With over 1.1 million followers on TikTok, PinkPantheress is a stage name chosen after the artist's favorite film. "Plzzz I didn't expect it to get this far," she wrote in a TikTok video caption of her name choice. Born in England, she was studying in London when she posted several songs to TikTok — including "Break It Off," which has been included in more than 43,000 videos — and earned herself a deal with Parlophone and Elektra Records. PinkPantheress' debut mixtape, to hell with it, was released in October 2021.
Remi Wolf
An American Idol alum, Remi Wolf's debut studio album Juno was released in October 2021 following the success of two EPs (the album title comes from the French bulldog she's allergic to but still adopted). A 2018 graduate of USC Thornton School of Music, NPR describes Wolf's sound as "pop music haphazardly filled to the margins with distorted guitars, sharp, vulgar barbs that could double as Cardi B outtakes, and whimsical, chaotic beats."
Spencer Crandall
Country music singer-songwriter Spencer Crandall pivoted to a career in music when his professional football dreams were dashed by injuries. After organically growing a fanbase on YouTube, Crandall released his debut full-length album Wilderness in December 2020 with the romantic lead single "My Person." His most recent YouTube project, a vlog series called Road to the Stadium, refers to his fan club name Stadium Gang with the goal of playing to "a stadium full of fans that feel like family."
Wage War
A metalcore band out of Florida, Wage War is made up of lead vocalist Briton Bond, lead guitarist Seth Blake, rhythm guitarist and clean vocalist Cody Quistad, bassist Chris Gaylord, and drummer Stephen Kluesener. After releasing their fourth studio album Manic in October 2021, the band is set to support I Prevail alongside Dream State in 2022.
Wet Leg
A British indie duo consisting of Rhian Teasdale and Hester Chambers, Wet Leg entered the scene in June 2021 with their debut single "Chaise Longue." Their debut self-titled album is slated to be released in April 2022. They performed a special cover of Madonna's "Material Girl" exclusively for SiriusXMU Sessions.
For more information about SiriusXM's channels, click here.
---
---
---