Ohio Senator opposes Trump nominee for U.S. attorney general
Sen. Jeff Sessions is "on the wrong side of everything we care about," explained Sen. Sherrod Brown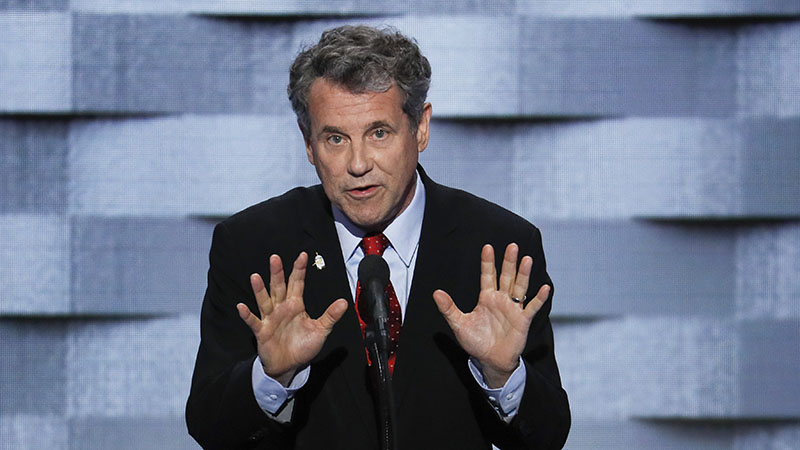 Sen. Sherrod Brown, D-Ohio speaks during the final day of the Democratic National Convention in Philadelphia , Thursday, July 28, 2016. (AP Photo/J. Scott Applewhite)
Longtime voting rights advocate Ohio Sen. Sherrod Brown made clear he opposes President-elect Donald Trump's nominee for U.S. attorney general, making the path to the Department of Justice potentially more complicated for Sen. Jeff Sessions.
In his first interview since releasing a statement, Brown revealed to Joe Madison on Friday why thinks Sessions is "on the wrong side of everything we care about."
"I met with Sessions this week, he is just wrong on the issues that we care most about, certainty starting with voting rights," Brown explained.
He added, "He's a guy that believes — he just doesn't look at the world the way you and I do."
Brown's long history of fighting for voting rights stretches back to his time as secretary of state of Ohio in the 1980s.
"I remember the first time I did any real march with voting rights was with Joe Madison, with you, in 1983," Brown recalled. "We walked across the bridge in Cincinnati, followed the path of the underground railroad into Detroit. And it's like living that again. Voting rights is under fire again. It's just incredible."
Reflecting on the 2013 Shelby County v. Holder decision by the Supreme Court, Brown stressed the importance of the attorney general role — noting that the right to vote is once again under attack.
"How many people in how many states in 2016 were denied the right to vote because of that Supreme Court decision and what states did as a result? After they were empowered to restrict voting rights by the top court in the land."
After pressing Sessions on a number of issues, Brown felt "he falls way short of what an Attorney General should be."
And Brown's uncertainty over Sessions is not unprecedented.
"We know that in the mid-1980's he was turned down by a Republican Senate for a federal judgeship because of some of his comments and some of his record, and he is just not someone who should be head of the Department of Justice."
While Brown believes "there are so many bad appointments coming from Trump," he emphasized the particular importance of U.S. attorney general.
"With the Department of Justice, especially, you want somebody who has an unblemished record, who cares about women's rights, and gay rights, and civil rights, and human rights, and his record just speaks the opposite of that for 30 years."
Joe Madison The Black Eagle airs weekdays at 6 am ET on SiriusXM Urban View (Ch. 126)
For a free 30-day trial, check out siriusxm.com/freetrial/blog
AP Photo/J. Scott Applewhite
---
---
---