Conan O'Brien Hosts 'In Utero' 30th Anniversary Special
Check out the episode now.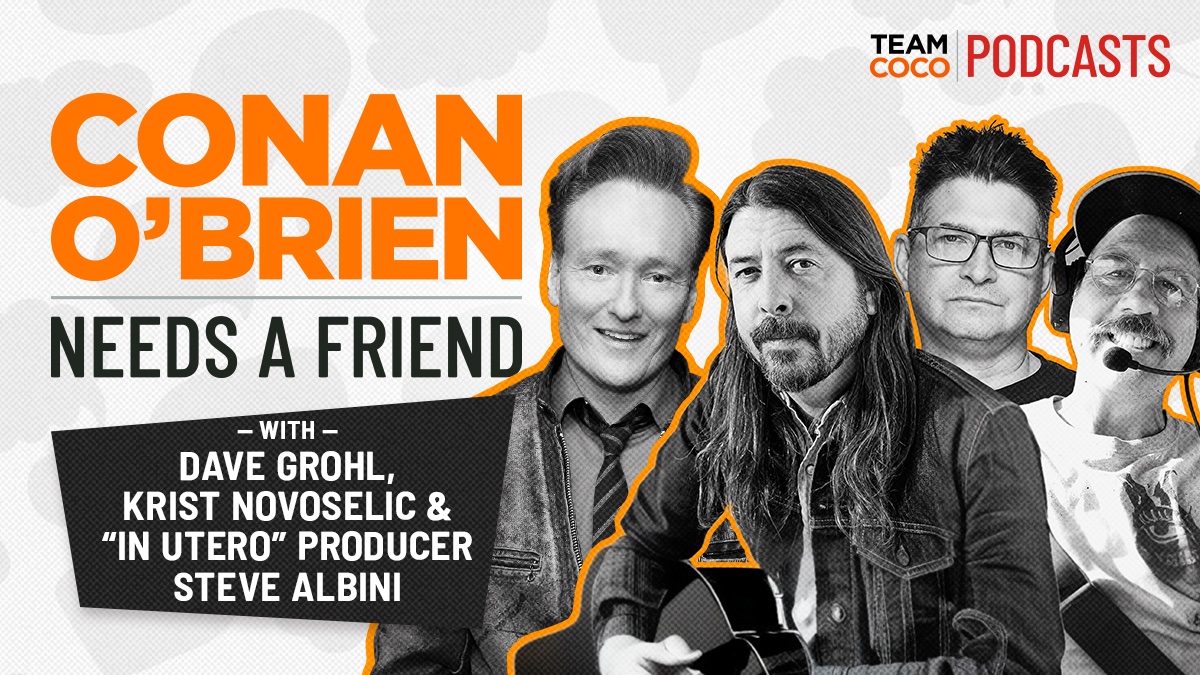 Dave Grohl, Krist Novoselic, and Steve Albini will celebrate Nirvana's third and final album, In Utero, during a special episode of the Conan O'Brien Needs a Friend podcast. The former Nirvana members and Albini, who produced In Utero, will talk to Conan about the conception, birth, and life of the iconic group's third and final studio album – three decades after its release.
---
Stream Team Coco Radio (Ch. 106) on the SiriusXM App & web player
---
The episode, which will also feature music from In Utero, will premiere October 23 at 6pm ET on both Team Coco Radio (Ch. 106) and Lithium (Ch. 34). Hear encores throughout the week or stream it anytime on the SiriusXM App.
In Utero debuted on September 21, 1993 – only about six months before legendary frontman Kurt Cobain's tragic death. After working with producer Butch Vig on their breakthrough album Nevermind (1991), Nirvana hired Albini, who previously produced two of Cobain's favorite records: the Pixies' Surfer Rosa (1988) and the Breeders' Pod (1990). Like Nevermind, In Utero was a critical and commercial success and is considered one of the greatest albums of the '90s. The album includes favorites like "Heart-Shaped Box," "All Apologies," "Pennyroyal Tea," and more.
Also in September 1993, Conan launched his inaugural talk show, Late Night with Conan O'Brien, which he hosted until February 2009. Over the years, countless music acts – including seminal alt-rock bands like Grohl's Foo Fighters – performed on Conan's influential NBC show, as well as his other late-night series.
Team Coco Radio is available anytime on channel 106 on the SiriusXM App and car radios. Executive produced by Conan, the 24/7 channel features the biggest interviews and funniest stand-up moments from Conan's iconic TBS show, as well as select Team Coco podcasts, including Conan O'Brien Needs a Friend, plus Inside Conan and Conan O'Brien Needs a Fan. Check out more about the channel here.
---
---
---