Nigel Farage: The European Union project has failed
"We now have our independence day," U.K. Independence Party leader Nigel Farage told Stephen K. Bannon Friday. "People power can beat the establishment if they try hard enough." In a shocking vote, the United Kingdom passed Brexit, a referendum to remove the … Continued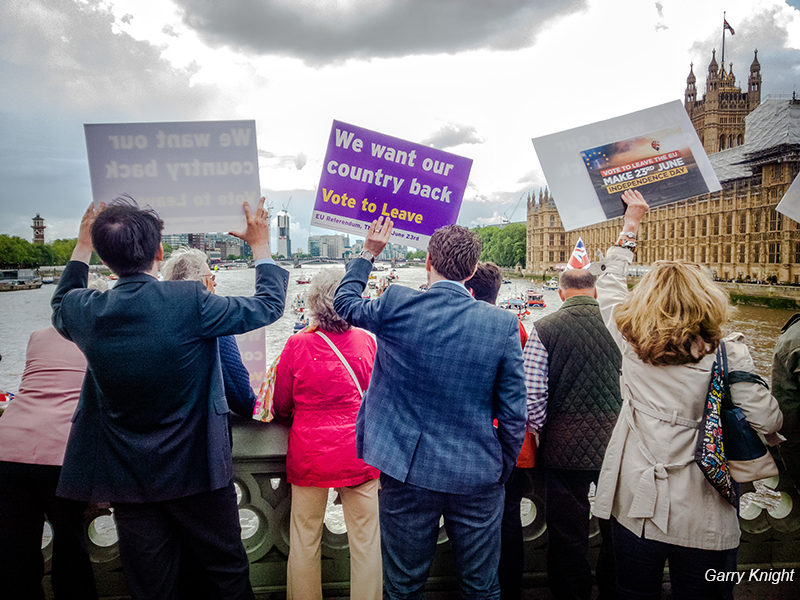 Photos taken at the BoatLeave protest on Wednesday 15 June 2016.
"We now have our independence day," U.K. Independence Party leader Nigel Farage told Stephen K. Bannon Friday. "People power can beat the establishment if they try hard enough."
In a shocking vote, the United Kingdom passed Brexit, a referendum to remove the country from the European Union. Farage, a member of the European Parliament, had emerged as the driving force behind the "leave" campaign. He's been a long outspoken critic of the EU, calling it a failed project, especially focusing on the economic turmoil in the Mediterranean countries and migrant policy.
"Issues come along that are bigger than our traditional left-right divide in politics and one such issues, actually, is immigration," Farage said. He also cited patriotism as the reason for Brexit's passage.
Immediately following the results, British Prime Minister David Cameron announced that he intends to step down by October.
"The British people have voted to leave the European Union, and their will must be respected," Cameron said in front of the historic 10 Downing Street. "The British people have made a very clear decision to take a different path, and as such I think the country requires fresh leadership to take it in this direction."
The vote, which passed with 52% support, has sent the global economy into a chaotic frenzy. The U.S. stock market plummeted and the British pound dropped to its lowest level since 1985.
"In the short term nothing radical is going to happen," Farage said. "What we've done here is we voted to end our membership of a failed political union and given ourselves the opportunity to open up to be a truly global player."
Breitbart News Daily airs at 6 am ET on SiriusXM Patriot (Ch. 125)
For a free 30-day trial, check out siriusxm.com/freetrial/blog 
---
---
---