NFL's head coaching shakeup begins + a look at Wild Card weekend
After 17 weeks of battling on the gridiron, the NFL playoffs are finally here.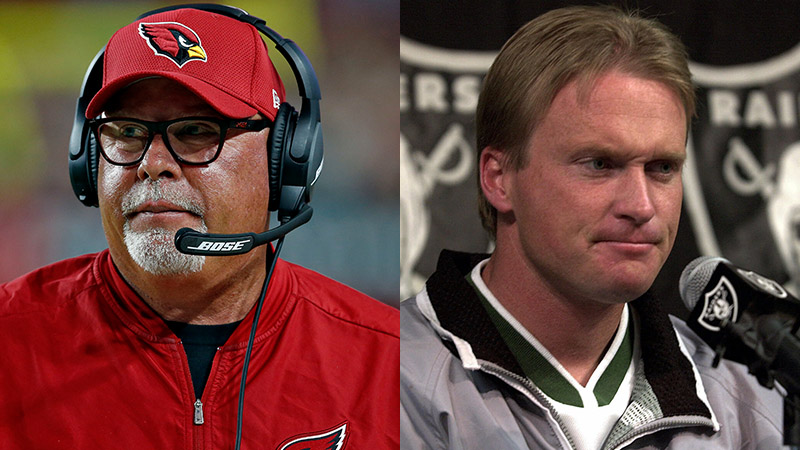 Arizona Cardinals head coach Bruce Arians watches during the second half of an NFL football game against the Jacksonville Jaguars, Sunday, Nov. 26, 2017, in Glendale, Ariz.
Oakland Raiders' coach Jon Gruden keeps a stiff upper lip during a media conference Monday, Jan. 8, 2001, at Raider headquarters in Alameda, Calif. Gruden's Raiders will face the Baltimore Ravens for the AFC Championship in Oakland, Calif., on Sunday, Jan. 14, 2001.
After 17 weeks of battling on the gridiron, the NFL playoffs are finally here. But before we dive into the weekend of Wild Card action, we have to take a step back and look at the busy week of player and coaching news throughout the league.
Did you know that the Raiders are reportedly zeroing in on hiring Jon Gruden to lead them into 2018 following the firing of head coach Jack Del Rio? It's true, and SiriusXM NFL Radio's Mark Dominik thinks he knows why.
Jon Gruden is reported to be the next #Raiders Head Coach and @MarkDominikNFL has a thought of what intrigues him in Oakland…

🔽AUDIO🔽 pic.twitter.com/2gHOlb2yLY

— SiriusXM NFL Radio (@SiriusXMNFL) January 1, 2018
And then just like that, surprise news came that Arizona Cardinals head coach Bruce Arians was retiring from the NFL after five years with the team. Within a day, more bad news in Arizona: Quarterback Carson Palmer is hanging it up, too. Are the two related? The Blitz's Brady Quinn thinks so.
Carson Palmer has retired from the NFL after 14 seasons and @3rd_Goal talked about the respect he has for the former Quarterback….

🔽AUDIO🔽 pic.twitter.com/XHhK7B3w1d

— SiriusXM NFL Radio (@SiriusXMNFL) January 3, 2018
While Arizona is a lot worse off without their head coach and quarterback, some rather confounding news came out of Cleveland and Cincinnati: Hue Jackson is getting a third season with the Browns after coaching them to a 1-31 record over the last two seasons, and Marvin Lewis had his contract extended through 2019 after another disappointing season for the Bengals.
OK, that just about covers the house cleaning, let's take a look at this weekend's playoff matches.
The Buffalo Bills, a feel-good story all around, will take on the Jacksonville Jaguars on Sunday (Ch. 88). After a long spell of not being invited to the postseason, Bills defensive tackle Kyle Williams is excited to make a run against Bortles and the Jags.
Bills DT Kyle Williams, talks about the "awesome feeling" giving loyal @buffalobills fans their first taste of the playoffs since 1999

**Audio ** pic.twitter.com/RGK1tclwrz

— SiriusXM NFL Radio (@SiriusXMNFL) January 1, 2018
In what might be an absolute barnburner, the Panthers take on the Saints Sunday afternoon (Ch. 88). Panthers cornerback James Bradberry and the rest of the defense will be keeping a close eye on the strong Saints run game co-headed by Alvin Kamara and Mark Ingram.
"They can do a lot of things with those two guys and they can switch schemes and throw the ball to them out of the backfield or run the ball downhill," Bradberry told SiriusXM NFL Radio.
And hey, don't forget, there's football on Saturday too! For all the weekend Wild Card matchups, click here.
---
---
---