NFL Training Camp Tour: Buccaneers' Winston: Pro Bowl inspired him to get in best shape of his life
Jameis Winston sits down with Jim Miller and Pat Kirwan He's leaner. He's stronger. He has more stamina than ever. The new and improved Jameis Winston is hard to miss at the Tampa Bay Buccaneers' training camp. Looking for more … Continued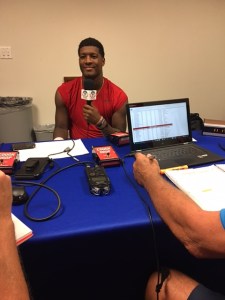 Jameis Winston sits down with Jim Miller and Pat Kirwan
He's leaner. He's stronger. He has more stamina than ever.
The new and improved Jameis Winston is hard to miss at the Tampa Bay Buccaneers' training camp.
Looking for more Pro Bowls
After seeing what excellence looked like in the players surrounding him at the Pro Bowl, the second-year quarterback devoted the offseason to getting in the best shape of his life. And the payoff was obvious to Jim Miller and Pat Kirwan when they sat down with Winston at the Buccaneers' training camp in Tampa, Fla.
"Just having the opportunity to get in shape, this being my first offseason, was very important to me," Winston told them. "And having the privilege of going into the Pro Bowl and seeing some of the greats do it, just seeing them and learning from them, it helped me easily. Because I'm like, 'If they make it to the Pro Bowl, I want to keep coming to the Pro Bowl, so I've got to do what they're doing just to stay on track.'"
Winston did the bulk of his work with personal trainer, Tim Grover, whose clients have included NBA icons Michael Jordan, Kobe Bryant, Charles Barkley, and Dwayne Wade.
'I want to get better'
"Sometimes, when you don't even want to get up, it's in the back of your mind, 'We've got to work, I want to get better every single day,'" Winston said.
NFL Training Camp Tour: Buccaneers' McCoy tells Spence's father: 'I'll take care of him'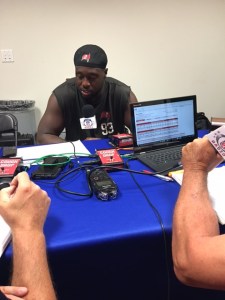 Gerald McCoy sits down with Jim Miller and Pat Kirwan
When the Tampa Bay Buccaneers made defensive end Noah Spence — and all of his off-field baggage — their second round draft pick, Gerald McCoy immediately decided to assume a big-brother role.
McCoy, who is entering his seventh NFL season as a defensive tackle for the Buccaneers, called Spence's father.
'Trying to guide him the right way'
"I told him, 'Hey, listen, I'll take care of him,'" McCoy told Jim Miller and Pat Kirwan at the Buccaneers' training camp in Tampa, Fla. "I talk to Noah all the time off the field. He texts me, asks me different questions about this, about life, about all these different things, and I'm just trying to guide him the right way.
'They make kid mistakes'
"I look at it as the same thing with (quarterback) Jameis (Winston). The guys are kids, they make kid mistakes. Well, now you're in a man's league, you have to mature as a man. You've seen Jameis. He's matured as a man as a player and I plan the same thing to happen with Spence. Because his head is in the right place, just as a kid he's made some mistakes."
McCoy also took the time to learn plenty about Spence after the Bucs selected him.
"If you research Noah Spence, which I did — I research most of our draft picks — you know that this guy's been able to rush the passer his entire life," McCoy said. "Some people, it's just in them to rush the passer and he's one of those guys. He's a little raw, a little green right now, but he can go. He really can rush the passer. He's just learning to do it at the NFL level, but once he gets it, man, it can be scary."
NFL Training Camp Tour: Jaguars' Robinson has carried chip on his shoulder since high school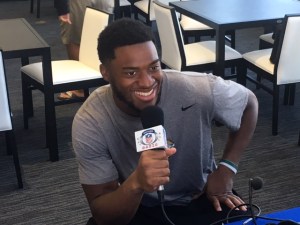 Allen Robinson sits with Alex Marvez and Mark Dominik
Allen Robinson will never forget how he entered the NFL, as a second-round draft pick from Penn State in 2014.
The Jacksonville Jaguars' wide receiver constantly thinks about it because he has easily played at a higher level than his draft status. And he has done so while carrying a chip on his shoulder.
'Chip ever since high school'
"I play the chip ever since I went into high school," Robinson told Alex Marvez and Mark Dominik at the Jaguars' training camp in Jacksonville Saturday. "So, for me, constantly carrying that chip, as far as being one of the kind of underrated guys … each and every day when I lace it up, I step on the field with that chip on my shoulder."
Robinson also has build a remarkable bond with fellow Jaguars receiver Allen Hurns. Last season, each had 1,000 yards in receptions. Robinson says their performance is built upon an attitude that exists within the team's entire receiving corps.
'Competitive' receiver room
"We have such a competitive room that everyone wants the best from everyone and we have high expectations across the room," he said. "That kind of trickles down from our coaches, (assistant receivers) Coach (Tony) Sorrentino and (receivers) Coach (Jerry) Sullivan."
Robinson enters the 2016 season, his third in the league, with a high level of anticipation.
'Got to take the next step'
"Just to see what our team has come to, as far as my rookie year to now, just to see all the talent across the board, just to see the passion in guys wanting to come out there and wanting to make plays and wanting to win," he said. "And I think now, for us, we know what it takes to be in these close games. Now, we've got to take the next step to win them. So we were in some last year and won some so we took the steps. So, now I think it's real special for us to take that next step."
NFL Training Camp Tour: Bortles: Offseason in Jacksonville helped with development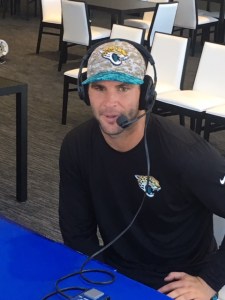 Blake Bortles sits down with Alex Marvez and Mark Dominik
A year ago, Blake Bortles' offseason was spent giving his game a makeover. He traveled to California to do extensive work with quarterbacking guru Tom House.
This year was different. The Jacksonville Jaguars' QB devoted most of the offseason to gathering with his receivers in Jacksonville, while only making a brief trip to California for fine-tuning.
'We all stayed in Jacksonville'
"From a receiver standpoint, everybody's in their second or third year, so everybody lives here," Bortles told Alex Marvez and Mark Dominik at the Jaguars' training camp. "Nobody has houses or families anywhere else and nobody has anywhere to go in the offseason, so we all stayed in Jacksonville and we all went across the river to a high school two or three times a week for like eight weeks, so it was pretty cool to just kind of get that work in and do that."
The makeover made a big difference in Bortles' performance in 2015. He threw a franchise-record 35 touchdown passes and had a pair of 1,000-yard receivers in Allen Robinson and Allen Hurns.
Finding warm-up routine
"I think it was, more so for me, finding my own routine to warm up first of all, and then kind of having a check list of, 'OK, this ball got away from me or it was wobbling or it didn't go where I wanted it to. Where, in my process, did I go wrong and fall apart?'" Bortles said. "So I think being able to kind of put that together to whereas before, if I threw a bad ball, I didn't know what to do, so I'd just throw it harder. So it was kind of having a process and a little bit of awareness."
NFL Training Camp Tour: Jaguars' Gipson: 'I was hurt by the Cleveland Browns'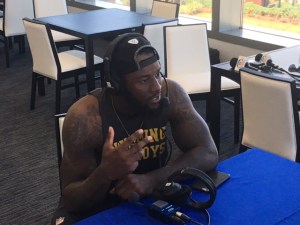 Tashaun Gipson sits down with Alex Marvez and Mark Dominik
It's clear safety Tashaun Gipson hasn't gotten over the fact the Cleveland Browns allowed him to walk away during the offseason and sign a lucrative free-agent contract with the Jacksonville Jaguars.
He lamented his departure from Cleveland while talking with Alex Marvez and Mark Dominik at the Jaguars' training camp in Jacksonville Saturday.
'First city that embraced me'
"Honestly, I can tell you, first and foremost, I was hurt by it," Gipson said. "Because I can sit here and tell you all day that everything is smooth, but I love that city of Cleveland. I love the opportunity that they gave me, first and foremost. They were the only team that gave me an opportunity coming out (of Wyoming). Nobody (else) even offered me a free-agent contract.
"And this was the first city that embraced me, man. Me being able to go to my first Pro Bowl and I just loved everything about the city and I wanted that city to be a part of something, going from worst to first, and just finishing my career there."
Gipson said he was caught completely off-guard by the Browns' decision not to give him a franchise tag and to make no effort to retain him.
'We wish you well'
"I didn't see it coming and what was worse was that, it kind of was a deal where, when negotiations started, it kind of was like, 'Hey, we wish you well,'" he said. "But I always will continue to have love for that city, but right now I'm excited that we were able to get something done with Jacksonville. And that's one of the things I couldn't be more prouder (of), because it fits my style.
"The coach (Gus Bradley), he fits the kind of coach that I want to play for. It makes me want to go out there and play harder for him. I truly love Gus, man. I love the organization."
---
---