NFL Training Camp Tour: Chris Johnson: If personal goal isn't to reach Hall, 'you're in the sport for the wrong reasons'
Chris Johnson sits down with Alex Marvez and Gil Brandt As he nears the end of an illustrious career, Arizona Cardinals running back Chris Johnson has given plenty of thought to his legacy. Given his tremendous individual accomplishments as an … Continued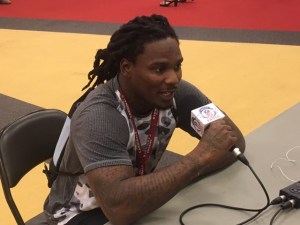 Chris Johnson sits down with Alex Marvez and Gil Brandt
As he nears the end of an illustrious career, Arizona Cardinals running back Chris Johnson has given plenty of thought to his legacy.
Given his tremendous individual accomplishments as an NFL running back the past eight seasons, Johnson knows it is hardly a reach to say that his No. 1 personal goal is to reach the Pro Football Hall of Fame.
"Of course," Johnson told Alex Marvez and Gil Brandt at the Cardinals' training camp in Glendale, AZ. "I feel like if you're an individual in this league and I'm not saying your main goal — everybody knows everybody wants to win the Super Bowl — but just as far as personal for yourself, if your goal is not to make it to the Hall of Fame, then I feel like you're in the sport for the wrong reasons.
"And I feel like I've been consistent throughout my career. I'm going on year nine. At this point in my career, playing running back nine years is a lot of years and I know it's towards the end. I want to play a couple more years, but when it's all said and done, I want to look up and I want to be a Hall-of-Famer."
NFL Training Camp Tour: Arians says Cardinals' expectation is same: Win a championship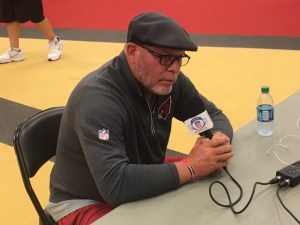 Bruce Arians sits down with Alex Marvez and Gil Brandt
There has never been so much buzz about the Arizona Cardinals before the start of an NFL season.
They're a popular pick to win the NFC West, again … and/or to reach the NFC Championship Game, again … and/or to win a first Super Bowl. That sort of chatter is rarified air for the Cardinals.
"For the outside," Bruce Arians told Alex Marvez and Gil Brandt at Cardinals training camp at Glendale, AZ.
The inside is a very different story.
"From the inside, it's always been the same expectation level," Arians said. "As soon as we got here, we had one goal and that was to win the championship. That's the only thing that makes a satisfying season.
"And now we've gotten to the (NFC) Championship Game, we want to get back to the Championship Game, play better than we did in that one and learn from it. But first thing's first. You have to get back to it.
"So you set those goals. You talk about it one time, then you go to work every day. You don't talk about it anymore."
NFL Training Camp Tour: Alex Smith: Chiefs feel 'a sense of urgency'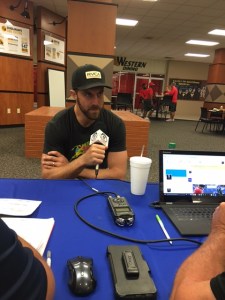 Alex Smith sits down with Jim Miller and Pat Kirwan
The time is now, not next year or in two seasons, for the Kansas City Chiefs to make a run at the Super Bowl.
Quarterback Alex Smith believes they have all of the right pieces in place. Or, to put it another way, they'd better because for him and other veteran players on the team, time is growing short to finally get over the hump and reach the NFL pinnacle.
"Every year's such a different challenge, I think, for sure," Smith told Jim Miller and Pat Kirwan at the Chiefs' training camp in St. Joseph, Mo. "This year, though, I think especially the older guys on the team — (inside linebacker) DJ (Derrick Johnson), (outside linebacker) Tamba (Hali), myself — there's no doubt there's a sense of urgency. Not just from us, but from everybody. But certainly from us, you realize how rare an opportunity like this is that we are in such a good position.
"I feel like we've had good experience. Even last year, as frustrating as it was, was a good experience for a lot of the young guys on the team to get a taste of playing big games like that, meaningful games in January, even with the (1-5) start that we had last season.
"So here's a chance for us in camp and in the thick of it just to take advantage of every day, to keep that sense of urgency every day. You don't how often these opportunities come."
NFL Training Camp Tour: Andy Reid: 'You reevaluate everything'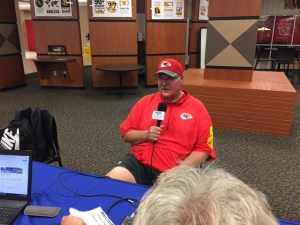 Andy Reid sits down with Jim Miller and Pat Kirwan
Andy Reid is entering his 18th season as a head coach in the NFL, his fourth with the Kansas City Chiefs.
One would assume he has pretty much seen it all and, except for winning a Super Bowl in his current capacity, done it all. One might also conclude that his approach to the job pretty much stays the same.
One would be mistaken.
"This business is crazy, because you go back and you reevaluate everything," Reid told Jim Miller and Pat Kirwan at the Chiefs' training camp in St. Joseph, Mo. "That's how you do (things). And so we spent a lot of time at that and so you try to make yourself better. It's just like a player and probably anybody in any business in life here.
"So you go back, you evaluate, you try to make yourself better, and let's go for the challenge this year. And so we think we're in a pretty good position to do that and we'll see. We're going to go for it, man."
Coaching can be a grind. Besides the long hours, there is the constant pressure to succeed.
"Loving every day of it, though," Reid said. "We get to do this job. This is phenomenal."
---
---