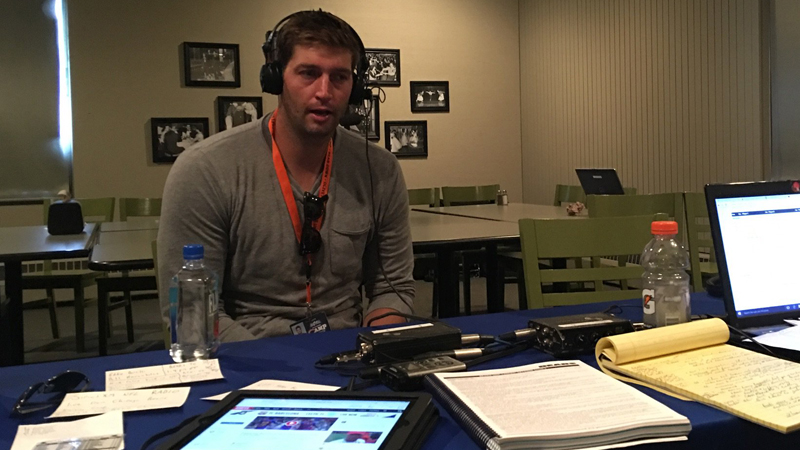 Looking to improve upon their 5-11 season in 2014, the Chicago Bears had little success under new head coach John Fox. While Jay Cutler threw a career-low 11 interceptions and kept his QB rating above 90, the team's slumps (losing three straight games twice last season) outweighed the success they produced on the field. There were also obvious growing pains as injuries, new faces on the roster and new personnel in the front office affected the unevenness of the season. With Alshon Jeffery back in the mix and freshly drafted Kevin White at wideout, Fox and company are looking to continue rolling the boulder up the hill. But with a crowded NFC North topped by the Packers and Vikings, the postseason looks to be at the top of a very steep hill.
Camp Report
Jay Cutler knows the Bears were in a remodeling mode last season, but he thinks they'll be taking "big steps" in 2016.
"Different confidence, different energy," Cutler said. "We've just got to make sure guys are doing everything they can to stay healthy."
Head coach John Fox sees the difference on the field too, saying the Bears "injected some talent" that will bring a new attitude to the locker room.
"There's an attitude and toughness and instinctiveness that it takes to play football in the National Football League, and surrounding some of our young, good players and some vet guys with some new talent," Fox said.
Fantasy Studs/Sleepers
Stud: Alshon Jeffery, WR. Jeffery proved during the 2014 season that he's a great talent and stat machine, and in 2015 he proved the same – but only if he's healthy. Jeffery missed seven games last season, but if he can manage to stay on the field, he'll no doubt be a favorite target of Jay Cutler.
Sleeper: Kevin White, WR. Heading into his rookie season, the wide receiver out of West Virginia has the phsyical traits to push around defenders and get physical, but that's easier said than done in the NFL.
---
---
---