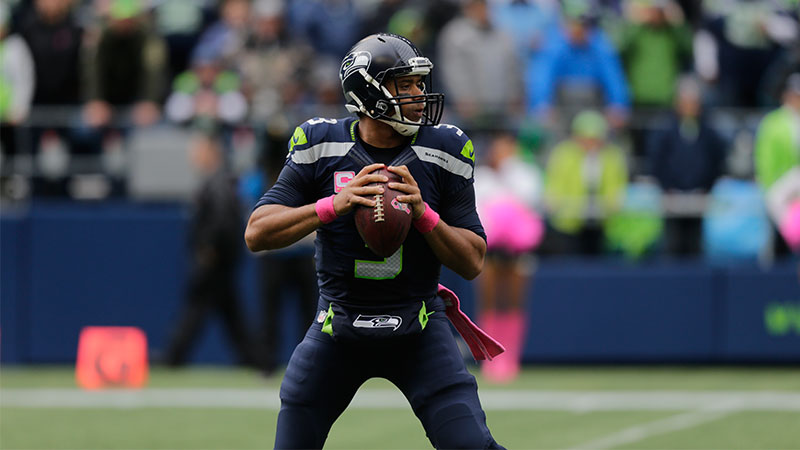 (AP Photo/Stephen Brashear)
As we approach the halfway mark in the NFL season, very little changed in this week's Power 12 rankings. Washington rejoined the NFC's ranks and the Denver Broncos, despite two losses in a row, still are clinging to the second spot in the AFC. This week's NFL Radio pollsters are: Pat Kirwan, Jim Miller, James Lofton, Bruce Murray, Brady Quinn, Alex Marvez, Gil Brandt, Vic Carucci and Brian Lauvray.
NFC
Minnesota
Having "survived" their bye week, Minnesota now faces the struggling Philadelphia Eagles in the City of Brotherly Love. Fans of both teams should be ready for a defensive struggle (the Vikes and Eages are both top-six defenses) and with the always underwhelming Sam Bradford and still green Carson Wentz under center, both offenses could struggle against these elite defenses.
Seattle
Following the wing-clipping that Seattle administered to the Falcons, the 'Hawks now meet with divisional foe Arizona down in the desert on the Sunday Nighter. With Carson Palmer back after missing some time due to a concussion, the Cardinals are rounding into form and could put up more fight than Seattle's expecting.
Dallas
What an emphatic victory for Dallas this past weekend. The Cowboys, after their overwhelming show of force at Lambeau Field, have reeled off five straight wins and are in control of the NFC East. As we discussed earlier this week, Dallas is winning the old-fashioned way with incredible line play, hyper-efficiency from Dak Prescott and amazing running from Ezekiel Elliott. Dallas has the bye this week before taking on the Eagles on Sunday Night in Week 8.
Atlanta
Before the season most Dirty Bird fans would have been happy with splitting that nasty Denver-Seattle tandem and that's exactly what happened. Falcons should bounce back against the Chargers at home in what could become a shootout. Week 8 is already shaping up to be a big match for both ATL and the Packers as the two will collide with likely playoff seedings on the line.
Washington
Having reeled off two wins in a row isn't enough to get me to vote for Washington, but the rest of the pollsters for Power 12 all have been convinced by two "okay" wins against the not very good Baltimore Ravens and the possibly average Philadelphia Eagles. Following this week at Detroit, Washington faces a grueling six-game stretch against the likes of Cincinnati, Minnesota, Dallas, Green Bay, Arizona and Philly.
Green Bay
Barely hanging on in the Power 12, Green Bay's offense came to life last night against the Chicago Bears. A promising sign to be sure, but with the important caveat that many teams' offenses will be coming to life against the Bears this year. Impressively, Aaron Rodgers adapted his game on the fly under the lights of Lambeau and resorted to a dinking improvisational version of the West Coast Offense to attack Chicago's defense wherever possible.
NFC Fantasy Spotlight, Matt Ryan, QB, Atlanta
Matty Ice gets a very nice spot against the San Diego Chargers at home in the ATL. San Diego's secondary is absolutely decimated by injuries and Ryan is having a career year. Fire him up and if you've got Julio Jones get him out there (not like you don't have Julio in your lineup already).
AFC
New England
When will we learn to stop making Tom Brady angry? In two games since returning from suspension, Brady has decimated the laughable Cleveland Browns secondary and the less-laughable Cincinnati Bengals secondary to the tune of a 391 yards/game average. Up next on Brady's 2016 Revenge Tour? The Roethlisberger-less Pittsburgh Steelers and their flammable secondary. "Hide yo' kids, hide yo' wife."
Denver
The Broncos enter their bye week after two straight losses: at home to the Falcons in Week 5 and on the road last week against San Diego. Denver's defense will keep them in almost every game, but this offense clearly needs a healthy Trevor Siemian to compete.

Buffalo
Having won four games in a row, Rex Ryan's gang has torn a page out of the Dallas Cowboys' playbook. Namely the "run the ball really well" page. Buffalo's offense has gotten going on the ground and their defense keeps getting better and better each week. Save for their shootout loss to the Jets in Week 2, the Bills have not allowed another team to even sniff the 20-point threshold.
Oakland
Derek Carr's seemingly magical ability to pull the Raiders out of any deficit was proven fallible against the Chiefs at home last Sunday. With KC's python-esque defense affording Carr no chances for a comeback, Kansas City's ball-control offense, led by Alex Smith and Spencer Ware, scored at will against Oakland's hopeless defense. Shouldered with yet another 1:00 pm, East Coast game this week (their fourth in seven games), the Silver & Black will do well to avoid the upset from Jacksonville.
Pittsburgh
Sans Ben Roethlisberger for any number of weeks for the umpteenth time in his career, Pittsburgh will have to rely on Landry Jones to once again keep the Steel City offense afloat. The good news? LeVeon Bell is as dominant as ever, the bad news? Pittsburgh's defense appears to be struggling more than last year in what was hoped to be a bounce-back campaign for the unit.
Kansas City
The Power 12's very own Rodney Dangerfield, the Chiefs, even with that impressive win at Oakland last week, can't get any respect. KC now hosts a very vulnerable New Orleans defense in a game that should see Spencer Ware and Jamaal Charles both feast on the Saints' pillow-soft run D.
AFC Fantasy Spotlight, Blake Bortles, QB, Jacksonville
Fire up Bortles, Allen Hurns, Allen Robinson and even Julius Thomas against Oakland's shaky defense. The Jags have won two in a row and Bortles, warts and all, is trending in the right direction. Oakland's high-powered offense should afford Borltes plenty of opportunities to open it up in an effort to keep up.
Catch all the NFL news and analysis and every NFL game, every week on SiriusXM NFL Radio. (AP Photo/Stephen Brashear)
---
---
---