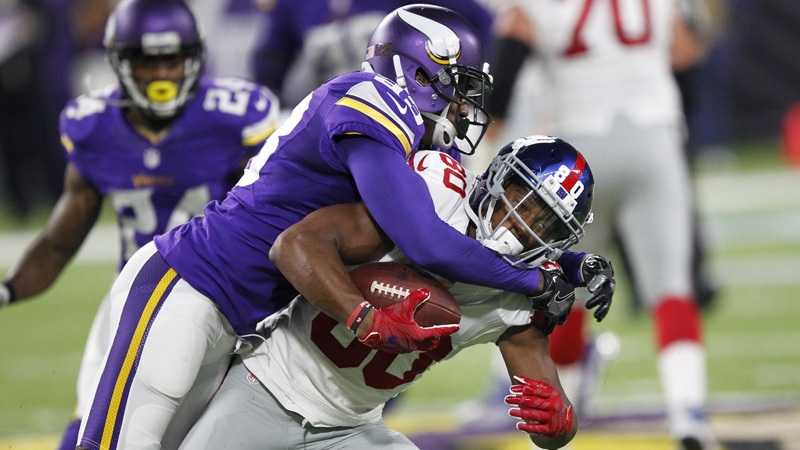 New York Giants wide receiver Victor Cruz is tackled by Minnesota Vikings cornerback Terence Newman, left, during the first half of an NFL football game Monday, Oct. 3, 2016, in Minneapolis. (AP Photo/Andy Clayton-King)
The NFL season is already in its second month and the small patterns we can glean from the small (and random) sample size of a 16-game season are beginning to emerge. The VIkings, who have already taken down several highly-touted teams appear to be for real, as do the Denver Broncos. New to the Power 12 this week are the high-flying Atlanta Falcons and that explosive offense of theirs. This week's pollsters are: Brady Quinn, James Lofton, Jim Miller, Pat Kirwan, Bruce Murray, Alex Marvez, Mike Nolan, Vic Carucci and Brian Lauvray.
That's NFL Radio expert, Alex Marvez, discussing how Denver and Minnesota are both asserting their will with incredibly tough defensive efforts week in and week out. Both the Vikes and Broncos are atop the Power 12 this week and as Alex noted above, a lot of people probably wanna get back on that Minnesota bandwagon despite the injuries…
NFC
Minnesota Vikings (4-0)
Week 5 opponent: Houston Texans, 1:00 pm, Sunday (Sirius 108, XM 228, Internet 818)
No Teddy Bridgewater? No Adrian Peterson? No problems. Another week and another demolition of a good offense for Minnesota's fearsome defense. The Vikes are averaging a hair under 23 points per game on offense, but that defense is only averaging 12.5 points per game thus far this season. Minnesota's defense through four weeks is on a historic pace –somehow ahead of that incredible 2000 Baltimore Ravens defense at the season's quarter-mark. If Minnesota's defense keeps up it may not matter how many injuries occur to their offense.
Seattle Seahawks (3-1)
Week 5 opponent: Bye 
A very impressive road win this past weekend against the New York Jets in the early slot. Russell Wilson with one leg torched the Jets' vulnerable secondary and Seattle's defense put the clamps on New York's lacking offense. Seattle now has the bye week and that extra time for Wilson to get healthy and to prep for Atlanta's high-flying attack in a game that's already shaping up to be one of Week 6's best games. Seattle's defense has, once again, looked like one of the NFL's elite units after slipping a bit last season.
Philadelphia Eagles (4-0)
Week 5 opponent: @ Detroit Lions, 1:00 pm, Sunday (Sirius 132, Internet 824)
The Eagles had the bye last week, affording Ryan Matthews some time to heal up and now face a lackluster Detroit Lions team on the road at Ford Field. Detroit's desperate for a win and Philly will have to be careful to not keep Detroit in this game. Possibly Detroit's only strength, their secondary, will test Carson Wentz unlike Cleveland, Chicago (LOL), or Pittsburgh have thus far.
Atlanta Falcons (3-1)
Week 5 opponent: @ Denver Broncos, 4:05 pm, Sunday (Sirius 81, XM 225, Internet 801)
Matt Ryan is flourishing in Kyle Shannahan's system this season and whatever psychic mind-meld Ryan and Julio Jones have seems to be in overdrive currently following their bombardment of what was formerly Carolina's secondary. The one quibble? Well, Atlanta has scored their buckets of points against some very pedestrian defenses. If the Falcons are still undefeated after their next two games: this week @ Denver and at the Clink in the Pacific Northwest in Week 6, we'll start talking for real about ATL.
Green Bay Packers (2-1)
Week 5 opponent: New York Giants, 8:30 pm, Sunday (Sirius 81, XM 225, Internet 811)
The Pack have the Sunday Nighter at Lambeau this week after the bye last. Their opponent under the lights? None other than the New York Giants who were just plastered by Green Bay's rival Minnesota. Green Bay's offense (read: Aaron Rodgers) had looked out of sorts in their first two games before roaring to life against Detroit. Which Packer offense shows up will go a long way in determining this game's outcome. #CaptainObvious
Dallas Cowboys (3-1)
Week 5 opponent: Cincinnati Bengals, 4:25 pm, Sunday (Sirius 82, XM 82, Internet 808)
More or less here by default, the Cowboys now open a very daunting stretch of their schedule. In the next nine weeks Dallas will face Cincinnati (at home), Green Bay (away), Philly (home), Pittsburgh (away), Baltimore (home), Washington (home) and Minnesota (away). The Cowboys will be field-tested to say nothing else following this brutal slog through the season's middle stretch.
NFC Fantasy Spotlight: Jameis Winston, QB, Tampa Bay
Feelin' lucky? Roll with Winston against a not-so-intimidating Carolina defense. Winston has already proven his worth in tough matchups (save for that Denver game) and Carolina's secondary has proven to be very leaky thus far. Other options? David Johnson against San Francisco and Aaron Rodgers versus New York Giants.
Denver Broncos (4-0)
Week 5 opponent: Atlanta Falcons, 4:05 pm, Sunday (Sirius 112, XM 232, Internet 809)
Denver's defense, a season after carrying Peyton Manning to a Super Bowl victory, have not taken the foot off the gas. The Broncos continue to roll with one of the deepest front sevens in league history, all of whom are wholly capable of making a quarterback's job nigh impossible. Most surprising? The emergence of second-year linebacker Shane Ray. Ray, through merely four games, is already at 75% of his sack total through 14 games he suited up for last season. Ray's quinceañera is a major reason why the Broncos defense hasn't missed a beat with the departures of Malik Jackson and Danny Trevathan.
New England Patriots (3-1)
Week 5 opponent: @ Cleveland Browns, 1:00 pm, Sunday (Sirius 82, Internet 819)
Welp, the Patriots are apparently mortal. Fortunately for the Bay State's fans/unfortunately for the NFL, Tom Brady is back and probably very angry about last week's 16-0 shutout courtesy of the Buffalo Bills. The NFL won't like Tom Brady when he's angry.
Pittsburgh Steelers (3-1)
Week 5 opponent: New York Jets, 1:00 pm, Sunday (Sirius 93, XM 229, Internet 825)
A week after getting shellacked by Philadelphia, the Steelers (and newly returned LeVeon Bell) took out their frustrations on the hapless Kansas City Chiefs in a beatdown/glimpse of things to come now that Pittsburgh's Death Star offense is fully operational. Pray for the suddenly 1-3 Jets' secondary against Antonio Brown who may go all "Julio Jones" on them this week.
Oakland Raiders (3-1)
Week 5 opponent: San Diego Chargers, 4:25 pm, Sunday (Sirius 83, XM 226, Internet 823)
Who saw Oakland and Derek Carr dropping the hammer on the road against the Ravens' defense last week? Carr through the quarter-mark of the season seems to have taken the next step and is making very good decisions and even better passes. Distributing the ball to Amari Cooper and Michael Crabtree makes things easier for Carr, naturally, but the signal-caller is also displaying a patience that was absent in his first few seasons.
Baltimore Ravens (3-1)
Week 5 opponent: Washington, 1:00 pm, Sunday (Sirius 81, Internet 802)
Hosting Washington this week after Derek Carr torched them last, the Ravens' defense has a chance to right the ship against a Kirk Cousins-led offense that has sputtered at times this season. Call the game a coin flip depending on which versions of Baltimore and Washington show up and give the slight advantage to B-more for being the home team.
Houston Texans (3-1)
Week 5 opponent: @ Minnesota Vikings, 1:00 pm, Sunday (Sirius 136, Internet 812)
Sans JJ Watt, the Texans took care of business against Tennessee last week and that was enough for the Power 12 pollsters. Still, this Texans squad has looked very iffy and is maybe the "weakest" of the 3-1 teams not named "Baltimore." None of that matters in the squishy-soft AFC South race, but the Vikings should absolutely wreck Houston this week.
AFC Fantasy Spotlight: Ben Roethlisberger, QB, Pittsburgh
Too on the nose for your tastes? Roll with Tom Brady against the Browns or Derek Carr against the Chargers. As for me? Big Ben against the Jets not-even-there secondary has "Trebuchet vs Stationary Object" written all over it. With LeVeon Bell back in the fold and serving as one of the best best running backs at catching the ball, Ben Roethlisberger has plenty of options this week against a shaky Jets defense.
---
---
---