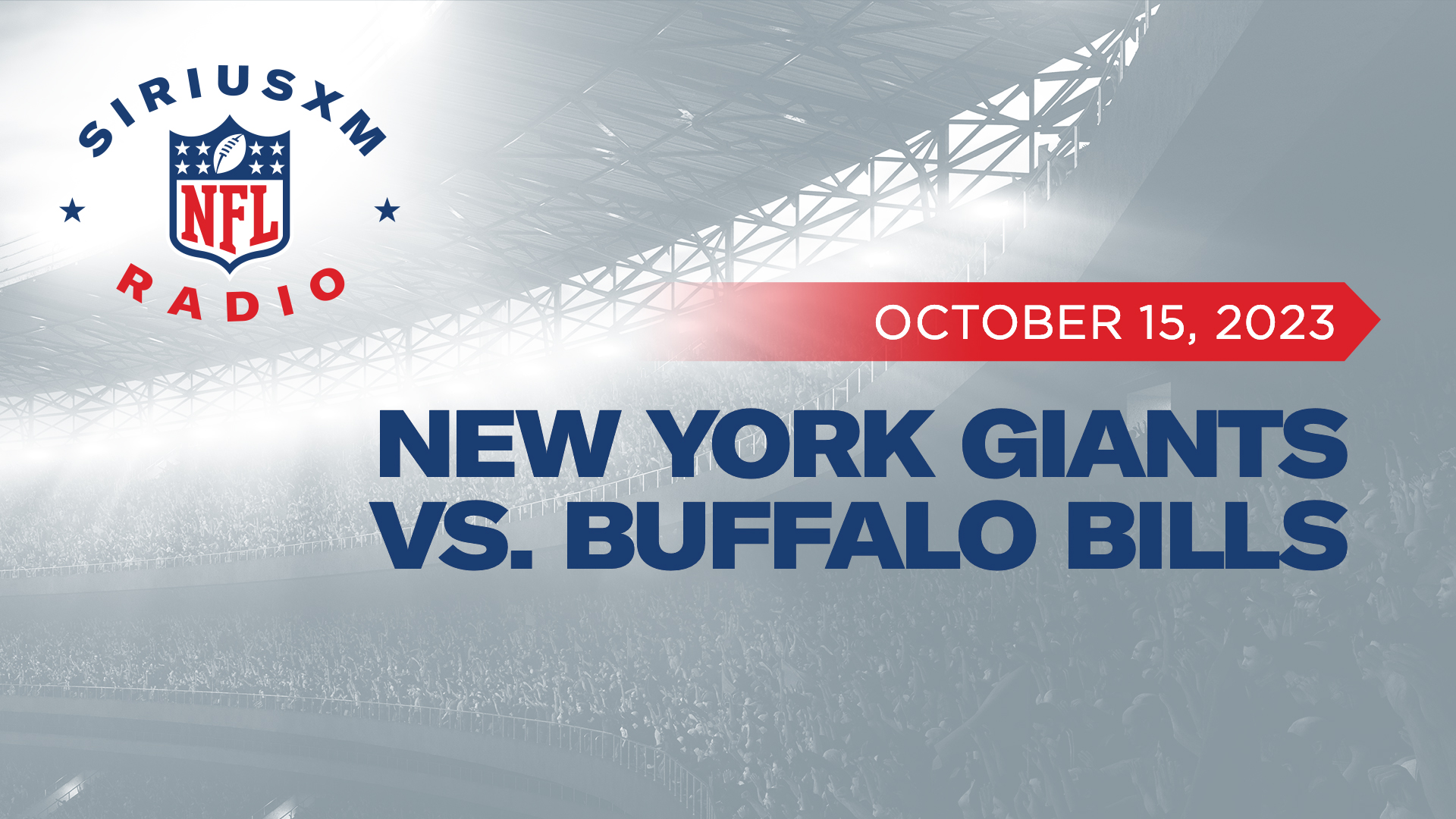 Get ready for an electrifying NFL showdown as the Buffalo Bills host the New York Giants this weekend. Sunday Night Football promises to deliver another unforgettable showdown, tune in to SiriusXM to catch all the action, as we preview these two powerhouse squads.
Listen live to your choice of the home, away, or national feed on the SiriusXM App. Kickoff is October 15 at 8:20pm ET.
---
Stream the Buffalo Bills broadcast (Ch. 803)
Stream the New York Giants broadcast (Ch. 823)
Stream the National broadcast (Ch. 88)
---
Home: Buffalo Bills
Quarterback Josh Allen completed 67.5% of his passes for a season-high 359 yards and two touchdowns in Week 5. He also reached a milestone with his 41st career rushing touchdown, surpassing Jack Kemp for the third-most rushing touchdowns by a quarterback in NFL history. In his previous meeting with the Giants, he threw for 253 yards and contributed two touchdowns (one passing and one rushing).
Running back James Cook has consistently provided over 75 scrimmage yards in three of his last four games, while wide receiver Stefon Diggs is the man to watch with eight catches, 121 receiving yards, and a touchdown in Week 5. He is the only player in the NFL with 100+ receiving yards in four games this season. Gabriel Davis, another wide receiver, has been on fire, scoring a touchdown in four consecutive games, the longest active streak in the NFL.
Buffalo's defense features standout players such as Von Miller, who recently made his season debut, and Leonard Floyd, who had two sacks and his first forced fumble of the season in Week 5.
---
Buffalo Bills Home Feed
SiriusXM channel 227 in your vehicle
Channel 803 on the SiriusXM App
New York Giants Away Feed
SiriusXM channel 226 in your vehicle
Channel 823 on the SiriusXM App
National Feed
SiriusXM channel 88 in your vehicle
Channel 88 via on the SiriusXM App
En Español
SiriusXM channel 225 in your vehicle
Channel 832 on the SiriusXM App
---
Away: New York Giants
The Giants are led by QB Tyrod Taylor, who completed 75% of his passes last week. He will be stepping in at the helm for Week 6 as Daniel Jones is not cleared to play due to a neck injury.
Running back Saquon Barkley is hoping to return in Week 6. He delivered 155 scrimmage yards and 2 touchdowns in just two games this season. Keep an eye on Matt Breida, who had a productive 2021 season with the Bills, scoring 3 touchdowns. He's been filling in for Barkley in the interterm.
Tight end Darren Waller lead the way with 8 catches and 86 receiving yards in Week 5. Wide receiver Wan'Dale Robinson aims for his third consecutive game with 5+ receptions.
The Giants' defense boasts a ferocious pass rush, with Kayvon Thibodeaux leading the charge with his fourth sack of the season. Thibodeaux is also a force with in pass coverage, having recorded a career-high third interception last week.
---
For more on SiriusXM's NFL programming, visit SiriusXM.com/NFL.
---
---
---