Seth Rogen jokes 'you're welcome' for Sony hack exposing Hollywood pay gap
Neighbors 2 elevates the original comedy about frat bros to a sequel with social commentary: At most colleges, sororities really are forbidden from hosting the house parties. And star Rose Byrne hopes to fight sexism in Hollywood with her new, all-female production … Continued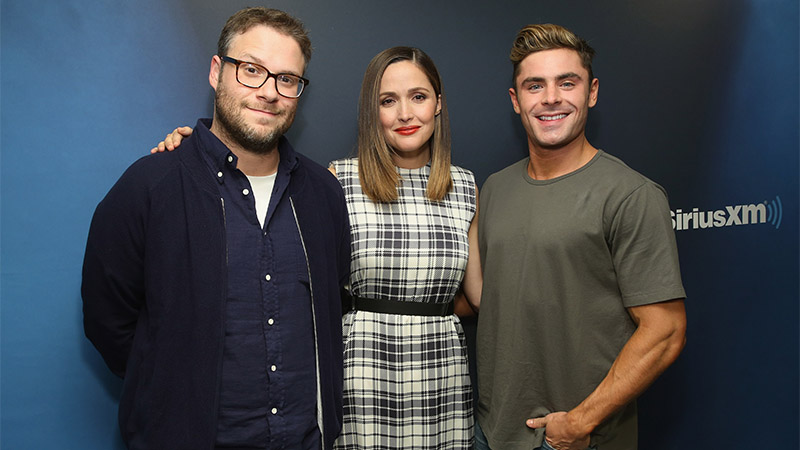 NEW YORK, NY – MAY 18: Actors Seth Rogen, Rose Byrne and Zac Efron participate in SiriusXM's 'Town Hall' with the cast of 'Neighbors 2' at SiriusXM Studios on May 18, 2016 in New York, New York. (Photo by Cindy Ord/Getty Images for SiriusXM) *** Local Caption *** Zac Efron; Rose Byrne; Seth Rogen
Neighbors 2 elevates the original comedy about frat bros to a sequel with social commentary: At most colleges, sororities really are forbidden from hosting the house parties.
And star Rose Byrne hopes to fight sexism in Hollywood with her new, all-female production company The Dollhouse — though she thinks there's still progress to be made after Jennifer Lawrence's October essay about being paid less than the male American Hustle actors.
"But at least there's a conversation about it and it's being brought to light, which I think is really important because it's only through that that there can be change," Byrne, 36, said in SiriusXM's Town Hall with the Neighbors 2: Sorority Rising cast. "So hopefully we'll see more of that."
"Thanks to our Sony hacking, everyone knows about that," Seth Rogen added, laughing. "You guys are welcome. If we hadn't done that, then Jennifer Lawrence wouldn't know."
It's true. The disparate salaries were released by someone (cough cough, North Korea) who stole information from the film studio's database because Rogen, 34, refused to scrap The Dictator, a movie about assassinating Kim Jong-un.
One question Byrne is sick of being asked? Whether women can really carry comedies.
"I'm so naive to that. When we did Bridesmaids and we'd be on the tour that's all anyone talked about. Like, 'Oh my God, women are funny?' It's like we were dolphins or something," she said.
"Everyone knows dolphins are funny," Rogen quipped."It's so stupid. … It is ignoring that Shelley Long and Bette Midler made like 20 hilarious movies together and that there was Gilda Radner."
Zac Efron also took SiriusXM subscribers behind the scenes of his scene-stealing, oiled-up, dance routine in Neighbors 2. Two nights before they were scheduled to shoot it, he asked director Nicholas Stoller for … direction.
"Nick was like, 'Well basically you're gonna go up and distract them with the dance.' I was like, 'That's the plan? What song do you envision this going to?' He's like, 'Whatever one you want,'" said Efron, 28. "And I'm like, 'So wait, how much have we thought this through? Where am I dancing?' He's like, 'Where would you like to dance?' I was like, 'Oh no, this is really up in the air.'"
After a "quiet freakout," Efron called his Hairspray choreographer, who flew to the Atlanta set immediately, After two hours of rehearsal, "some poor man's Magic Mike-esque moves" were born.
As for their real-life neighbors, Byrne loves hers, Efron lives next to fellow actor Charlie Day and Rogen is locked in a very heated, very public war of words with his.
"My neighbor's been building a house since the first Neighbors movie we were promoting, so he's provided me with a good answer to two movies' press junkets now, which is fantastic," he said. "I'm always afraid one day he's going to publish the emails I've sent him. They will make me look like a complete psychopath. He's been doing construction for four years right next door to me. And for four years it's been waking me up, it's crazy. And he's a dick about it. He's just totally not cool about it, and so I talk about it on radio and television. That's my only recourse is to travel the world talking about it."
The Neighbors 2 hits theaters Friday, and the Town Hall premieres Saturday at 1 pm ET on SiriusXM Entertainment Weekly Radio (Ch. 105).
For a free 30-day trial, check out http://www.siriusxm.com/freeTrial.
---
---
---