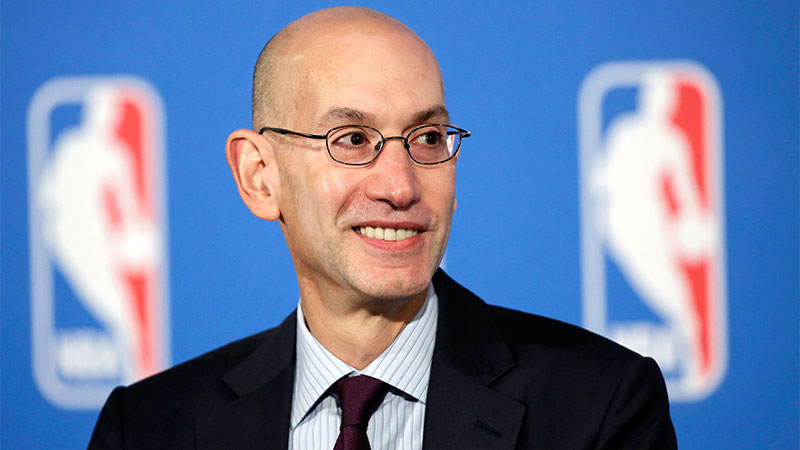 (AP Photo/Mark Lennihan, File)
NBA Commissioner Adam Silver called in to SiriusXM's NBA Today and discussed a bevy of topics with hosts Justin Termine and Eddie Johnson. Silver, who is already in his third season as el jefe of the National Basketball Association, has seen the league's three-point revolution first hand as well as bearing witness to the emergence of the historic Golden State Warriors and the continued brilliance of Cleveland's LeBron James. Silver has also seen the passing of the torch from such staples of NBA superstardom as Kobe Bryant and Tim Duncan to the likes of a new generation of superstars including Russell Westbrook and Karl-Anthony Towns.
Most pressing among the topics discussed, from a fan's perspective, may well be the optimistic belief that Silver harbors for the new CBA deal getting done sooner rather than later. "A real spirit of goodwill … I think Michele Roberts and I have a real positive working relationship since she's started her job and I remain optimistic," Silver explains for his hopefulness with a new deal being reached: 
Silver went on to discuss other matters such as league expansion, incentives for teams to keep would-be free agent stars and why he's not comfortable with telling coaches how to manage players' minutes.Here's a clip of the NBA Commissioner discussing the slippery slope of mandated league policy towards players resting/taking nights off.
The whole interview is worth your time to check out, so give it a listen below:
Photo Credit: AP/Mark Lennihan, File & AP/Michael Conroy
---
---