NBA All-Star rosters announced: Kobe in, Draymond Green out
The night before the 10-year anniversary of his 81-point game against the Toronto Raptors, it was announced that Kobe Bryant would be a starter next month in Toronto at his final All-Star game. The Black Mamba led all players 1,891,614 … Continued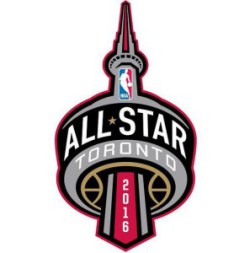 The night before the 10-year anniversary of his 81-point game against the Toronto Raptors, it was announced that Kobe Bryant would be a starter next month in Toronto at his final All-Star game. The Black Mamba led all players 1,891,614 votes in what will be his 18th and final NBA All-Star game. Here is the complete rundown of starters for both the Eastern and Western conferences who will be joining Kobe on the hardwood.
Western Conference starters:
Kobe Bryant, Frontcourt
His name (and reputation) precedes him. It's Kobe [expletive] Bryant in his last All-Star game. Earlier this year NBA Commissioner Adam Silver made it clear that Kobe deserved to be at the ASG one last time and the fans made it happen. Kobe's farewell season hasn't been about his stats, but it has been about appreciating one of the league's most dominant forces (and media narratives) since the mid 1990s. Kobe and fans alike should sit back and soak it in.
Kevin Durant, Frontcourt
Currently third in the league in points per game while also rolling with top 30ish ranks in both assists and rebounds.Durant has been his electric old self this season after coming off of several foot surgeries to help repair his fairly serious metatarsal injury, and has completely earned this deserved 7th all-star nod.
Kawhi Leonard, Frontcourt
Earning his first all-star nod, Leonard is the only San Antonio Spur represented, not good or bad, but slightly strange for the team with the second best record in the league. Largely playing in the shadow of Steph Curry's incredible season thus far, Leonard, in any other year, would be garnering serious MVP consideration. It's a testament to Steph's season that he's not more in the conversation, but the ASG nod is a decent amount of dap from the non-hoops obsessed fan set.
Steph Curry, Backcourt
The reigning league MVP has picked up this season right where he left off last season: taking absurd shots, nailing them and showing no regard for human life. His scorching eFG% of 63.1% is downright ridiculous and Curry's assist rate is top twenty and his usage rate is top three. Nobody is doing what he's doing offensively right now. Nobody. If that weren't enough, Steph has heard the #haterz mentioning his fear of dunking and has begun throwing down the hammer recently as well, see evidence A:
Steph Curry drops the sledgehammer for his only two-point field goal vs. LA! #NBAvine https://t.co/BPK3cWnAZn

— NBA (@NBA) January 15, 2016
Russel Westbrook, Backcourt
Speaking of dunks, Curry's backcourt teammate on the roster is none other than the hater o' rims himself, Russell Westbrook.
📺 Thunder highlight…"and then there's Westbrook" https://t.co/4B9cbNZge2 #OKCvsDEN

— OKC THUNDER (@okcthunder) January 20, 2016
Russ, after nearly carrying the Oklahoma City Thunder to the playoffs by himself last season, has continued to dominate opponents with his ferocious offense while also leading the league in steals. Basically, Westbrook, at times, has become more of a one-man fastbreak than ever before. Here's hoping he matches his All-Star MVP play from last season in Toronto and once again gives away his free Kia to a lucky single mother and her adorable kids.
Eastern Conference starters:
LeBron James, Frontcourt
The four-time MVP is back for his 12th straight appearance at the All-Star game. Call the man Groundhog Day because when it comes to All-Star appearances, statistical leaders and win shares it's the same old thing year after year with LeBron. The fan favorite remains arguably the most powerful and omniscient force in hoops. There's really not much to add.
Paul George, Frontcourt
Back from the horrific leg injury suffered in a scrimmage for the 2014 World Championships, George has been his dominant self on both ends of the court. Much like Kevin Durant in the Western Conference, George's recovery and return to form is absolutely a feel-good story this season.
Carmelo Anthony, Frontcourt
Back from his own painful knee injury, "Dad Melo" brings a new found perspective on the game that's allowed him to become more of a distributor while also remaining the scoring force he's always been. This is Carmelo Anthony's ninth appearance in the All-Star game and while his place on the team was likely buoyed by his reputation (and by playing in the country's most populated city) Melo's also been delivering very efficient offensive numbers.
Dwyane Wade, Backcourt
Arguably a more questionable nod than even Kobe, Wade sits here as a starter more due to his brand than his on-court exploits.
Kyle Lowry, Backcourt
Bolstered by a late social media push by official Toronto Raptor ambassador (and Celebrity All-Star Game coach) Drake, Kyle Lowry makes his second straight ASG appearance and will be playing in front of his hometown crowd. Should be an extra cool moment for the first ASG to be played outside of the USA.
ASG: Snubs and Extras
With Bryant's inclusion comes the backlash from what appears to be a clear snub of Draymond Green from Golden State. While it's totally fine for the basketball intelligentsia/Bay Area NBA fans to cry out in a clamorous (some might say delusional) din about this "outrage"; it's also perfectly acceptable to let Kobe (and the fans) get theirs in an exhibition game. Draymond will likely get his this spring when he should be selected as an All-NBA first or second teamer. Green, and likely Kyrie Irving, Jimmy Butler, Anthony Davis and DeMarcus Cousins and Andre Drummond, should be selected by the coaching staffs as All-Star game reserves next week.
Official NBA sock partner, Stance, debuted their All-Star game socks. Pretty fresh.
---
---
---