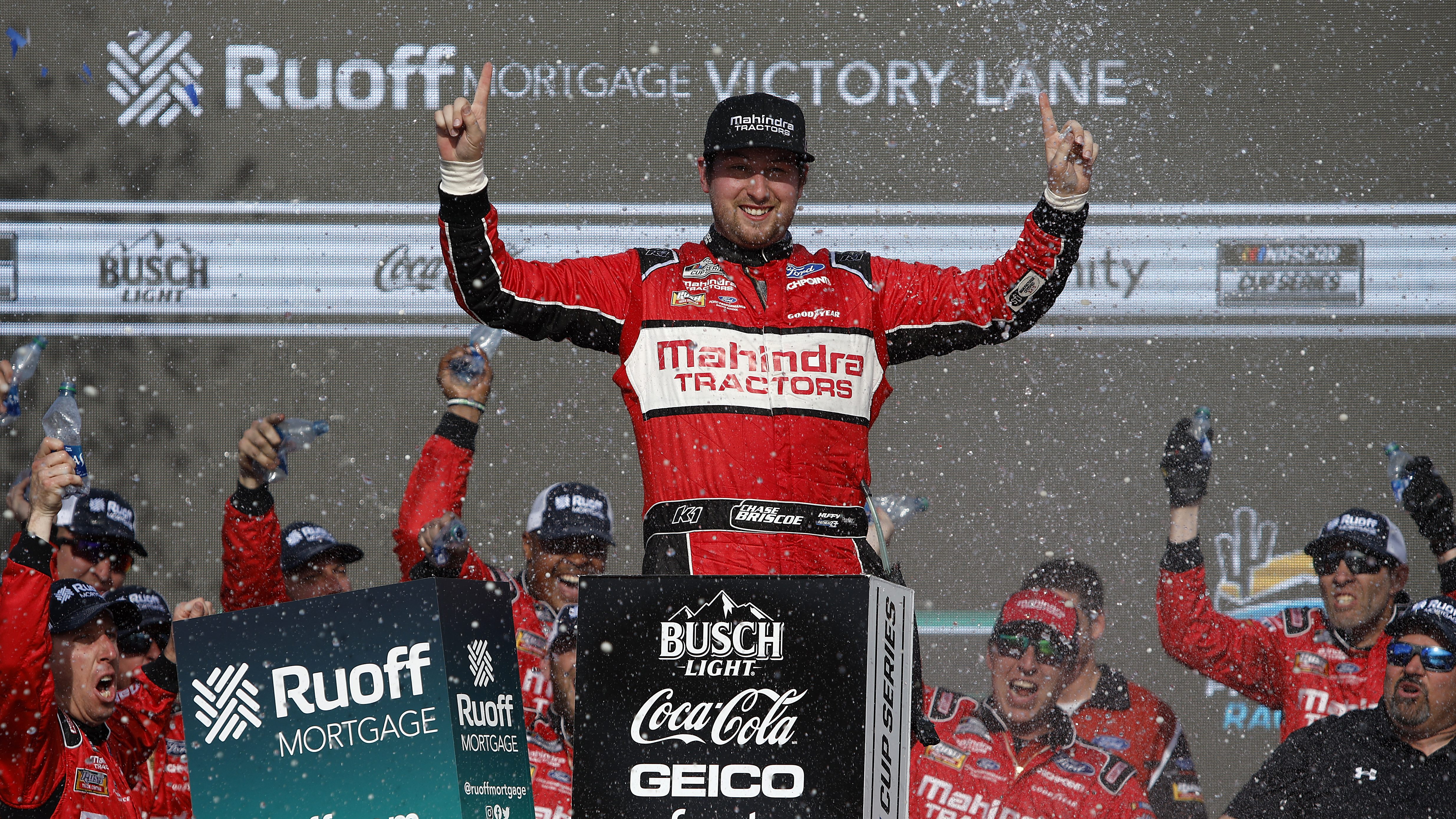 AVONDALE, ARIZONA – MARCH 13: Chase Briscoe, driver of the #14 Mahindra Tractors Ford, celebrates in victory lane after winning the the Ruoff Mortgage 500 at Phoenix Raceway on March 13, 2022 in Avondale, Arizona. (Photo by Sean Gardner/Getty Images)
Pete Pistone will unveil Power Rankings each week of the NASCAR season. Check out this week's edition of NASCAR Power Rankings below, and listen to SiriusXM NASCAR Radio (Ch. 90) on the SXM App now.

The West Coast swing came to a close with last Sunday's trip to Phoenix Raceway. Here's a look at the Power Rankings as NASCAR heads back east to Atlanta Motor Speedway this Sunday:
1. Kyle Larson
An unapproved adjustment sent Larson to start the race from the rear of the field. He did drive to the front in relatively short order, but a valve spring issue ended the day for the Hendrick Motorsports driver on lap 239.
Driver Rating: 95.8
Point Standings: 4th
Last Week: 1st
2. Alex Bowman
The Las Vegas race winner followed up his trip to Victory Lane with a so-so outing at Bowman's home track as he wheeled the No. 48 Hendrick Chevrolet to a 14th-place Phoenix performance.
Driver Rating: 86.6
Point Standings: 11th
Last Week: 2nd
3. Chase Briscoe
It took 40 starts and now Briscoe is a Cup Series race winner. He led three times for 101 laps on Sunday to win at Phoenix and in the process became the 200th driver to win in NASCAR's top division.
Driver Ratings: 85.3
Point Standings: 5th
Last Week: NR
4. Kyle Busch
The Joe Gibbs Racing driver is still looking to put together an entire race in the early going of 2022. Busch wasn't terrible by any means in Phoenix, turning his 11th starting spot to a final finish of seventh.
Driver Rating: 88.5
Point Standings: 2nd
Last Week: 4th
5. Tyler Reddick
A third-place run for Reddick helped him secure his seventh career Cup Series top-five finish. He's been a staple at the front of the field a lot this year and was in position to bring home his first career victory on Sunday.
Driver Rating: 91.9
Point Standings: 9th
Last Week: 5th
6. Ross Chastain
The great start for Trackhouse Racing rolled on in Phoenix, led by Chastain who knocked down his fifth career top-five with two of those coming in the last two races of the 2022 season.
Driver Ratings: 80.9
Point Standings: 14th
Last Week: 10th
7. Chase Elliott
Some issues on pit road derailed Elliott's quest to challenge for his first win of the season. He did lead 50 laps to finish 11th as no Hendrick drivers found their way inside the top-10 for the first time Talladega last fall.
Driver Rating: 89.2
Point Standings: 3rd
Last Week: 6th
8. Joey Logano
He climbed on top of the series point standings with an eighth-place Phoenix finish. Logano has been consistent enough to accumulate points but is looking for a way to challenge for the lead and potential wins more often.
Driver Rating: 94.7
Point Standings: 1st
Last Week: NR
9. Aric Almirola
His streak of top-10 finishes to start the season came to a close in Phoenix. Almirola ended up with a 12th-place finish to cap an average day in Arizona.
Driver Rating: 78.6
Point Standings: 6th
Last Week: 3rd
10. Austin Cindric
He showed speed again early in the weekend turning the fastest solo lap in practice and qualifying eighth. But Cindric encountered challenges on race day and faded back to finish 24th in Phoenix.
Driver Rating: 84.7
Point Standings: 8th
Last Week: 7th
Dropped Out: Austin Dillon, Martin Truex Jr.
---
---
---