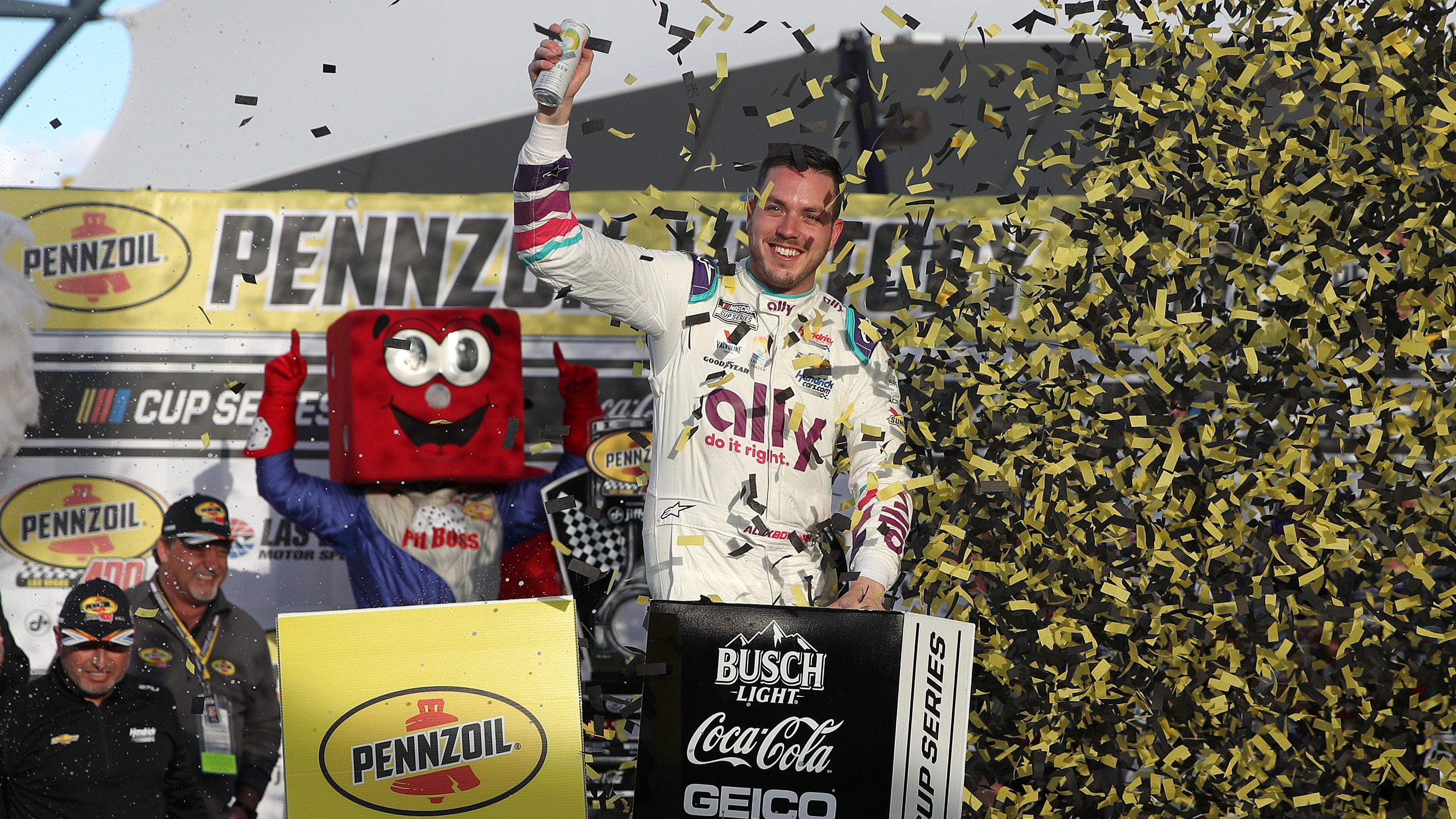 LAS VEGAS, NEVADA – MARCH 06: Alex Bowman, driver of the #48 Ally Chevrolet, celebrates in victory lane after winning the NASCAR Cup Series Pennzoil 400 at Las Vegas Motor Speedway on March 06, 2022 in Las Vegas, Nevada. (Photo by Meg Oliphant/Getty Images)
Pete Pistone will unveil Power Rankings each week of the NASCAR season. Check out this week's edition of NASCAR Power Rankings below, and listen to SiriusXM NASCAR Radio (Ch. 90) on the SXM App now.

The West Coast swing continued for NASCAR last week at Las Vegas Motor Speedway and the Pennzoil 400. Here's a look at the Power Rankings after last week's trip to Auto Club Speedway:
1. Kyle Larson
Last week's Auto Club Speedway followed up that performance with a second-place Las Vegas finish. It was Larson's fourth top-two finish in 12 career Las Vegas starts, marking the 51st time Hendrick Motorsports has swept the top two spots.
Driver Rating: 102.1
Point Standings: 1st
Last Week: 1st
2. Alex Bowman
The Hendrick Motorsports driver put up his first win of the year and seventh in his career Sunday in Las Vegas. Pit strategy and taking advantage of the opportunity presented added up to Bowman leading three times for 16 laps including the last three to take the checkered flag.
Driver Rating: 87.6
Point Standings: 8th
Last Week: NR
3. Aric Almirola
The only driver with three top-10 finishes to start the season, Almirola was steady in Las Vegas. The Stewart-Haas Racing driver crossed the finish line with a sixth-place performance.
Driver Ratings: 78.6
Point Standings: 6th
Last Week: 2nd
4. Kyle Busch
Started last in the field in a backup car but charged to the front in short order. Busch was not happy about his fourth-place finish, which was his first top-five run of 2022. He's now finished in the top-five in the last three Las Vegas races.
Driver Rating: 88.8
Point Standings: 5th
Last Week: 7th
5. Tyler Reddick
Lucky 7's for Reddick in Las Vegas who started seventh and finished in the same spot. A good comeback from early troubles and stage finished of 19th and 11th on Sunday.
Driver Rating: 86.7
Point Standings: 18th
Last Week: 5th
6. Chase Elliott
The adventures of 2022 continued in Las Vegas for Elliott who had his hands full throughout the Las Vegas afternoon. He was able to persevere for a top-10 finish and a ninth-place performance.
Driver Ratings: 76.4
Point Standings: 7th
Last Week: 3rd
7. Austin Cindric 
The Daytona 500 winner showed speed early in the weekend by qualifying third in Las Vegas. But Cindric was a victim of a spin among some other cars and had to race hard just to post a 19th-place finish.
Driver Rating: 93.8
Point Standings: 4th
Last Week: 4th
8. Austin Dillon
The Richard Childress Racing team continued its solid performance of 2022 with Dillon bringing home an 11th-place finish after a day that did include its share of challenges for the No. 3 Chevrolet team.
Driver Rating: 65.3
Point Standings: 10th
Last Week: 10th
9. Martin Truex Jr.
A much better outing for Truex Jr. than earlier in the year. He was engaged in an epic battle with Joe Gibbs Racing teammate Kyle Busch late in the race and ended up with an eighth-place finish.
Driver Rating: 92.3
Point Standings: 2nd
Last Week: NR
10. Ross Chastain
An impressive outing for Chastain and the Trackhouse Racing team in Las Vegas. He led 83 laps, more than he had combined in his previous Cup career and scored his fourth career top-five finish.
Driver Rating: 73.2
Point Standings: 20th
Last Week: NR
Dropped Out: Ryan Blaney, Erik Jones, Chase Briscoe
---
---
---