My Favorite Song: Ethan Hawke geeks out over meeting Bruce Springsteen
Even stars get starstruck. Oscar-nominated actor Ethan Hawke relived the moment he met his musical idol Bruce Springsteen in a New York bar during Wednesday's episode of My Favorite Song with John Benjamin Hickey. "I'm sitting there and I see … Continued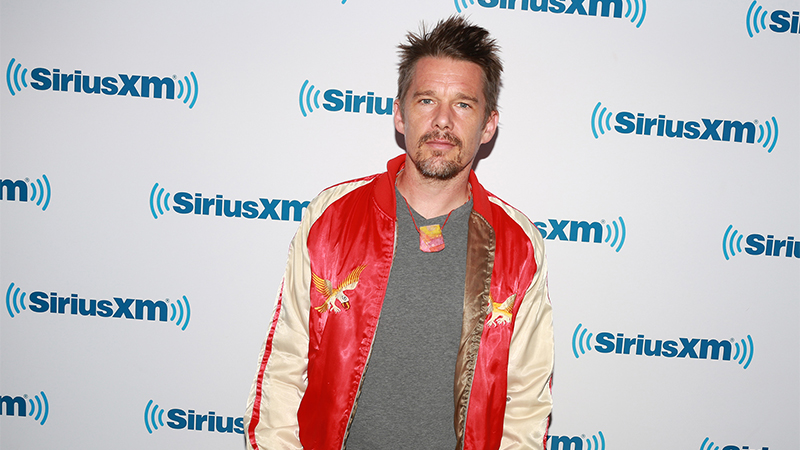 Even stars get starstruck.
Oscar-nominated actor Ethan Hawke relived the moment he met his musical idol Bruce Springsteen in a New York bar during Wednesday's episode of My Favorite Song with John Benjamin Hickey.
"I'm sitting there and I see these two very powerful hands put themselves on my shoulders from behind me, and somebody leans in to whisper in my ear and says, 'Hey, man, I saw that picture you did with the French girl, those two movies, you know, Sunrise and Sunset. I loved those movies, man,'" he said. "Patted me on the back. And that voice sounded familiar, and I turned and I watched Bruce Springsteen walk away, and I couldn't believe it. And I wish the story ended there."
But Hawke, 45, is "just the biggest geek" and "turned into a 14-year-old," deciding to approach the Boss's table later in the night.
Hear about the embarrassing encounter in the clip below:
Listen to Hawke's episode on demand now. My Favorite Song with John Benjamin Hickey airs on SiriusXM's Radio Andy (Ch. 102).
For a free 30-day trial, check out http://www.siriusxm.com/freeTrial.
ETHAN HAWKE'S FAVORITE SONGS
Rock & Roll:  Exile on Main Street (album) by The Rolling Stones
Movie: There's a Small Hotel by Chet Baker
Love: Picture Cards Can't Picture You by Blaze Foley
Sad: Blue Eyes Crying in the Rain by Willie Nelson
City: Redondo Beach by Patti Smith
Dance: I Want You Back by Jackson 5
Sexy: Just Like Tom Thumb's Blues by Nina Simone
Country: World of Trouble by Norah Jones
Christmas: Little Drummer Boy by Johnny Cash
Duet: Girl from the North Country by Bob Dylan and Johnny Cash
Live: Jungleland by Bruce Springsteen
For a free 30-day trial, check out http://www.siriusxm.com/freeTrial
---
---
---