Music-versary: Prince was born on June 7, 1958
We can't believe he's gone because we adored so much about him. The way he couldn't care less about what anyone thought. The way he broke and remade the rules. The way he pushed the envelope until he got bored … Continued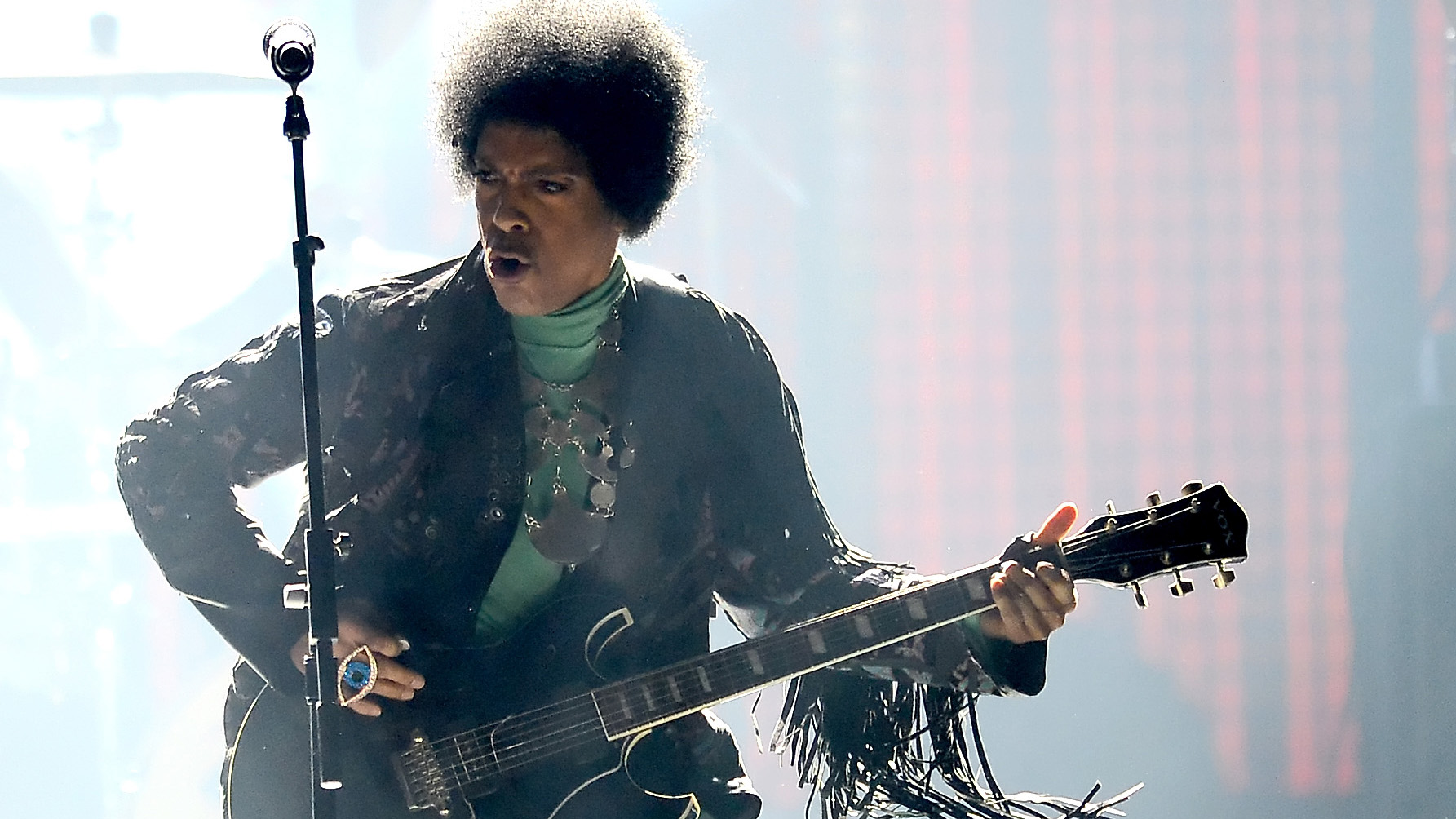 LAS VEGAS, NV – MAY 19: Musician Prince performs onstage during the 2013 Billboard Music Awards at the MGM Grand Garden Arena on May 19, 2013 in Las Vegas, Nevada. (Photo by Ethan Miller/Getty Images)
We can't believe he's gone because we adored so much about him. The way he couldn't care less about what anyone thought. The way he broke and remade the rules. The way he pushed the envelope until he got bored and moved onto something else. We loved his eccentricities, his fabulousness and how quietly confident he was.
Prince Rogers Nelson was born on June 7, 1958 in Minneapolis to musician John Nelson (his stage name was Prince Rogers) and Mattie Shaw, a jazz singer who performed in Nelson's band. Prince taught himself how to play the piano at seven, the guitar at 13, and the drums at 14.
By the time he was 18, a demo tape found its way to a Minneapolis businessman and in 1978 Prince's debut album For You was released, followed by his self-titled album in 1979, on which he played nearly every instrument. It was the sophomore LP featuring the pop and R&B No. 1 hit I Wanna Be Your Lover that made folks pay attention to the man with the falsetto and the flawless feathered mane.
Next came the critically acclaimed Dirty Mind, which dropped in 1980 and featured what would be Prince's trademark: provocative and graphic lyrics. And in 1981, he released Controversy, featuring two hits, the title track and Let's Work. After releasing the album 1999 the following year, Prince was cruising to pop stardom. The double album went platinum, reached No. 1 on the charts and contained the Top 10 singles Little Red Corvette, Delirious, and the nuclear doomsday title track. Little Red Corvette was among the first videos by a black artist to be on rotation on MTV.
Purple Rain, the album and semi-autobiographical movie, both released in 1984, and both huge hits, propelled Prince to rock star status. Created with his band The Revolution, the soundtrack album topped the charts for 24 weeks and sold over 13 million copies. The album's hit singles were aplenty too – When Doves Cry, Let's Go Crazy, Purple Rain, and I Would Die 4 U, were all No. 1 hits.  In 1985, Prince and the Revolution took home a Grammy for Best Group Rock Vocal and an Academy Award for Best Original Score for Purple Rain.
His next album, Around the World in a Day, was considered a critical and commercial disappointment, though it featured the hits Raspberry Beret and Pop Life.  Also around this time, Prince opened his own studio (with living quarters) Paisley Park in Chanhassen, Minnesota. His next movie, Under the Cherry Moon, filmed on the French Riviera with Prince as director, bombed, but it's funky soundtrack Parade yielded the monster hit Kiss.
Prince continued to crank out albums annually and in the fall of 1992, he signed a contract for $100 million with Warner Bros., considered the largest recording and music-publishing contract in history. But after years of feeling his creativity was being stifled by the label, he changed his name to an unpronounceable symbol, which he used until 2000. Industry folks began referring to him as the Artist Formerly Known as Prince or The Artist.
After Prince was released from all contractual obligations to Warner Bros., he released the triple album appropriately titled Emancipation in 1996, which went certified platinum and featured the remake Betcha by Golly, Wow. Several other albums followed, including Crystal Ball (1998) and Rave Un2 the Joy Fantastic (1999) on Arista Records.
In 2004, he was inducted into the Rock and Roll Hall of Fame and in 2006 he put out the album 3121, then performing at Super Bowl XLI, considered one of the best half time shows ever.
In 2014, Prince received his masters back from Warner Bros. under a new deal stipulating he had to release two new albums through the label. He put out HITnRUN Phase One and HITnRUN Phase Two, both released in 2015, initially on the music streaming service Tidal. 
On April 21, 2016 Prince was found dead in an elevator at Paisley Park from an opioid overdose. His death completely devastated the music industry and the countless fans around the world. From the artists he penned or produced songs for (The Time, Sheila E., The Bangles, Sinead O'Connor, Chaka Khan, Sheena Easton, Celine Dion, etc.), to his millions of fans and admirers, so many are mourning the loss of one of the hardest working, genuinely gifted artists ever (39 studio albums, 5 soundtrack albums, 4 live albums, 5 compilation albums). To the incomparable legend whose music has been the soundtrack to our lives for so long, we say Happy Birthday. We will miss you our sweet Prince.
For a free 30-day trial, check out http://www.siriusxm.com/freeTrial
---
---
---