Music-versary: Paul McCartney announces his departure from the Beatles via press release on April 10, 1970
On April 10, 1970, London's Daily Mirror declared that the Beatles were history. The tabloid was armed with a press release that included an explosive question-and-answer interview with Paul McCartney, who wouldn't be speaking to the media but still wanted to … Continued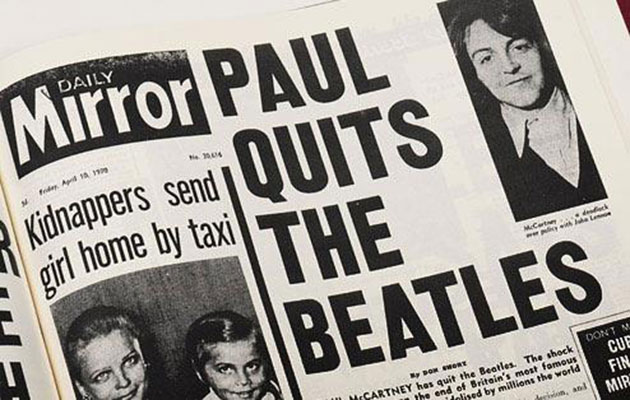 On April 10, 1970, London's Daily Mirror declared that the Beatles were history. The tabloid was armed with a press release that included an explosive question-and-answer interview with Paul McCartney, who wouldn't be speaking to the media but still wanted to offer reporters an explanation — accompanied by a copy of his debut solo album, McCartney.
The press release read in part:
Q: Are you planning a new album or single with the Beatles?

A: No.

Q: Is this album a rest away from the Beatles or the start of a solo career?

A: Time will tell. Being a solo album means it's "the start of a solo career…" and not being done with the Beatles means it's just a rest. So it's both.

Q: Is your break with the Beatles temporary or permanent, due to personal differences or musical ones?

A: Personal differences, business differences, musical differences, but most of all because I have a better time with my family. Temporary or permanent? I don't really know.

Q: Do you foresee a time when Lennon-McCartney becomes an active songwriting partnership again?

A: No.
The breakup had been coming for a long time as each of the Fab Four had begun to make their own music and yearned for autonomy — "It's no news that we argue," Lennon told the New Musical Express that January — but the finality in McCartney's words were was still a blow to a hopeful public. According to Rolling Stone, fans in need of consolation flocked to the Apple office the next day. The scene prompted one broadcaster to say, "The event is so momentous that historians may mark it as a landmark in the decline of the British Empire."
Mourning fans still had the opportunity to hear a lot of solo music from each member in 1970. Ringo Starr's first solo album Sentimental Journey had just come out in the UK a little over a week before McCartney's announcement and would be released in America on April 24. A second album, the country-tinged Beaucoups of Blues, followed in September.
McCartney's self-titled album emerged on April 17, followed by Ram, a duet with wife Linda McCartney, and the first of seven Wings albums, both released in 1971. Let It Be, the final Beatles album, followed in May, a bittersweet salve to the loss that was still causing shock and disbelief, though the group's tensions had not been a secret to ardent fans.
George Harrison's pointedly-named third solo release All Things Must Pass, a triple album heaving with music, was next; it came out on November 27. Harrison's album was just a few weeks before the December 11 release of Lennon's first solo effort John Lennon/Plastic Ono Band, the predecessor to the seminal Imagine album that emerged the next year.
Unfortunately, 1970 ended on a particularly publicly tense note, with McCartney filing a lawsuit to legally dissolve the band. McCartney spoke about the demise with Life Magazine in 1971, likening the group to a couple that had fallen out of love.
"It's like a married couple," he said. "When we started off we were all aiming for pretty much the same thing. I think the troubles really began when we weren't aiming anymore for the same thing, which began, I think, when we stopped touring in 1966."
"The dream is over," Lennon told Rolling Stone founder Jann Wenner a few months earlier, downplaying the Beatles legacy and its impact for change as the lawsuit dragged on. "It's just the same, only I'm thirty, and a lot of people have got long hair."
Years later, McCartney looked back on the press release, noting that it was only to avoid speaking to the media.
"'The world reaction was like 'The Beatles Have Broken Up — It's Official' — we'd known it for months. So that was that, really. I think it was the press who misunderstood. The record had come with this weird explanation on a questionnaire of what I was doing. It was actually only for them. I think a few people thought it was some weird move of me to get publicity, but it was really to avoid having to do the press.'"
It has now been 46 years since that fateful day, and McCartney continues to release both solo and collaborative works, including original classical compositions, film scores and even ambient electronic grooves, his joy of music as passionate as it ever was.
For a free 30-day trial, check out http://www.siriusxm.com/freeTrial
---
---
---