Music-versary: KISS released 'Destroyer' on March 15, 1976
KISS, as most people know, have a hard time getting respect. Maybe its the make-up. Maybe its their crass commercialism. Maybe its the fact that musically they've always been fairly simplistic. But for every critic who has dismissed the band, … Continued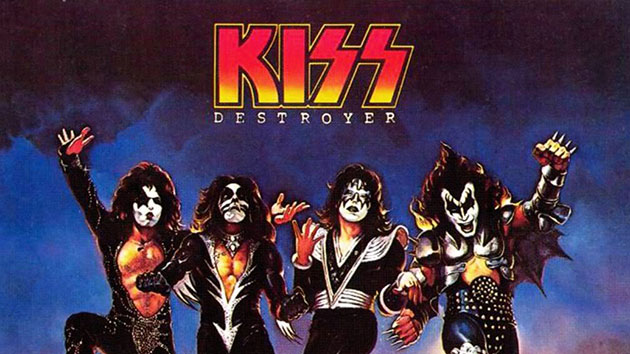 KISS, as most people know, have a hard time getting respect. Maybe its the make-up. Maybe its their crass commercialism. Maybe its the fact that musically they've always been fairly simplistic. But for every critic who has dismissed the band, there's a thousand members of the KISS Army swearing to stand by the legacy created by Paul Stanley, Gene Simmons, Ace Frehley and Peter Criss.
March 15th marks the 40th Anniversary of Destroyer, KISS' fourth studio album and the follow-up to their breakthrough record, KISS Alive! It marked the first time the band would work with producer Bob Ezrin, who had made his name working with artists including Alice Cooper and Lou Reed. Not only would Ezrin help KISS create their best sounding, layered album to date, but he would have a hand in co-writing 8 of the album's 10 songs, among them certifiable KISS classics like Detroit Rock City and Shout It Out Loud. Ezrin would also co-write the album's top ten single Beth, which would be sung by drummer Peter Criss.
To celebrate the 40th anniversary of what remains the definitive KISS studio album, here are a few highlights from this classic blast of anthemic rock and roll from the hottest band in the world.
Detroit Rock City:
Do You Love Me?:
God of Thunder:
Live 1978:
You can hear KISS on SiriusXM's Ozzy's Boneyard, Hair Nation, Classic Rewind and 70s on 7.
This post originally appeared on SiriusXM Canada by Andy Burns.
For a free 30-day trial, check out http://www.siriusxm.com/freeTrial.
---
---
---