Music-versary: Johnny Cash was born on February 26, 1932
"It shoulda been you," Ray Cash told his young son, Johnny, after his eldest, Jack, had been cut open from crotch to neck, fatally sliced by the circular saw at the local mill. Jack had been a spiritual boy, destined … Continued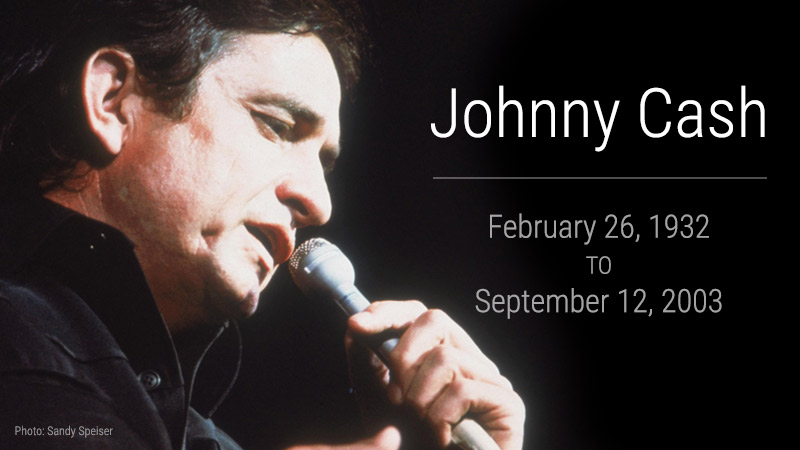 "It shoulda been you," Ray Cash told his young son, Johnny, after his eldest, Jack, had been cut open from crotch to neck, fatally sliced by the circular saw at the local mill. Jack had been a spiritual boy, destined for the priesthood, his father hoped. Now he was stuck with his little brother Johnny, a dreamer who would rather listen to songs on the radio than toil in the cotton fields.
His brother's death left a "big, cold, sad place in my heart and soul," Johnny would later write in his autobiography, but it was a wound that would drive him as he went forward in his life. "[Jack] tried to turn me from the way of death to the way of life," he wrote. "The most important question in… my life has been, 'Which is Jack's way? Which direction would he have taken?'"
Chances are Jack wouldn't have taken the life of a hard-touring musician, one with two wives, seven children, and an amphetamine habit that nearly cost him all of it. But Johnny Cash always approached his life and his work with the moral guidance of his lost brother.
From the moment he walked into Sam Phillips' Sun Records in Memphis, he was destined to be more than just a gospel singer, as he had hoped —he would become a singular voice that spanned genres and generations, recording with Elvis and Carl Perkins early in his career, helping Bob Dylan find country when he needed a new start, and reimagining songs by Bruce Springsteen and Trent Reznor as an elder statesman, awaiting death.
Cash could have settled for being just a prolific singer, guitarist and songwriter, inventing the way to put the beat of a train into classics like Hey, Porter, and Folsom Prison Blues, but instead, he went one further, supporting social causes like prison reform, the war in Vietnam, and civil rights — all at a time when grown men from the South were supposed to keep their mouths shut and support the conservative party line.
Although he'd only spent a few nights in jail for minor offenses, songs such as San Quentin — for which he performed at San Quentin State Prison to a crowd that included a 20-year-old Merle Haggard — made the horrors of the penitentiary palpable to those on the outside, no small part of his campaign to reform prisons.
On his 1971 album Man in Black, the title song references how "each week we lose a hundred fine young men," while the deep cut Singin' in Vietnam Talkin' Blues, painfully chronicles a trip he and his wife June took to the frontlines to entertain the troops, calling the experience a "little trip into living hell."
When he was invited to the White House by Richard Nixon, he could have sang some love song like I Walk the Line but instead pulled out Man in Black and The Ballad of Ira Hayes, a tale of the abuse suffered by Native Americans who fought for their adopted country.
By the turn of the millennium, when he began to work with super-producer Rick Rubin on a set of classics and covers — perhaps the best collection he'd made since his early years in the studio — Johnny Cash was at peace with the world.
"I don't know if he was aware of the magnitude of his presence, but pretty much anybody who came into contact with him was intimidated by him," Rubin later said. "But he was just such a humble person, in a few lines of casual conversation he was able to make everyone feel OK."
Happy birthday, Johnny. We miss you!
For a free 30-day trial, check out http://www.siriusxm.com/freeTrial.
---
---
---