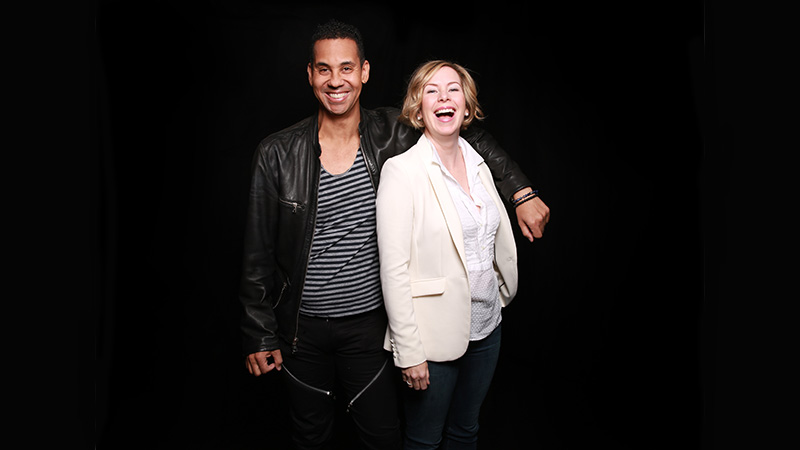 Nik Carter and Lori Majewski want to expose everybody's music geekdom – starting with their own. The hosts of Feedback, the morning news show on SiriusXM talk music channel VOLUME (Ch. 106), describe their show as being the place for music nerds.
"The way it's going to differ from all those other morning shows, and there are a lot of them, is that it's going to be a deep conversation about music," Majewski explains. "We're going to be the show for music aficionados, for music geeks, like myself."
Carter, who began his career as a rock DJ on Boston radio before working in New York radio and for VH1, says he's excited about doing something a little different on VOLUME.
"I love the idea of being able to just have a conversation and not have to be like, 'Oh sorry, we have to get this band of the moment in,'" Carter says. "I'm really looking forward to actually trying to connect with people, be they fans, be they artists, be they friends, be they Lori, my co-host, through conversation."
Majewski brings a different set of skills to the table. She started her career in journalism as an intern at SPIN magazine, then went on to help found Teen People magazine, where she also served as editor-in-chief. She later served as an executive editor of US Weekly, then Entertainment Weekly and People.com. With a background in entertainment and music, she's primed to discuss how the two industries intersect. So, when Lady Gaga wins an Emmy award or Drake attends a DeGrassi reunion, she's there.
As a music journalist, she was the first person in the U.S. to interview the Spice Girls and she interviewed Britney Spears "when she still had red hair." The new wave genre is of particular interest to her and led her to co-author the 2014 book, Mad World: An Oral History of New Wave Artists and Songs That Defined the 1980s. It also established her as the go-to interviewer for her favorite band, Duran Duran.
For his part, Carter was "one of the first people on earth" to play Blink-182. And, backstage at a Cure show, he even swapped spit once with Robert Smith: after interviewing the frontman, Carter took a swig from Smith's lipstick-smeared beer bottle — with Smith's blessing, too!
Fans of R&B singers, country crooners and other types of music are also in luck. Carter and Majewski are true music geeks and plan to discuss all genres in their show, from metal to hip-hop. They'll touch on about what's happening in the music world the way sports commentators debate the latest player trades and game highlights.
If you obsess about singles, labels, and artists and want to geek out with like-minded folks, consider this show part of a well-balanced musical breakfast.
"I look forward to being together with you and to finding those new artists and giving them a platform," Majewski says to her co-host during a video shoot at SiriusXM's New York City studio. "Like I'm like the Queen of the Geeks, and it seems like you're the King of the Geeks. It's going to be a good show."
Feedback can be heard weekday mornings starting October 17 at 7 a.m. ET/4 a.m. PT on VOLUME, Channel 106.
---
---
---