Muhammad Ali, 1942-2016
The world has lost one of its greatest champions. Muhammad Ali, one of boxing's greatest competitors and most polarizing figures, passed away after being hospitalized after a respiratory condition, and had struggled with Parkinson's disease for the past three decades. He … Continued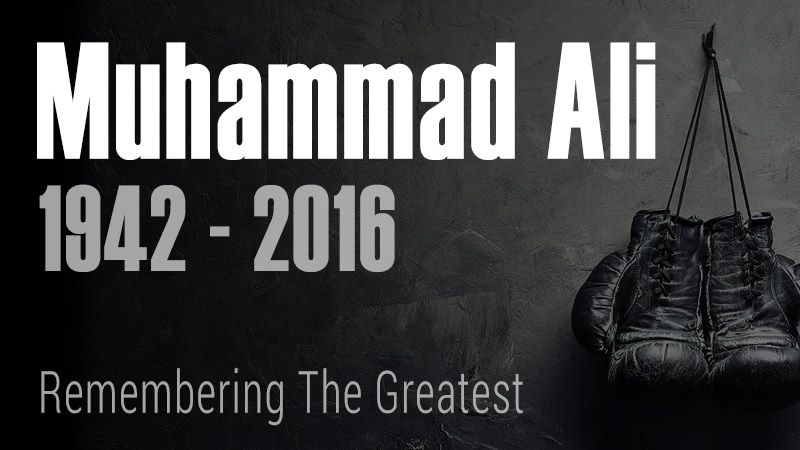 The world has lost one of its greatest champions. Muhammad Ali, one of boxing's greatest competitors and most polarizing figures, passed away after being hospitalized after a respiratory condition, and had struggled with Parkinson's disease for the past three decades. He was 74 years old.
"I saw him for the first time, and I realized what beauty was" — George Foreman
Born in Louisville, Kentucky on Jan. 17, 1942, a scant six weeks after the United States had entered World War II, Cassius Clay toiled and trained at the sweet science beginning when he was 12. Displaying the same overwhelming, if yet unrefined, combo of grace and power that would define his professional boxing bouts, Clay dominated the amateur ranks on his way to a 100-5 record. His early success punctuated by a gold medal in the light heavyweight category at the 1960 Summer Games before turning professional. Upon turning pro in 1960, at the tender age of 18 years and 286 days, Cassius Clay would embark on a devastating run of success in the ring. 31 straight wins to start his career before running into "Smokin' Joe" Frazier in the "Fight of the Century."
An up-and-coming contender in boxing's heavyweight division, he was the biggest loudmouth trash-talker the world had ever seen. His antics of belittling his opponents while touting his own skills made him disliked by his peers, the media and most of the general public.
Clay had solidified himself as the top contender for Sonny Liston's world heavyweight championship by late 1963, earning a title shot on Feb. 25, 1964 at the age of 22. Clay took control in the third round and landed several combinations causing a cut under Liston's left eye, the first time he had ever been cut in his career. After the sixth round ended, Liston told his cornermen, "That's it," and didn't answer the bell for the seventh round. The two fought again in 1965 and Liston was knocked out in the first round. Clay stood over his fallen opponent yelling, "Get up and fight, sucker!" in one of the most iconic moments in sports history.
Two days after winning the title, Clay announced that he was a member of the Nation of Islam. He started going by Cassius X before Elijah Muhammad, the leader of the Nation of Islam, renamed him Muhammad Ali on March 6, 1964.
"Ali's passion and demand for social justice in his lifetime still rings true and for that he should always be known as 'The Greatest'"
Ali defended his title eight times after the second Liston fight. Four of Ali's title defenses took place in Canada and Europe because his stance on the Vietnam War caused athletic commissions to refuse to sanction his fights. After his title defense against Zora Folley on March 22, 1967, Ali was stripped of his title due to his refusal to be drafted into the army. He was convicted of draft evasion in June and sentenced to five years in prison, but remained free while he appealed the verdict after paying a bond. Every state refused to grant him a boxing license, forcing him out of the sport until late-1970. Ali's conviction was overturned by the Supreme Court by a unanimous 8-0 decision on June 28, 1971.
Ali met heavyweight champion Joe Frazier in the "Fight of the Century" at Madison Square Garden on March 8, 1971 and Frazier handed Ali his first professional loss by unanimous decision. Ali earned a unanimous decision win over Frazier in a rematch on Jan. 28, 1974 to earn a shot at George Foreman's heavyweight title in "The Rumble in the Jungle" in Kinshasa, Zaire on Oct. 30, 1974, knocking him out in the eighth round for his second heavyweight championship. Ali met Frazier for the final time on Oct. 1, 1975 in the "Thrilla in Manila." Ali called the TKO victory the hardest fight he's ever been in, saying it was "the closest thing to dying that I know." Ali won the heavyweight belt one more time in 1978, making him the first three-time heavyweight champion in boxing history. He retired in 1979 and was diagnosed with Parkinson's syndrome in 1984.
Of course, Parkinson's is not what defined the man born Cassius. No, just as in life, Ali's passing should be a testament to his will to conquer in the ring and to his courage of character outside of the ring. While perceived as a dangerous radical to the racist status quo of the 1960's "Great Society" America at large and to the Vietnam War specifically, Ali's passion and demand for social justice in his lifetime still rings true and for that he should always be known as "The Greatest."
---
---
---