MSNBC's Joy Reid proposes a media black out of Donald Trump's tweets
"He doesn't have to do a press conference because we slavishly read everything he tweets."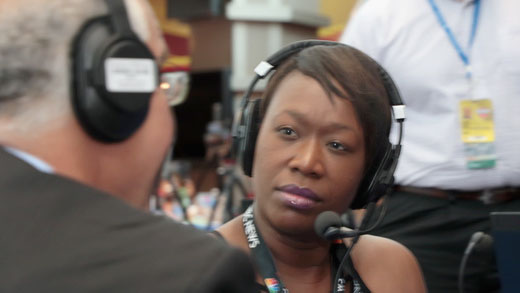 President-elect Donald Trump's reactionary and often early-morning tweets send the media, the markets and global relations into a frenzy. South Korea has even gone so far as designating a 'Twitter Officer' to monitor the president-elect's feed.
But what if it all stopped? Not the tweeting, but the coverage.
"I have this dream," MSNBC host Joy Reid explained to Dean Obeidallah Friday. "In which all of the media get together as a consortium, now that we're dealing with this authoritarian guy who isn't going to work with the press in a traditional way, and they say, 'look, we're all going to agree that we will black out Donald Trump's tweets, let's say, for a week. Starve him of the thing he needs most, which is free publicity.'"
"He's literally is like a machine that feeds on attention and publicity."
Obeidallah compared the media's coverage of Trump's tweeting to the likes of the Kardashians, where every little moment puts the press into overdrive.
"Right now, the media follows every tweet. Donald Trump tweets and it's like Pavlov's dog and they start salivating and they start covering it," Obeidallah said.
Trump has not held a press conference since July, shortly after he accepted the Republican party nomination in Cleveland. And this lack of access granted to the press has given the tweets more value.
"The problem is he doesn't have to do a press conference because we slavishly read everything he tweets," Reid added.
"If we for a week said 'well we're not going to cover anything you say unless you say it in a press conference then literally we won't put you on TV unless you do it in front of us, unless you come to us, we won't put you on TV.' If the media did that for a week, Dean, he'd do a press conference."
And while Trump has scheduled his first press conference as president-elect for Wednesday, it's taking place during a particularly chaotic time — one day after President Obama's primetime farewell address, in the midst of Congressional hearings on cabinet nominations and barely a week before inauguration.
Although Trump has refused to speak directly to the press himself, he's sent surrogates to the various networks as a representative for himself and his administration. However, as Obeidallah explained, these appearances have generated "a sense he's not telling anyone anything,"
"He's contradicting them to the point where Sean Spicer or Kellyanne Conway is losing their credibility," Reid said. "Because they keep going – sticking their neck out and saying 'he believes X' and then he tweets and contradicts them and says 'no, I'm saying Y.' So since he's undermining his own people, at this point, they're credibility is at stake."
"We need to have confidence that when they're speaking to us they speak for him," she added.
Reid said it ultimately comes down to the decisions of hosts and networks to choose how to cover this new administration.
"The only thing we have left is our airwaves and our choices," Reid concluded. "And if the media were to all get together and say 'you know what, until you give a press conference, we're not going to read anything you say for a week.' Try it for a week, and see what happens."
The Dean Obeidallah Show airs weekdays at noon ET on SiriusXM Insight (Ch. 121). Hear AM Joy on MSNBC (Ch. 118) weekends at 10am ET.
For a free 30-day trial, check out siriusxm.com/freetrial/blog
Donald Kravitz/Getty Images for SiriusXM
---
---
---