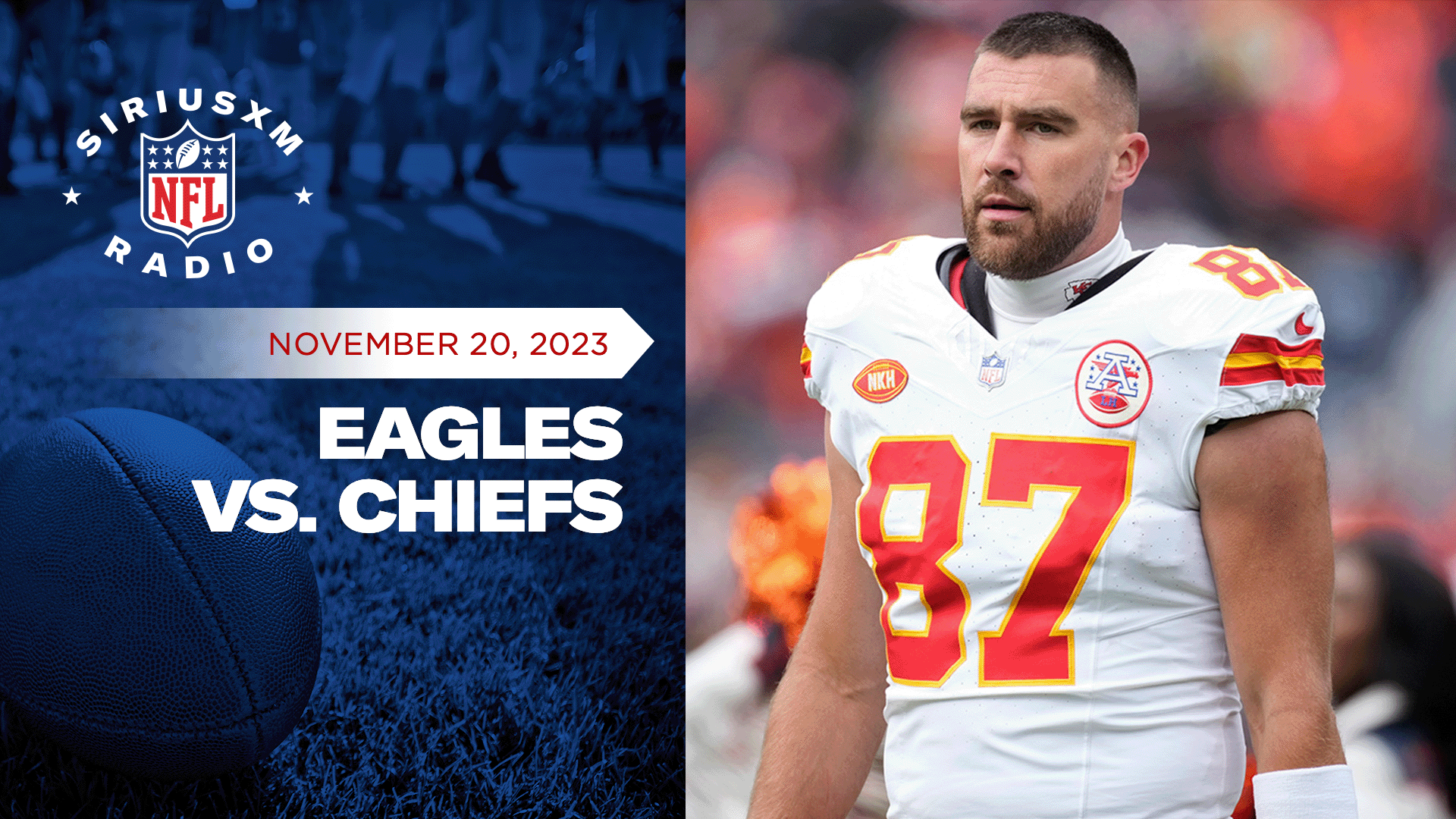 As the NFL's Week 11 matchup for Monday Night Football draws near, football fans are gearing up for a Super Bowl LVI rematch between the Philadelphia Eagles and the Kansas City Chiefs. Here's what you need to know about the key players and storylines.
Listen live to your choice of the home, away, or national feed on the SiriusXM app. Kickoff is November 20 at 8:15pm.
---
Stream the Kansas City Chiefs broadcast (Ch. 815)
Stream the Philadelphia Eagles (Ch. 825)
Stream the National broadcast (Ch. 88)
---
Home: Kansas City Chiefs
Patrick Mahomes passed for 185 yards and 2 TDs in Week 9, boasting a 105.6 rating. He is tied with Peyton Manning for the second-most games with 2+ TD passes in the first 7 seasons.
Isiah Pacheco rushed for 66 yards in Week 9, with a touchdown in 2 of his last 3 games in Kansas City. He is averaging 104.3 scrimmage yards per game in his past 4 primetime appearances.
Travis Kelce recorded 6+ catches and 55+ receiving yards in 6 of the last 7 games.
Rashee Rice scored a TD in Week 9 and has 55+ rec. yards in 3 of the past 4 games. He is tied for third among rookies with 4 reception TDs this season.
Chris Jones has a sack in 2 of 3 home games this season and in 8 of his past 9 in KC overall.
Trent McDuffie led the team with a career-high 11 tackles and a forced fumble in Week 9.
---
Kansas City Chiefs Home Feed
SiriusXM channel 225 in your vehicle
Channel 815 on the SiriusXM app
Philadelphia Eagles Away Feed
SiriusXM channel 226 in your vehicle
Channel 825 on the SiriusXM app
National Feed
SiriusXM channel 88 in your vehicle
Channel 88 on the SiriusXM app
En Español
SiriusXM channel 227 in your vehicle
Channel 832 on the SiriusXM app
---
Away: Philadelphia Eagles
Jalen Hurts had an impressive Week 9 performance with 3 TDs (2 pass, 1 rush) and a 130.2 rating. Hurts is the second QB ever with 7+ rush TDs in 3 straight seasons.
D'Andre Swift is aiming for his ninth consecutive game with 50+ scrimmage yards.
A.J. Brown surpassed 1,000 rec. yards in 2023, with 100+ rec. yards in 6 of his past 7 road games.
DeVonta Smith is looking for his third consecutive game vs. KC with 7+ catches & 100+ rec. yards.
Josh Sweat recorded 4 sacks and 5 TFL in the past 5 games.
Kevin Byard has 63 tackles in 2023, aiming for his third consecutive game with 7+ tackles.
---
For more on SiriusXM's NFL programming, visit SiriusXM.com/NFL.
---
---
---