MLB Network Radio's 2017 Baseball Hall of Fame ballot
Ken Griffey Jr. and Mike Piazza's elections to the Baseball Hall of Fame got us thinking: Who will comprise the Cooperstown class of 2017? It's not too early to start predicting which players will get 75 percent of the vote next … Continued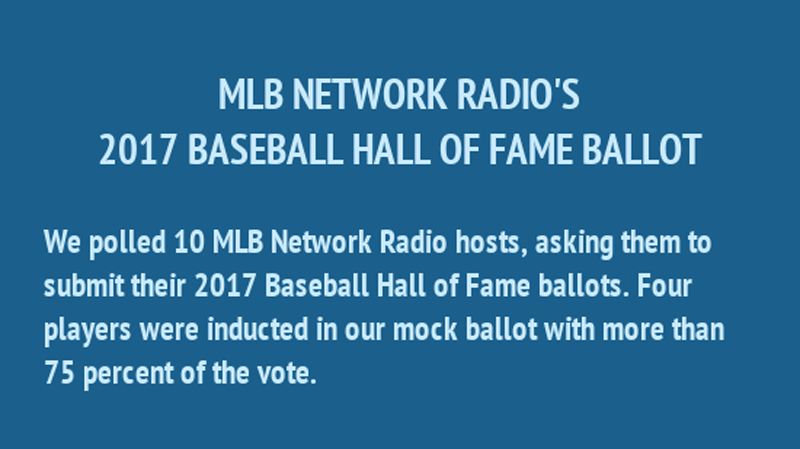 Ken Griffey Jr. and Mike Piazza's elections to the Baseball Hall of Fame got us thinking: Who will comprise the Cooperstown class of 2017? It's not too early to start predicting which players will get 75 percent of the vote next year, right? It is too early? Well, we did it anyway.
MLB Network Radio hosts Mike Stanton, Steve Phillips, C.J. Nitkowski, Jim Duquette, Jon Morosi, Jim Bowden, Steve Sax, Mike Ferrin, Brad Lidge and Todd Hollandsworth weighed in.

The 10 hosts predict that lucky number seven will be Jeff Bagwell's year. Bagwell narrowly missed out on election in 2016 with 71.6 percent of the vote, his highest percentage in his six years of eligibility. Bagwell played 15 seasons in Houston, batting .297/.408/.540 with 449 home runs, 488 doubles, 2,314 hits, 1,529 RBIs and 1,517 runs.
Tim Raines heads into his 10th and final chance on the Hall of Fame ballot, and our hosts say he'll get in. The former Montreal Expos star received 69.8 percent of the vote this year. Raines ranked fifth in career stolen bases, stealing 808 of 954 for an 84.7 percent success rate – the highest of all-time. The seven-time All-Star compiled 2,605 hits and 1,330 walks in his 23-year career, and is widely regarded as the second-best leadoff hitter in history after Rickey Henderson.
Edgar Martinez will be in his eighth year on the ballot, and will have to make a significant jump in the voting to make our hosts' prediction come true after receiving just 43.4 percent of the vote in 2016. He had an impressive slash line of .312/.418/.515 over an 18-year career, all with the Seattle Mariners. Martinez became the only full-time designated hitter ever to win a batting title in 1995 with a .356 average.
Our hosts predict that Vladimir Guerrero will be a first-ballot Hall of Famer to round out the 2017 class. He batted .318/.379/.553 with 449 home runs over his 16-year career. Guerrero was named American League MVP in 2004 in his first season with the Los Angeles Angels of Anaheim after totaling 39 homers, 126 RBIs, 124 runs and 206 hits with a .337 batting average. In addition to his home-run power, Guerrero was known for his cannon for a right-arm. which he used to gun down base-runners from the outfield.
Keep it locked to MLB Network Radio for full coverage of the MLB offseason and Spring Training. MLB Network Radio is part of a comprehensive suite of sports channels on SiriusXM, including NFL Radio, Bleacher Report Radio, SiriusXM NASCAR Radio and Mad Dog Sports Radio. For a full SiriusXM lineup, visit siriusxm.com/channellineup.
Interested in trying out SiriusXM? Visit siriusxm.com/freetrial.
---
---
---