Mike Babchik's cover letter for beer historian position at The Smithsonian
There's no way he's not getting it, right?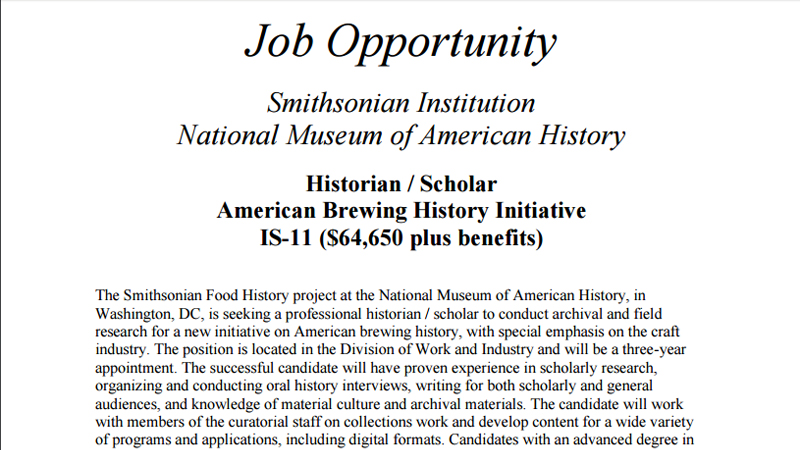 Ever since news got out that The Smithsonian is looking to hire a historian of beer, Mike Babchik has been hard at work on his cover letter.
Sure, he's not actually a qualified historian or scholar, but you can't say he's not passionate about the $64,000 per year gig. Listen/read what a job-winning cover letter looks like.
"To Whom It May Concern,

My name is Michael Babchik. I've been drinking beers for 25 years, OK? I had my first American beer at the age of 13. Since then I've been banned from all bars in the East Village of New York City and the Lower East Side.

I believe there's three food groups: there's meat, there's cheese, there's beer.

Beer is made from hops. Hops come from a plant. So, beer is a salad.

Beer is the only reason I have two kids. Beer is the only reason anyone has ever kissed me. For me, it's Morning Men, my kids, then beer, then ice cream.

I once woke up in a baseball field without pants on. Thank you, beer. I once humped a tree in Cancun. Thank you, beer. I once took a crap in a potted plant outside an apartment building in New York City. Thank you, beer!

My best memories, I don't remember. Thanks, beer."
There's no way he's not getting it, right?
In all seriousness, there are some very specific qualifications you'll have to boast if you want this dream job. Aside from being a professional historian or scholar, you'll be expected to conduct a whole lot of research with an emphasis on the American craft industry, as well as develop content for a variety of platforms, including digital. If you think you meet those qualifications (us neither), details on how to apply can be found here.
---
---
---