Miesha Tate on Ronda Rousey: 'We have unfinished business'
UFC women's bantamweight champion Miesha Tate is still riding the high of her title-win earlier this month. After coming from behind to beat Holly Holm by submission late in the fifth round, "Cupcake" has multiple contenders nipping at her heels … Continued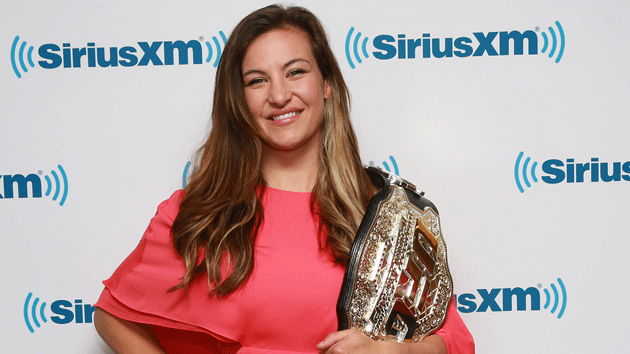 UFC women's bantamweight champion Miesha Tate is still riding the high of her title-win earlier this month. After coming from behind to beat Holly Holm by submission late in the fifth round, "Cupcake" has multiple contenders nipping at her heels for a title shot.
While on Dirty, Sexy, Funny with Jenny McCarthy, Tate revealed whether she's more motivated to have a rematch with Holm or face her longtime-rival Ronda Rousey again.
"I think I'd be more excited to fight Ronda again because I feel like I have unfinished business," Tate said. "I need to go out there and I need to win this fight. I need to do that for myself, I need to do that for everyone around me and I need to prove that point. I'm very motivated, I feel super-charged with the belt and I want to protect it with everything that I have."
Tate has lost twice to Rousey already, both coming via armbar submission. After losing the Strikeforce championship in the first round, the rematch was much more competitive as Tate lasted until the third round before tapping out. Still, past results don't affect her mindset for a potential third fight.
"I literally feel like Superwoman, having this belt around me I feel absolutely super-charged," Tate said. "You know how they say when a women gets pregnant she has this glow? It's basically like that, but way cooler because I have this brand new shiny belt."
Rousey and Tate's rivalry goes beyond the octagon as both have periodically hurled insults at each other and even their coaches and boyfriends got involved in the verbal warfare. Tate believes Rousey needs that extra motivation of disliking her opponent in order to be at her best, and that's where they differ.
"I didn't get into this sport because I hate people. I got into this sport because I'm a competitor, I'm an athlete and I want to challenge myself in the most raw form: hand-to-hand combat," she said. "It's just me and that one other bad-ass chick that's standing across the cage that has worked her butt off to try to take what I've earned. It's very primal, it's raw and it's amazing."
Rousey made headlines last month for revealing she contemplated suicide after losing to Holm. Tate said she could never relate to that feeling and questioned whether Rousey will ever return to fighting.
"There are some things in this sport that I can identify with because I think we're both competitors, but in that regard I absolutely cannot understand what she was talking about," she said. "For me, every time I've lost, I get back in the gym and I work my butt off to get better for it. She turns around and I don't hear any motivation like 'I want to get better,' it's like 'I looked up at Travis Browne and I realized that I need to stay alive so I can have his babies.' What are we talking about here now? I'm very confused by her tactics. I don't know what kind of Ronda we're gonna see come back or if she's gonna come back. It's questionable to me."
For a free 30-day trial, check out http://www.siriusxm.com/freeTrial.
---
---
---