Michael Steele on Stephen K. Bannon: 'He's not a boogeyman' and 'he's not a white supremacist'
"Going back to stuff like anti-semitism and all that, it's just not part of who [Bannon] is."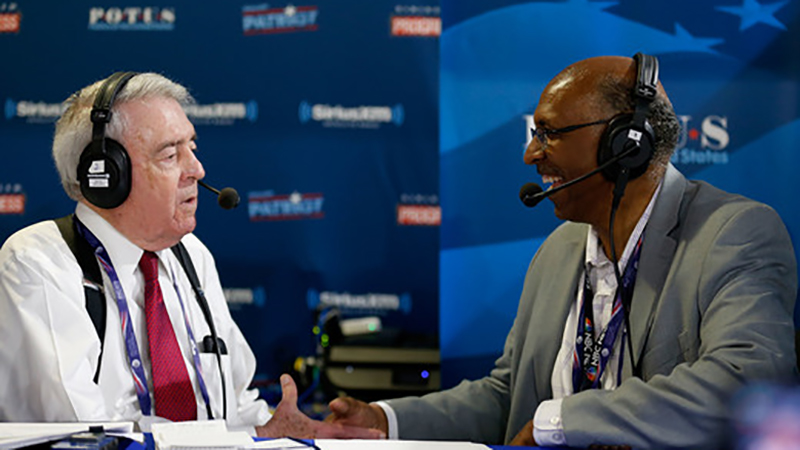 CLEVELAND, OH – JULY 20: Dan Rather talks with Michael Steele while hosting his show, Dan Rather's America, on SiriusXM at Quicken Loans Arena on July 20, 2016 in Cleveland, Ohio. (Photo by Kirk Irwin/Getty Images for SiriusXM)
Stephen K. Bannon's appointment to the Trump administration as chief strategist and senior counselor to the president faced a quick flurry of backlash from many on the left. News organizations and activist groups were quick to point to Breitbart — the conservative news website where Bannon served as executive chairman until his joined the Trump campaign in August — and its usage of incendiary headlines as an indicator of the type of man serving as one of Trump's closest counsel.
Before joining the Trump campaign, Bannon was the host of Breitbart News Daily on SiriusXM's Patriot Channel 125 — he relinquished his hosting duties in August.
But former chair of the Republican National Committee and host of SiriusXM's Steele and Ungar, Michael Steele told Dan Rather on Tuesday that "there's a lot about Steve Bannon that people have misconstrued" and "more to him than what we've seen or heard in 30-second soundbites."
"First off, he's not a boogeyman, a lot of people want to make him out to be, but he's not," Steele said in defense of Bannon. "They've been drawing up the headlines that have appeared on Breitbart's webpages and all of that, that sort of scare people. But the people who know him, the people who work with will tell you that he is not that guy."
Prior to Bannon's role at Breitbart News, he worked at Goldman Sachs and subsequently branched off with colleagues to form his own investment banking firm, Bannon & Co. His new firm specialized in media, which included the highly profitable investment into the hit TV series Seinfeld. He departed the firm less than a decade later, trying out his hand in Hollywood as an executive producer on films, such as Anthony Hopkins' Titus. Years later, in Los Angeles, Bannon met Andrew Breitbart around the same time he was launching his eponymous news site.
While many cannot dispute Bannon's impressive career trajectory, it's his personal life that has caused a public outrage, especially claims that he is anti-semitic. The claim originated from a resurfaced 2007 sworn testimony by Bannon's ex-wife during a custody battle, in which she stated that Bannon said "he didn't want [his daughters] going to school with Jews."
When speaking with Rather, Steele was quick to defend the accusations brought against Bannon.
"The other thing, like particularly the anti-semitism part, the thing people need to understand is that Andrew Breitbart, who was the publisher and founder of Breitbart News, and Steve Bannon were very close, very close friends. … I find it hard to believe that Andrew Breitbart, a Jew, would be associated with, build a business with and in fact be very close friends with someone who is anti-semitic," Steele said. "And this … speaks to how we need to be careful how we create boogeymen and false impressions of people based on things that can be taken out of context, things that are done for dramatic effect, etc."
Steele admitted that "there are something things that Steve Bannon has had to account for, in terms of some of the things that he's said and that others have said on his behalf, but again, I don't think that you can sit back and go 'Oh my God, the world is on fire, the end is nigh.'"
"He's not a white supremacist, he's not a white nationalist," Steele added. "He's an economic nationalist, he believes that America's economy is primary and should be treated as such in the global markets."
Steele concluded by saying, "Certainly going back to stuff like anti-semitism and all that, it's just not part of who he is, it's not part of his official record, if you will, certainly when you consider his friendship with the founder of Breitbart, Andrew Breitbart himself."
Dan Rather's America airs Tuesdays at 10 am ET on Radio Andy (Ch. 102)
For a free 30-day trial, check out siriusxm.com/freetrial/blog
(Photo by Kirk Irwin/Getty Images for SiriusXM)
---
---
---