Michael Reagan on Donald Trump: 'He should have just shut up'
"It's a tough, tough, tough road for [Trump] to go," Michael Reagan said.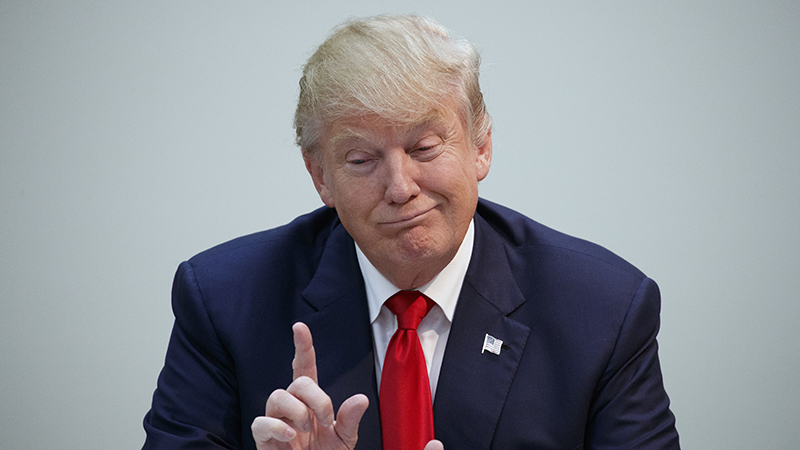 Republican presidential candidate Donald Trump gestures during a meeting with first responders at St. Johns County Sheriffs Department, Monday, Oct. 24, 2016, in St. Augustine, Fla. (AP Photo/ Evan Vucci)
Michael Reagan knows a thing or two about life in the White House. Reagan is the adopted—and eldest—son of Ronald Reagan, the 40th President of the United States. He has been outspoken on Twitter about how he believes his father would feel about the 2016 presidential race. Reagan was originally supporting Donald Trump but rescinded his support this month. On Wednesday, he shared his thoughts on the current state of the Republican party on the David Webb Show.
"You know, I've got to tell ya, I listen to what Trump is saying, he's not sounding so much upbeat as a winner as he's trying to, if you will, make it a little more comfortable on the way down, if you will, at that point," Reagan said. "It's a tough, tough, tough road for him to go."
He continued, "I mean, he had every issue known to mankind in his favor, but he didn't know how to espouse it to a national audience over and above the audience he had during the primaries … there's things where he should have just shut up and kept on going instead of opening his mouth and getting off page and going somewhere else."
As the race starts to wind down, Reagan explained that it's critical to examine each candidate's schedule to understand the potential outcome on Nov. 8.
"You don't know until it's really over, but you start watching where everybody's going—where is Hillary spending her time, where is he spending his time," Reagan added. "How much money are they spending here? How much money are they spending there? And you kind of get an idea, a feel, of what in the world is going on at this point in time."
The David Webb Show airs weeknights at 9 pm ET on SiriusXM Patriot (Ch. 125)
For a free 30-day trial, check out siriusxm.com/freetrial/blog 
Photo Credit: AP Photo/Evan Vucci
---
---
---